The technology sector has been beaten down by the market. The pessimism for future growth of these companies has caused the stock prices to fall. This can create a great opportunity for many investors as pessimism maybe so bad that it ends up creating value in the stock. The following three stocks have been beaten down and have a strong potential for a rebound.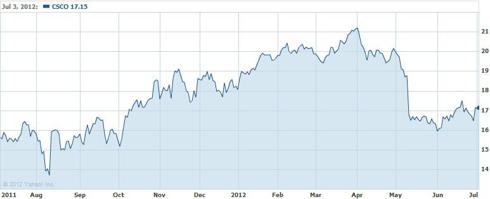 Cisco (CSCO) made $8.9 billion in free cash flow in 2011. Last year, Cisco was in trouble as the company simply became to large to manage. Unprofitable segments began to encompass profitable ones. CEO John Chambers initiated a plan to take Cisco back to its core businesses. Cisco sold franchises such as the Flip camera. They also sold their Mexico-based video division.
Cisco's recent earnings showed the market that the company is turning itself around. Cisco earned 40 cents per share in Q3, which is 7 cents more than analyst were expecting. While earnings were great, Cisco's management gave a cautious outlook on the economic recovery. I do believe that Cisco will continue to see its EPS rise as it begins to focus its attention on its core businesses.
Cisco also has a very strong balance sheet. The company has $32 billion net cash, which is pretty good for a company, whose market cap is $92 billion. In addition to this, the company has a favorable valuation with a forward P/E of 9.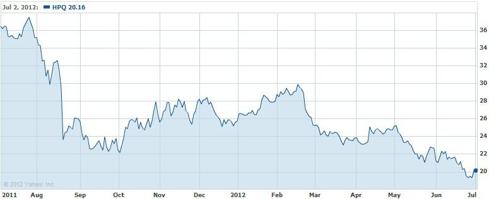 Hewlett-Packard (HPQ) has seen poor operating performance due to a list of awful acquisitions and very poor management skills. Former CEO Leo Apotheker was the equivalent of a lame duck. He was not able to improve HP's performance at all. Under Apotheker's leadership, HP paid $10 billion to acquire Autonomy, which had a net income of $316 million in 2010. So Apotheker clearly overpaid for Autonomy.
Apotheker's poor management skills has caused the stock to tank. After he got the boot, Meg Whitman took his role. I believe HP is a great play at this price for a few reasons. The market seems to be pessimistic about HP's future, which is why the valuation has fallen dramatically. However, Whitman's leadership might help HP shares rebound. Whitman is taking HP back to its core competencies. Whitman plans to heavily invest in hardware R&D. She believes this move will help HP get back on top.
HP is trading at a forward P/E of 4.62, so it seems that earnings deterioration may be priced in already. The stock is trading right below book value and pays a decent 2.6%. HP presents a great turnaround opportunity at this price.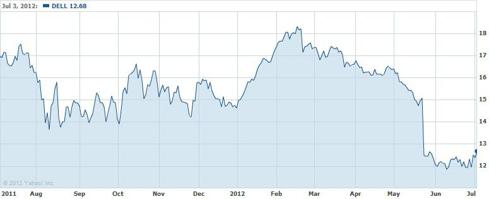 After years of shareholder pressure, Dell (DELL) finally announced that it will begin paying a 2.7% dividend. Dell is able to pay the dividend especially with its strong balance sheet. The company has $4.72 billion net in cash. However, even with a strong balance sheet, the stock has been a poor performer since the financial crisis. PC sales have plummeted and it has caused problems for Dell.
Even with PC sales falling, I still see Dell being able to engineer a major recovery. Dell has been rapidly transitioning to enterprise services. Enterprise solutions tend to be higher-margin businesses. With Dell expanding to these areas, the company will also be less susceptible to the consumer market. Dell is projecting that the enterprise solutions segment will yield an annual compounded growth rate of 10%.
Dell's valuation is still priced as if the market believes growth will be slow. However, Dell has been very clear about the future direction of the company. I believe Dell will make a strong entrance into the enterprise solutions segment. Dell recently just bought out Quest Software (QSFT). Quest specializes in enterprise systems management software. Quest is a great acquisition as it will increase margins for Dell. Quest Software has an operating margin of 11.65%, while Dell has an operating margin of 6.6%. At a forward P/E of 6.28, investors will get a chance to own a growth company at a cheap price.
Disclosure: I have no positions in any stocks mentioned, but may initiate a long position in HPQ over the next 72 hours.