Looking for a high-growth tech stock that appears undervalued by several measures? Consider optical instrument maker Zygo Corporation (ZIGO). The company has seen almost 40% earnings growth over the last year, and its price multiples indicate the stock may have more value to price in.
Zygo Corp. is a supplier of optical metrology instruments, high precision optical components, and complex electro-optical systems design and manufacturing services internationally. They serve the defense & aerospace, life sciences, and semiconductor markets.
The company has seen almost 40% earnings growth and over 20% sales growth year-over-year, and its 5-year projected EPS growth is at 18%. The stock is also enjoying upward momentum, rallying above its 20-day, 50-day, and 200-day moving averages.
However, price multiples indicate that ZIGO may be undervalued: PEG is at 0.78. P/FCF is at 9.48. TTM P/E is at 14.01 vs. 16.69 for the industry's average. MRQ P/S is at 2.15 vs. industry average of 2.57, although TTM P/S is at 1.98 vs. 1.66 for industry average. P/B is at 2.41 vs. industry average of 4.5.
The company's balance sheet looks strong, with ample amounts of liquid assets: current ratio is at 5.78, and quick ratio is at 4.66. The company also has no debt. The income statement is also an area where the company shines, with higher gross, operating, and pretax margins than its industry averages: TTM gross margin is at 52.99% vs. industry average at 36.44%. TTM operating margin is at 17.9% vs. industry average at 9.04%. TTM pretax margin is at 17.18% vs. industry average at 9.6%.
Taken all together, the company looks like it's in a strong financial position, and given its high earnings growth and ZIGO's low valuation compared to earnings and sales, the stock also appears to be at a good price.
For an interactive version of this chart, click on the image below. Market cap data sourced from Zacks Investment Research.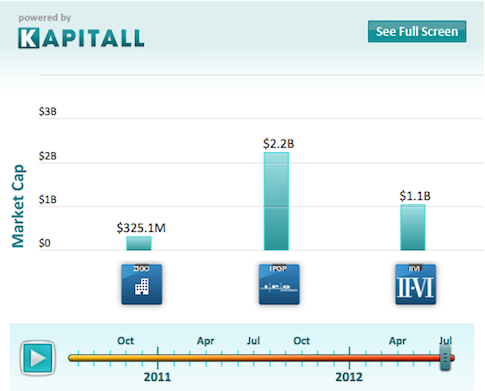 Tool provided by Kapitall.
*Written by Alexander Crawford. Price multiple data sourced from Fidelity, EPS data sourced from Yahoo! Finance, accounting data sourced from Google Finance.
Disclosure: I have no positions in any stocks mentioned, and no plans to initiate any positions within the next 72 hours.