I have, in the past, discussed the synergies that existed between Qualcomm (NASDAQ:QCOM) and InterDigital (NASDAQ:IDCC). As I completed penning my Texas Instruments (NYSE:TXN) series on Sramana Mitra's site, I noticed that even the Dallas-based semiconductor giant could benefit immensely from an alliance with InterDigital.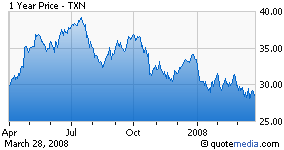 Texas Instruments [TI] is the market leader for 3G application processors with its OMAP product-line. But it does not currently have a standard 3G baseband solution. The company's OMAP roadmap merely has placeholders for future merchant ICs with 3G baseband. Its mammoth market share comes from custom chips it develops for Nokia (NYSE:NOK) and Motorola (MOT), among others. However, this position is challenged by the multiple sourcing trend that the handset vendors are now adopting. Left behind in the 3G baseband race, not only by Qualcomm but also by other companies such as Broadcom (BRCM), Infineon (IFX), and InterDigital, TI is finding itself losing mobile share. The aggressive strategy and the niche product positioning by the competition is also not helping its cause.
On the other side, InterDigital sells its SlimChip 3G solution with a fully equipped software stack both as an IC and as intellectual preperty [IP]. Furthermore, in a recently conducted independent study by Signals Research Group, InterDigital's SlimChip came out as one of the top performing baseband solutions along with iCera and Infineon. That InterDigital finished high among very competitive solutions establishes the company's credibility. This also complements its positioning as a top choice for the smartphones segment for bandwidth intensive data services.
Now, here is a part of a recent press release from InterDigital that forms the basis for my thesis:
InterDigital's SlimChip products feature a "slim" modem architecture where the modem - which provides core wireless connectivity - is separated from the applications processor and peripheral functions. This approach allows wireless device manufacturers to customize the pre-certified modem, in a rapid and cost-efficient manner, …
My thesis is that if TI can negotiate a deal with InterDigital to sell a bundle of the SlimChip IC with its own OMAP, or perhaps incorporate InterDigital's IP in an OMAP-Vox solution, then both companies can benefit. For TI, it would be a chance to retain and even grow 3G market share by marrying its manufacturing excellence to performance, an area in which it has always been behind Qualcomm. For InterDigital, any such alliance would not only imply SlimChip sales levels it can never get to otherwise, but also offers a chance to change industry and Wall Street perceptions.
TI's executives have mentioned that they are watching the market and are prepared in case they see a trend away from its custom IC products for 3G. They also perceive a good position if the industry does not sway from separate baseband and application processors in the chipset. If not, they suggest a quick ramp up in 3G baseband integration.
While not discounting TI's capabilities, I think that the time to market will disadvantage it considerably given the lengthy product cycles. The alternative is to go with someone like InterDigital. This will have both parties laughing their ways to the coffers.
Disclosure: The author is long Qualcomm, and InterDigital at the time of writing.