When a company sees over 80% sales growth year-over-year and still holds a lower price-to-sales ratio than its industry peers, it's reason to take a second look. I'm talking about LeapFrog (LF), the maker of educational kids products.
The company has seen revenue grow 81.48% during the most recent quarter ($72.01M vs. $39.68M y/y). Meanwhile, its TTM P/S is at 1.41. vs. 1.48 for the industry average. Other price multiples also indicate the stock's undervalued status: P/FCF is at 12.92. P/B is at 3.31 vs. 5.87 for the industry average. However, TTM P/E is at 21.31 vs. 19.04 for the industry average.
LeapFrog develops tech-based educational products for kids under age 10 including the LeapPad, Leapster, and Tag. According to the company website, LeapFrog uses three key elements in developing their products: a proven learning methodology, compelling content, and the use of intuitive and engaging technology to deliver the content. Products are sold worldwide.
After some rough earnings reports during the recession, the company is again operating in the black. 2011 net income just under $20 million, with revenue similar to that earned 4 years prior. 5-year projected EPS growth is at 20% vs. 11.38% for the industry average.
A closer look at the company's balance sheet shows a rather stable financial position: current ratio is at 4.16, quick ratio is at 3.50, and the company has no debt. The income statement is also strong, as hinted at before, with revenue growth far outpacing change in inventory over the last year: Revenue grew by 81.48% during the most recent quarter ($72.01M vs. $39.68M y/y). Inventory fell by 28.9% during the same time period ($38.87M vs. $54.67M y/y).
Today the stock has strong upward momentum: LF is rallying above its 20-day, 50-day, and 200-day moving averages, and the stock is trading within 5% of its 52-week high. The stock has also outperformed the market over the last quarter, with quarterly performance at 20.97%.
Hedge fund managers also believe in LF's potential: Net institutional purchases of LF in the current quarter at 6.0M shares, which represents about 11.71% of the company's float of 51.22M shares.
As consumer spending recovers across the world, demand for LeapFrog products should also gain, and the company looks like it's in a strong position to profit from that increased demand.
For an interactive version of this chart, click on the image below. Analyst ratings sourced from Zacks Investment Research.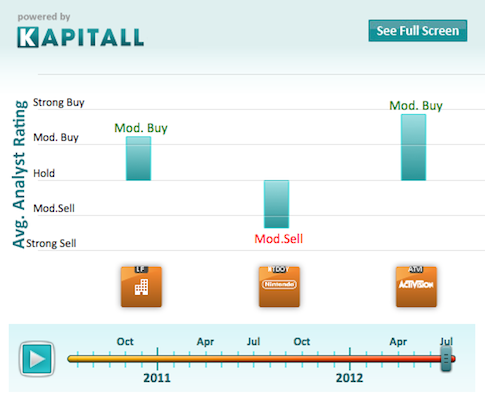 Tool provided by Kapitall.
*Written by Alexander Crawford. Price multiple data sourced from Fidelity, EPS data sourced from Yahoo! Finance, accounting data sourced from Google Finance.
Disclosure: I have no positions in any stocks mentioned, and no plans to initiate any positions within the next 72 hours.