Compared to individual investors, hedge funds have more resources and better capacity to pick winning stocks. Still, that does not mean that hedge fund picks are profitable or the ones that outperform the broader market. However, when several hedge funds see potential in a particular stock, it could be a signal to general investors that the stock might gain in value in the coming period. It could also suggest that the stock boasts particular value, such as high dividend yield, that appeals to investors.
Many hedge funds like George Soros' Soros Fund Management and Seth Klarman's Baupost Group allocate the highest percentages of their portfolio assets to technology stocks. Several technology stocks were popular with hedge fund managers in the first quarter of this year. A glance at fund activity in the technology sector in the previous quarter reveals interest in the shares of Seagate Technology (NASDAQ:STX), Pitney Bowes (NYSE:PBI), Lexmark International (NYSE:LXK), and Nokia (NYSE:NOK).
Below is a closer look at the profiles of hedge funds' favorite new picks in the previous quarter. At the time of writing, all the featured stocks had a market capitalization of more than $1 billion and boasted dividend yields of at least 4%.
Click to enlarge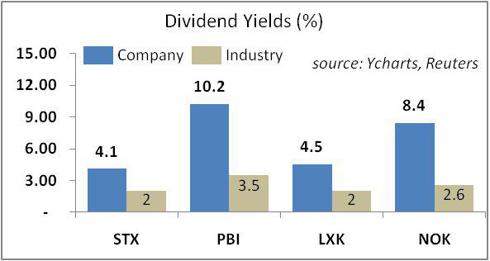 Click to enlarge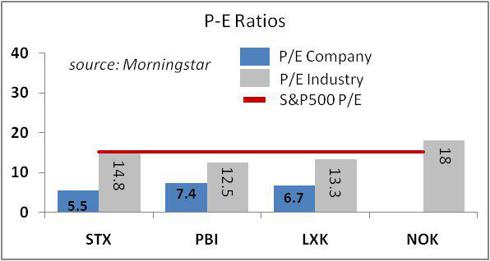 Click to enlarge
Seagate Technology was the highly sought-after, high-yield technology stock in the first quarter. The company is one of the world's largest producers of hard-disc drives. It has $10.4 billion in market capitalization. Seagate Technology pays a dividend yielding 4.1% on a payout ratio of only 23%. Its main competitor Western Digital (NYSE:WDC) does not pay any dividends.
The company has seen its earnings per share (EPS) contract over the past five years at an average rate of 7.4% per year. Analysts forecast robust EPS growth averaging 24.5% per year for the next five years. The stock is attractive based on strong growth, high dividend, and appealing valuation. The demand for the company's hard drive surged amid the shortages caused by the flooding disruptions to Western Digital production in Thailand. This effect has normalized now.
In general, the PC demand is weakening and notebook drive sales are softening, which is exerting negative pressure on hard drive producers. Recently, analysts at JPMorgan and Barclays issued warnings about the negative trends in the hard disc and associated markets. Still, on the bright side, Seagate Technology is expected to benefit in the future from the robust cloud computing trends.
The company's stock is trading at major discount relative to the industry and its own historical metrics. Changing hands at $24.56 a share, the stock is up nearly 50% year-to-date. Guru fund manager Joel Greenblatt purchased new stake in the company in the first quarter. David Einhorn holds more than 14.5 million shares in the company, currently valued at $357 million.
Pitney Bowes was also a popular technology stock in the previous quarter. The company is a near $3-billion business providing mail processing equipment. It pays a dividend yield of 10.2%, the highest among the dividend aristocrats. Pitney Bowes has increased dividends for 30 consecutive years, even during the tough years when its EPS contracted. The company's dividend payout ratio is 44%. Its peer Neopost SA is privately held, while competitor Xerox (NYSE:XRX) pays a dividend yield of 2.2%.
While the company's EPS shrunk at an average annual rate of 7.1% per year over the past five years, analysts now estimate that the EPS will hardly grow in the next five years. It is a general opinion that the company's business model is outdated and the company is in a decline. Some fund managers may have found the company's valuation and the exceptionally high dividend appealing.
However, the company could be a value trap. The stock is currently trading at $14.69 a share, down almost 22% year-to-date and about $2 away from its 52-week low. New purchases were initiated by fund managers David Harding (Winton Capital Management - check out its holdings) and Pasco Alfaro/Richard Tumure (Miura Global Management - see its top picks). Popular investors Israel Englander and Joel Greenblatt boosted their stakes in the company in the first quarter.
Lexmark International Inc. was likewise a hot high-yield pick in the technology sector in the previous quarter. The company has a market capitalization of $1.9 billion and engages in the production and sale of printing, imaging, document workflow, and content management office solutions. Until 1991, Lexmark International was the printer division of IBM (NYSE:IBM), which sold it to Clayton Dubilier & Rice LLC. Clayton Dubilier Rice LLC sold it through an IPO in 1995.
The company's stock currently yields 4.5% on a payout ratio of 31%. The company's peer Xerox Corp. pays a dividend yield of 2.2%, while Canon Inc. (NYSE:CAJ) pays a yield of 3.6%. The company is a recent dividend payer, having started its payouts in 2011. Lexmark is engaged in a maturing and declining industry, and its profitability has been eroded over the years. The company's objective to become a provider of corporate printing and document management services has not been successful.
As regards its valuation, on a forward P/E basis, the stock is trading below its peers. The stock is presently changing hands at $26.48 a share, down 21% year-to-date. Billionaire Steven Cohen initiated a position in the stock in the first quarter. So did Millennium Management's Israel Englander. Billionaire Jim Simons upped his stake significantly.
Nokia Corporation also saw some activity among fund managers in the first quarter. The company is a Finland-based maker of telecommunications hardware and software. It sells smart phones and devices, as well as feature phones and applications. It has been struggling recently, as its revenues, earnings, and margins have been crushed and market share has shrunk. The company substituted its earlier Symbian platform for Windows OS, hoping that Windows Phone 8 will have a successful adoption, boosting sales.
However, questions are now being raised about the outlook for Nokia's cooperation with Microsoft (NASDAQ:MSFT). Microsoft has just entered into an agreement with Chinese phone maker Huawei Technologies to integrate Microsoft's Windows 8 into its phones, which could create direct competition for Nokia, squeezing its market share further.
The company is planning to lay off 10,000 workers in an effort to cut costs so as to "ensure Nokia's long-term competitive strength." Some speculations have emerged about the company being a takeover target or ending up in bankruptcy.
Nokia is currently paying a dividend yield of 8.4% and is operating at a loss. The yield has rocketed amid the plunge in Nokia's stock price. Its competitor Apple Inc. (NASDAQ:AAPL) will pay a dividend yielding 1.9%, while Google (NASDAQ:GOOG) does not pay dividends. Analysts expect the company to return to profitability in 2013; however, this scenario looks pretty dim. The company's shares are trading at $2.14 a share, down 58% year to date. Jim Simons initiated an $18.5-million position in the company in the first quarter.
Disclosure: I have no positions in any stocks mentioned, and no plans to initiate any positions within the next 72 hours.