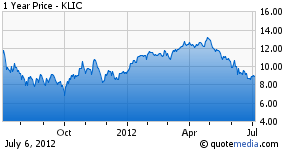 The June jobs report landed squarely in investor purgatory, not enough jobs to reduce unemployment but enough to forestall any new action by the Federal Reserve. The market looks like it will have a substantial sell-off today in response. The report reinforces the cautious outlook I have had on equities for months now. However, pull backs are a great time to deploy some dry powder to pick up stocks that are already selling at discounted levels. One stock that is one of the cheapest in the tech sector right now based on forward PE and the huge amount of cash on its balance sheet is Kulicke and Soffa Industries (KLIC).
7 reasons KLIC is in deep bargain territory at under $9 a share:
The company has over $300mm in net cash of its balance sheet. This represents approximately 45% of its market capitalization at current prices.
The stock sells near the bottom of its five year valuation range based on P/E, P/S, P/CF and P/B.
The four analysts that cover KLIC have price targets ranging from $11 to $20 on the stock. The stock was at $13 just two months ago.
The company went from around -$50mm in operating cash flow in FY2009 to a positive $200mm in OCF in FY2011. The stock is priced at just over 4 times operating cash flow currently.
The stock is selling at just over 6 times forward earnings (less than 4 if you strip out net cash), a substantial discount to its five year average (15.7).
The company has beat earnings estimates significantly each of the last two quarters and consensus earnings estimates for both FY2012 and FY2013 have stabilized over the past month.
Revenue growth is set to resume in FY2013 and KLIC has a cheap five year projected PEG (.44).
Disclosure: I have no positions in any stocks mentioned, but may initiate a long position in KLIC over the next 72 hours.