Today's news that Gilat Satellite Networks (NASDAQ:GILT) is going to be acquired for $11.40 a share, should come as no surprise to our readers. We hate to brag, but we called this one a while back. The price is about a 10% premium to Friday's closing price. This continues the Israel Opportunity Investor trend of predicting M&A, as we also called the ECI Telecom (ECIL) deal.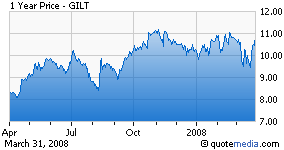 The investor group includes Mivtach Shamir, The Gores Group LLC, DGB Investments Inc. and companies affiliated with Roy Ben-Yami, Ami Lustig and Eytan Stibbe. While I thought that the company should remain independent and continue to grow, for the company and large investors, the deal was too good to pass up.
For merger arbitrage investors, keep your eye on how Gilat trades over the next few months. With the deal set to be completed in September, any weakness in the stock could make for an interesting play. After all a potential 6-10% return in five months is nothing to sneeze at, especially in markets that can't seem to go up.
Disclosure: The author's fund holds a position in GILT. He holds no position in any other stock mentioned as of March 31, 2008.