This list is meant to serve as a starting point for investors. A comparatively large amount of data has been provided so it should be relatively easy for an investor to scroll down the list and decide if the stock warrants further attention. If you find the stock appealing, you can dig deeper and see if meets with your investment criteria. To help the novice investor we have put out this guideline, which could prove to be useful in the selection process. "Our suggested guidelines when searching for new investment ideas
Company: Intuitive Surgical (NASDAQ:ISRG)
Levered Free Cash Flow = 521.88M
Brief Overview
5 year sales growth rate = 31%
5 year EPS growth rate = 37%
Percentage Held by Insiders = 1.15
Short Ratio = 4.8%
Relative Strength 52 weeks = 92
Cash Flow 5-year Average = 6.72
Profit Margin = 28.67%
Operating Margin = 39.68%
Quarterly Revenue Growth = 27.6%
Quarterly Earnings Growth = 37.8%
Operating Cash Flow = 738.70M
Beta = 1.28
Percentage Held by Institutions = 88.1%
Growth
Net Income ($mil) 12/2011 = 495
Net Income ($mil) 12/2010 = 382
Net Income ($mil) 12/2009 = 233
Net Income Reported Quarterly ($mil) = 144
EBITDA ($mil) 12/2011 = 756
EBITDA ($mil) 12/2010 = 613
EBITDA ($mil) 12/2009 = 431
Cash Flow ($/share) 12/2011 = 13.89
Cash Flow ($/share) 12/2010 = 10.75
Cash Flow ($/share) 12/2009 = 7.3
Sales ($mil) 12/2011 = 1757
Sales ($mil) 12/2010 = 1413
Sales ($mil) 12/2009 = 1052
Annual EPS before NRI 12/2007 = 3.7
Annual EPS before NRI 12/2008 = 5.12
Annual EPS before NRI 12/2009 = 6.23
Annual EPS before NRI 12/2010 = 9.47
Annual EPS before NRI 12/2011 = 12.32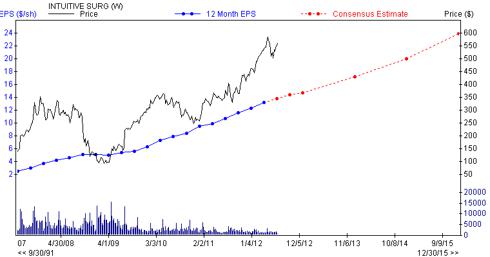 Performance
Next 3-5 Year Estimate EPS Growth rate = 19.54
ROE 5 Year Average = 18.8
Current Ratio = 4.58
Current Ratio 5 Year Average = 4.67
Quick Ratio = 4.22
Cash Ratio = 3.3
Company: MFA Financial (NYSE:MFA)
Brief overview
5 year EPS growth rate = 77%
5 year sales growth = 13%
Short ratio = 4.4%
Quarterly earnings growth = 3.00%
Quarterly revenue growth = 2.2%
Profit Margins = 90.9%
Operating margins = 90.8%
Beta = 0.19
Operating cash flow = $352M
Growth
Net Income ($mil) 12/2011 = 316
Net Income ($mil) 12/2010 = 270
Net Income ($mil) 12/2009 = 268
EBITDA ($mil) 12/2011 = 507
EBITDA ($mil) 12/2010 = 456
EBITDA ($mil) 12/2009 = 522
Cash Flow ($/share) 12/2011 = 1.07
Cash Flow ($/share) 12/2010 = 1.01
Cash Flow ($/share) 12/2009 = 1
Sales ($mil) 12/2011 = 508
Sales ($mil) 12/2010 = 453
Sales ($mil) 12/2009 = 539
Annual EPS before NRI 12/2007 = 0.24
Annual EPS before NRI 12/2008 = 0.21
Annual EPS before NRI 12/2009 = 0.94
Annual EPS before NRI 12/2010 = 0.86
Annual EPS before NRI 12/2011 = 0.97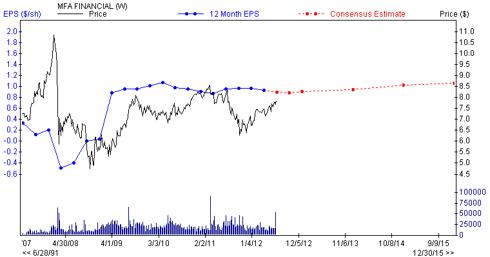 Dividend history
Dividend Yield = 11.40
Dividend Yield 5 Year Average =12.20
Dividend 5 year Growth = 32
Dividend sustainability
Payout Ratio = 1.16
Payout Ratio 5 Year Average = 2.48
Performance
Next 3-5 Year Estimate EPS Growth rate = 4
ROE 5 Year Average = 8.31
Current Ratio = 9.83
Current Ratio 5 Year Average = 21.76
Quick Ratio = 9.83
Cash Ratio = 8.9
Interest Coverage = 3.10
Company: Freeport-McMoRan Copper & Gold Inc. (NYSE:FCX)
Basic overview
Levered free cash flow = $4.00 billion
Quarterly earnings growth = - 49%
Quarterly revenue growth = - 19%
Beta = 2.29
Operating margins= 40.1%
Profit margins= 19.3%
Operating cash flow = 5.06 billion
Long term debt to equity ratio = 0.35
Cash Flow 5 -year Average = 5.17
5 year sales growth rate = 14.32%
Operating cash flow = 5.06B
Growth
Net Income ($mil) 12/2011 = 4560
Net Income ($mil) 12/2010 = 4336
Net Income ($mil) 12/2009 = 2749
Net Income Reported Quarterly ($mil) = 764
EBITDA ($mil) 12/2011 = 10152
EBITDA ($mil) 12/2010 = 10010
EBITDA ($mil) 12/2009 = 7416
Cash Flow ($/share) 12/2011 = 5.95
Cash Flow ($/share) 12/2010 = 5.77
Cash Flow ($/share) 12/2009 = 4.4
Sales ($mil) 12/2011 = 20880
Sales ($mil) 12/2010 = 18982
Sales ($mil) 12/2009 = 15040
Annual EPS before NRI 12/2007 = 4.94
Annual EPS before NRI 12/2008 = 3.43
Annual EPS before NRI 12/2009 = 2.96
Annual EPS before NRI 12/2010 = 4.64
Annual EPS before NRI 12/2011 = 4.84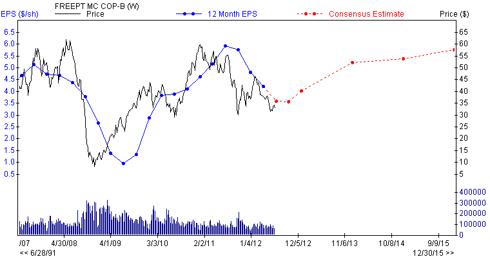 Dividend history
Dividend Yield = 3.5
Dividend Yield 5 Year Average = 3.10
Dividend 5 year Growth = 5.07
Dividend sustainability
Payout Ratio = 0.37
Payout Ratio 5 Year Average = 0.11
Performance
Next 3-5 Year Estimate EPS Growth rate = 6.9
ROE 5 Year Average = 32.34
Return on Investment = 22
Debt/Total Cap 5 Year Average = 31.21
Current Ratio = 3.5
Current Ratio 5 Year Average = 2.33
Quick Ratio = 2.00
Cash Ratio = 1.71
Interest Coverage = 24.2
Retention rate = 63%
5 year capital spending rate = 11.8%
Company : Akamai Tech (NASDAQ:AKAM)
Levered Free Cash Flow = 284.35M
Brief Overview
5 year sales growth rate 17.2%
5 year EPS growth rate = 17.5%
Percentage Held by Insiders = 2.96
Number of Institutional Sellers 12 Weeks = 4
Long term debt to equity ratio = 0.00
Short Ratio = 1.8
Relative Strength 52 weeks = 63
Cash Flow 5-year Average = 1.75
Profit Margin = 16.1%
Operating Margin = 30.05%
Quarterly Revenue Growth = 15.8%
Quarterly Earnings Growth = -14.6%
Operating Cash Flow = 456 million
Beta = 0.77
Percentage Held by Institutions = 82.7%
Short Percentage of Float = 4%
Growth
Net Income ($mil) 12/2011 = 201
Net Income ($mil) 12/2010 = 171
Net Income ($mil) 12/2009 = 146
Net Income Reported Quarterly ($mil) = 43
EBITDA ($mil) 12/2011 = 475
EBITDA ($mil) 12/2010 = 408
EBITDA ($mil) 12/2009 = 363
Cash Flow ($/share) 12/2011 = 2.16
Cash Flow ($/share) 12/2010 = 1.85
Cash Flow ($/share) 12/2009 = 2.2
Sales ($mil) 12/2011 = 1159
Sales ($mil) 12/2010 = 1024
Sales ($mil) 12/2009 = 860
Annual EPS before NRI 12/2007 = 1.07
Annual EPS before NRI 12/2002 = 1.34
Annual EPS before NRI 12/2009 = 1.35
Annual EPS before NRI 12/2010 = 1.01
Annual EPS before NRI 12/2011 = 1.17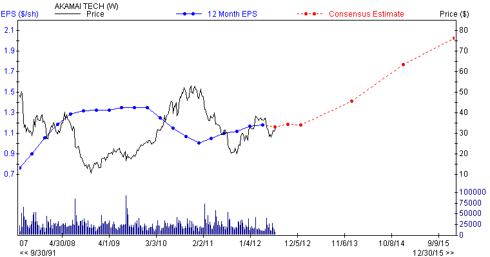 Performance
Next 3-5 Year Estimate EPS Growth rate = 14.79
ROE 5 Year Average 12/2011 = 13.45
Current Ratio = 4.58
Current Ratio 5 Year Average = 5.68
Quick Ratio = 7.56
Cash Ratio = 6.14
Company: National Oilwell Varco (NYSE:NOV)
Levered Free Cash Flow = 1.50B
Brief Overview
Percentage Held by Insiders = 0.23
5 year sales growth = 10.72%
5 year EPS growth = 8.7%
Short Ratio = 1.2
Relative Strength 52 weeks = 43
Cash Flow 5-year Average = 4.71
Profit Margin = 13.87%
Operating Margin = 20.27%
Quarterly Revenue Growth = 36.8%
Quarterly Earnings Growth = 48.9%
Operating Cash Flow = 2.10B
Beta = 2.05
Percentage Held by Institutions = 92.4%
Short Percentage of Float = 1.2%
Growth
Net Income ($mil) 12/2011 = 1994
Net Income ($mil) 12/2010 = 1667
Net Income ($mil) 12/2009 = 1469
Net Income Reported Quarterly ($mil) = 606
EBITDA ($mil) 12/2011 = 3517
EBITDA ($mil) 12/2010 = 2954
EBITDA ($mil) 12/2009 = 2751
Cash Flow ($/share) 12/2011 = 6.08
Cash Flow ($/share) 12/2010 = 5.28
Cash Flow ($/share) 12/2009 = 5.05
Sales ($mil) 12/2011 = 14658
Sales ($mil) 12/2010 = 12156
Sales ($mil) 12/2009 = 12712
Annual EPS before NRI 12/2007 = 3.76
Annual EPS before NRI 12/2008 = 5.17
Annual EPS before NRI 12/2009 = 3.89
Annual EPS before NRI 12/2010 = 4.09
Annual EPS before NRI 12/2011 = 4.77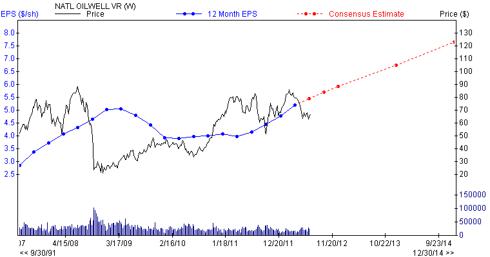 Dividend history
Dividend Yield = 0.70
Dividend Yield 5 Year Average = 0.32
Dividend sustainability
Payout Ratio = 0.09
Payout Ratio 5 Year Average = 0.05
Performance
ROE 5 Year Average = 15.18
Current Ratio = 2.36
Current Ratio 5 Year Average = 2.14
Quick Ratio = 1.49
Cash Ratio = 0.88
Interest Coverage Quarterly = 110.13
Conclusion
Investors should use strong pullbacks to commit fresh money into stocks they are bullish on. A great way to get into a stock that you are bullish on is to sell puts at strikes you would not mind owning the stock at. Investors looking for other ideas might find this article to be of interest Lockheed Martin 1 Of 4 Interesting Dividend Plays.
EPS and Price Vs industry charts obtained from zacks.com. A major portion of the historical data used in this article was obtained from zacks.com.
Disclosure: I have no positions in any stocks mentioned, and no plans to initiate any positions within the next 72 hours.
Disclaimer: It is imperative that you do your due diligence and then determine if the above plays meets with your risk tolerance levels. The Latin maxim caveat emptor applies-let the buyer beware