Airline stocks are generally avoided by most investors as they are very volatile due to the price of oil. When the price of oil goes down, we see the airline sector rise because airlines are able to cut costs and cut airfare, in theory.
Fundamentals
However, there is one airline that sticks out to me and that is US Airways (LCC). US Airways has been on a roll this year; up 165% year to date. Fundamentally, the airline has pretty solid numbers:
P/E: 9.93
Forward P/E: 3.95
PEG: .05
P/S: .16
P/C: 1
Debt/Equity: 22.19
ROE: 275.29%
Short Float: 14%
According to fundamental analysis, US Airways is undervalued, deeply. The company sports a price to earnings ratio of 10 which is on the undervalued side if you consider the industry average is 12.66. The forward P/E is an estimate of future growth and this is yet another bullish sign for the company as the next 12 months are expected to be even brighter. The PEG or price earnings growth is an important number to look to determine if the stock is undervalued or overvalued compared to its future forecasts. In this case, US Airways has a PEG of .05 which is extremely low and suggests that it is deeply undervalued to a future forecast.
Price to sales and price to cash both are in the right range and showing undervalued signs. The company's debt load is the only issue that I see from this quick snapshot of US Airways' fundamentals. A debt/equity of 22 is a little on the higher side than most conservative investors like but given the amazing progress US Airways has made this year, it is not unmanageable.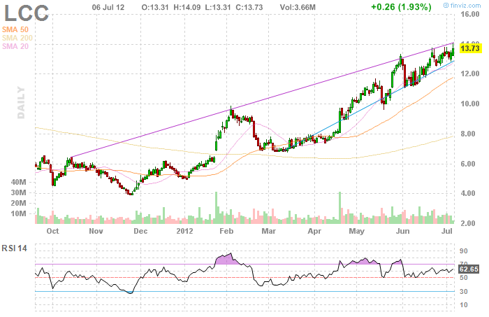 Merger Issues
Despite the fact that US Airways saw a nice 6% rise in passenger revenue per available seat mile (PRASM) for both May and June, the company recently said that its planned merger with American Airlines parent, AMR Corporation (AAMRQ.PK) has been delayed. AMR was able to get an extension for its due date to submit its reorganization plans from September 29th to December 27th. While, this may be tedious for US Airways, this is much more favorable in the end. The reason being is because AMR now has three extra months to form a solid plan after bankruptcy. In the end, this will make it easier for US Airways also.
Analyst Support
Another bullish sign for US Airways is positive reiterations and upgrades from analysts. Helane Becker, an analyst at Dahlman Rose, recently raised her first quarter earnings per share estimates to $1.80 and her full year estimate to $2.95 a share. Wall Street is looking for $1.40 a share to be reported for the first quarter.
Another bullish analyst is Mike Linenberg of Deutsche Bank (DB). Linenberg rose first quarter earnings to $1.65 a share and his full year estimate to $3.50. Additionally, Linenberg has a 12 month price target of $20 for US Airways.
The main reasoning for bullish analyst reports is the fact that the company has been able to hedge oil costs and other costs that cut into airlines' bottom line. Even the company's management has expressed their bullishness and stated that the second quarter will continue to produce similar results as we have seen over the past 6 months.
Conclusion
The main idea to take away from this is US Airways hedged its exposure to high flying costs which hurt the company's bottom line. However, when the price of oil falls off a cliff, as it has done recently, airlines see much less upfront costs which should be translated into savings for customers. Analysts are bullish, fundamentals are bullish, lower oil is the only factor that remains. Even when oil does rise, I think US Airways is the best positioned airline in the sector. Keep an eye out for oil prices and any news on the merger with AMR Corporation as they can be signs of a continuing trend or a reversal.
Disclosure: I have no positions in any stocks mentioned, and no plans to initiate any positions within the next 72 hours.