The Labor Department reported that the U.S. unemployment rate held steady at 8.2% in June and that non-farm payrolls came in well short of modest expectations of around 100,00, rising just 80,000. With average gains of only 75,000 per month, this caps the worst quarter of job growth since mid-2010.
Click to enlarge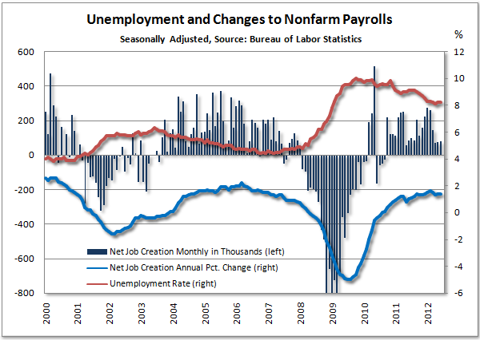 Click to enlarge
The payroll gains were largely a result of temporary hiring and this follows increases of 68,000 and 77,000 in April and May, respectively, all of which improves the chances that the Federal Reserve will take some sort of additional action to boost the economy sometime in the months ahead, though, you couldn't tell that from watching how stock market futures are initially reacting to the news.
The number of unemployed persons was little changed at 12.7 million in June, long-term unemployment (those jobless for 27 weeks or more) was flat at 5.4 million, and the jobless rates for various demographics was steady, ranging from a 6.3% unemployment rate for Asians to a 14.4% rate for African Americans.
The broad U6 under-employment rate (including discouraged workers and those settling for part-time work instead of full-time work) rose from 14.8% in May to 14.9% in June.
Returning to the establishment survey, hiring in the healthcare sector was markedly slower as this sector added only 13,000 to payrolls last month while education services declined by 9,600, resulting in a net gain of just 2,000 for education and healthcare services as shown below. This marks the lowest job creation total for this category since September of 2010.
Click to enlarge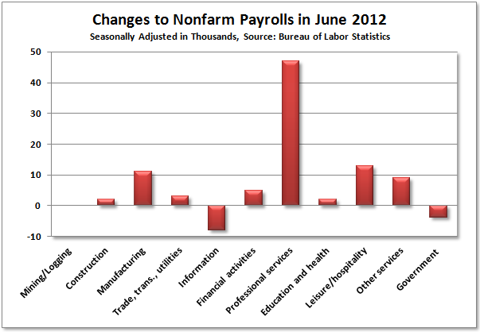 Click to enlarge
Within the professional and business services category, 25,200 new temporary positions accounted for more than half of the overall gains of 47,000 as the professional and technical services subcategory contributed an impressive 18,200 new jobs.
Food service and drinking establishments added 15,100, pushing the leisure and hospitality category to a monthly gain of 13,000, and manufacturers continued to hire workers last month, the overall gains of 11,000 driven by hiring in the manufacture of durable goods in general, auto parts in particular.