I do not make strong suggestions such as this very often, but it is my belief that every retirement portfolio (or any portfolio seeking income) should include several mREITs. My choice is Annaly (NYSE:NLY), and has been for many years now. I am a fan of its more conservative approach, its limited use of extended leverage, and its track record in the sector, which has no equal.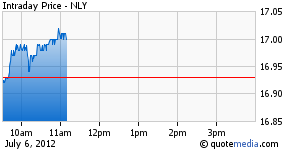 In today's interest rate environment, it is very difficult to squeeze income from fixed-income products and there are many stocks that the entry price limits the number of shares one can own. With Annaly, we have a share price that most folks can swing more shares of than Exxon Mobil (NYSE:XOM), for example.
Allocating Funds Into Annaly
A portfolio consisting of 12-25 stocks and having an allocation of no more than 10%-15% in any one particular stock can offer the diversity and balance that will leave room for a 3%-7% allocation of a somewhat more risky stock like Annaly.
Actually, right now the risks have been limited by the Fed's ZIRP (zero interest rate policy) as well as keeping a stable environment by using techniques such as Operation Twist. It is ironic to me that these programs that were intended to drive rates down have actually kept them stable enough for the mREIT sector to navigate profitably without too much risk. American Capital Agency (NASDAQ:AGNC) has been very successful over the last 18 months or so, by using more leverage and taking yields further out in duration. It has surpassed Annaly in dividends for investors, although the price per share is higher. But it has done very well by taking what the market offers. On the other hand, by using more leverage and taking on more risk, American Capital does leave itself open for some rather swift reversals of fortune. Only time will tell, but for now it has been great.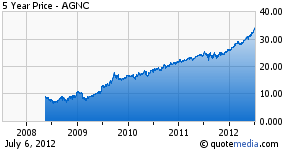 Annaly, on the other hand, has taken the slower road with less leverage, less risk, and of course has generated less yield for investors. That being said, it has insulated itself to a degree from any frenetic moves in interest rates simply because it will have more flexibility (cash on hand) to circumvent some (not all) rapid spikes in interest rates. It is not immune and the risks remain, but I lean toward a few less yield points in favor of a lower-risk situation.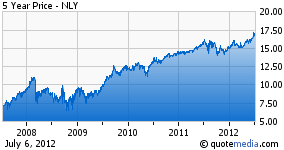 The Share Price
Annaly's share price has risen quite well over the last few months and has outperformed virtually every other market. The price has reflected the recoup of all of the last two ex dividends, of $0.55/share, and has acted more like a momentum stock than a stable income investment.
Right now, the price as I type this sits at $16.99/share. It is my belief that given the insider buying that has taken place over the last three months that the share price could top $21.00 once again.
By taking advantage now, with a 3% allocation of funds within a well-balanced and diversified portfolio, the retired investor -- or those seeking income -- could benefit dramatically from both a dividend standpoint and, believe it or not, capital appreciation.
My Opinion
I would suggest that all retired folks seeking income make room in their portfolio right now for a position in Annaly. A 13% yield, rising share price, insider buying, a stable interest rate environment, and being the best of breed since 1997 are my main reasons.
There are no risk-free investments, and the risks associated with all mREITs -- most notably an immediate spike in interest rates -- do need to be monitored. But ask yourself this question: Can I handle some risk for a potential percentage point or two in my overall yield for at least through 2014?
If you can answer yes, then Annaly should be in your core portfolio -- the sooner the better.