Last Friday we saw the markets scream higher on hopes that Germany had agreed to back the eurozone in an effort to keep the euro from breaking up. "Hopium" remained within the bulls however, even with realists screaming from mountain tops about the ineffectiveness of what was done, or rather, "said." Fellow Seeking Alpha contributor James A. Kostohryz wrote a few pieces about his bearish stance and why he expects the markets to continue downward. Those articles can be found here and here.
On Friday we saw the S&P 500 (NYSEARCA:SPY) tack on 32 handles and the Dow Jones Industrial Average sprint for a 275 point gain. Since then however, Spanish bond yields are back over 7% and the euro has given up all of its gains. U.S markets continue to run higher as the rally gets a bit long in the tooth. I have felt that a short position would be good to take, but with so much glee, hope, and so many free-spirited bulls running around, it would be a mistake, even if the fundamentals said so.
There are several reasons why I think the markets need to sell off and why I think paring longs and adding shorts would be wise, at least in the short term.
The summit was rather ineffective when you pick through what happened. Many just saw the next "kick the can down the road" move and bought with both hands. That's great they can come to any sort of agreement, especially with Germany, but that doesn't mean anything will happen when it comes time for these countries to pay up. It is also going to take a lot more money than most seem to think.
Earnings are likely going to be terrible! Many companies are coming out and saying they expect guidance as well as reported numbers to be below consensus. Ford (NYSE:F) has come out saying it expects losses to triple from the first quarter. Others like Nike (NYSE:NKE) have reported poor results and starting next Monday, when earnings season officially kicks off, I expect to see more bad numbers starting with Alcoa (NYSE:AA).
There has been a relatively high amount of earnings warnings as of late, far outnumbering the positives. As global growth and consumer spending continues to dry up, so do corporate profits. So far the trend has been explained by stating big misses in Europe, causing pinched sales and squeezed margins.
The Non-farm Payroll jobs number was another miss. With expectations set for 100,000 jobs, the number came in at 80,000, the fourth straight miss. The unemployment rate stayed steady at 8.2%. The idea here is that jobs are being created at a slower rate than we both need and expect. Along with the jobs numbers, most economic indicators have been lackluster at best. Housing is essentially the one bright spot in an otherwise gloomy, dark painting.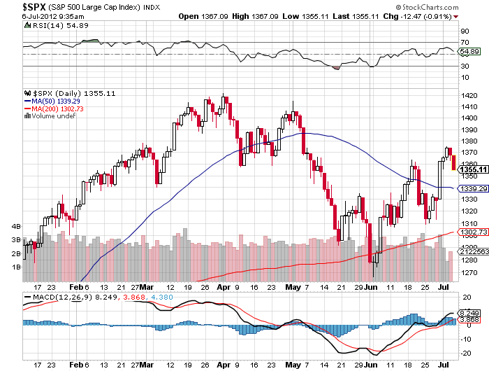 Above: 6-month chart of S&P 500 (click to enlarge).
Courtesy of Stockcharts.com
As you can see on the chart above, last Friday's rally propelled the S&P 500 past many resistance points. As long as it held over 1360 or so, we had a relatively clear path back to 1400, pending the jobs number. Going forward, the jobs number would likely be the key driver in terms of market direction, unless earnings can continue to prop up this broken market. I now think we will see selling pressure as profits are taken and we move to a more risk-off game plan.
For those who remain bullish, I suggest you take some gains, or at least hedge your positions. It would be wise to seek protection on both individual positions and the market as a whole. This can be done by purchasing put options on the S&P 500 as well as put options on individual companies you may own. This will protect you in the event that the market trends downward, if the companies you own report a bad quarter, or both.
Disclosure: I am short QQQ.