Aflac (AFL) is a $20 billion large-cap cash machine with all of its ducks in a row. The company offers a variety of supplemental health and life insurance plans. These plans include: cancer plans, dental, vision, accident, critical care, disability, ordinary life, living benefit life plans, medical sickness riders, etc.
Aflac is currently well undervalued. The company has a forward PE ratio of 6.24, a PEG of 0.59, and a price to book ratio of 1.49. This valuation makes it a good time to start a position in the stock for the long-term. Ideally, I like to see PE ratios under 14, PEGs under 1, and price to book ratios under 3 to determine under valuations.
Aflac derives about 80% of its business from Japan with only 20% coming from the U.S. The stock took a hit after the 2011 earthquake in Japan and it has not fully recovered to pre-earthquake levels. Although the stock hasn't fully recovered, the company is still excelling on many fronts.
The company has a healthy double-digit profit margin of 10.17% and an operating margin of 16%. Aflac also has strong operating cash flow of $12.23 billion and free cash flow of $3.69 billion. This is plenty of available cash to pay dividends and to grow the business.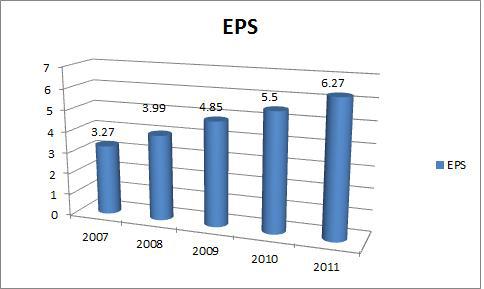 The current dividend yield is 3%. Aflac has raised the dividend every year for 29 years. The company's consistency and strength in cash flow allows for these uninterrupted annual increases. Even the Japan earthquake did not disrupt the company from raising the dividend. Aflac is the type of company that investors can rely on for steady dividend growth.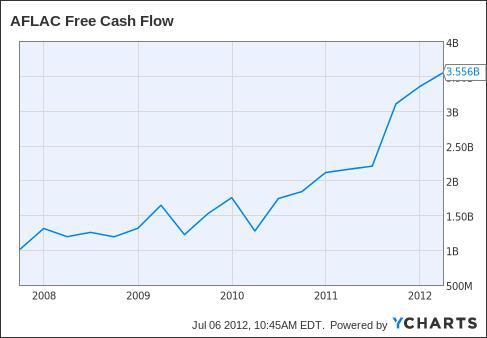 Aflac's Japan WAYS product allows policyholders to convert a portion of their life insurance to medical, nursing care, or fixed annuity benefits at a predetermined age. This product has been successful and accounts for 32.9% of sales.
Aflac's credit quality is high with an average portfolio rating of A. The largest chunk of the company's portfolio has a AA rating and comprises 41.5% of the total. The single A rating comprises 28.3% while the BBB rating comprises 22.9% of the portfolio. The two smaller segments are AAA rating at 1.9% and BB or lower comprising 5.4% of the portfolio.
The company has 2 upward earnings revisions for 2012. It is expected to grow earnings annually at 11.13% for the next five years. If the dividends are reinvested, an initial $10,000 investment should be worth at least $19,000 in five years.
With the company's strong cash flow and earnings growth, Aflac should prove to be a great dividend investment for the long-term. The Japan earthquake just shows how solid the company is and that it can remain strong even in the face of catastrophe.
Disclosure: I have no positions in any stocks mentioned, and no plans to initiate any positions within the next 72 hours.