The U.S. Chemical Industry is reaping the benefits of the feedstock advantage that it has obtained due to the shale gas boom, which has reduced prices of both natural gas and natural gas liquids (NGLs). To be precise, the manufacturing of ethylene, a widely used hydrocarbon in the Chemical Industry, has become cheaper in the U.S. as a result of a reduction in the price of its raw material (ethane - a NGL). Although oil-based naphtha can also be used in place of ethane in producing ethylene, the shale gas boom is expected to keep ethane more cost-feasible, which in turn will give U.S. chemical companies a sustainable competitive advantage. Furthermore, the recent change in calculations of pension funding needs by Congress, is expected to benefit chemical companies considerably. The high dividend and free cash flow yields of these companies are also an attractive option. All these reasons make us bullish about the Chemical Industry's future performance.
Industry Analysis
The deteriorating macroeconomic outlook, primarily due to the euro crisis and a slowdown in Asian markets, particularly China, has had an adverse impact on the overall situation of global equity markets. However, the stocks of major chemical companies have shown a reasonable appreciation on a YTD basis. The primary reason for this escalation is the shale gas boom, which has given U.S. chemical companies a unique advantage over their competitors, as raw material costs have declined substantially. Furthermore, given its low carbon footprint relative to oil or coal, shale gas is also desirable for environmental reasons.
In essence, the shale gas boom has given a feedstock advantage to the U.S. Chemical Industry, due to a reduction in the prices of natural gas, and more recently, natural gas liquids . One of those NGLs is ethane, which is used to manufacture ethylene. Ethylene is an organic compound with extensive applications in the Chemical Industry, and can also be manufactured from oil-based naphtha. However, the relative inexpensiveness of ethane, as compared to naphtha, has benefited U.S. chemical companies in ethylene's manufacturing.
According to a Morgan Stanley analyst, "Ethane is likely to trend towards $0.40/gallon in 2013-16, as key supply bottlenecks are unlocked, versus $0.77/gallon in 2011."
This will ensure that the competitive advantage of ethane over naphtha, which in turn reflects that of U.S. chemical companies over non-U.S. companies, will be sustainable in the long-term.
The Chemical Industry requires the use of oil, natural gas, and naphtha as energy and feedstock inputs. In future, if global energy prices suddenly increase e.g. due to worsening of the ongoing middle East tensions, these chemical companies might find difficulty in passing through price hikes to their customers, which can have an adverse impact on their earnings, and consequently, share prices.
Recently, China s services purchasing managers index ((PMI)) also dropped from 50.4 in May to 50.2 in June. However, this decline of 0.2 p.p. is less than the expected decline of 0.5 p.p.
Since this PMI is greater than the break-even threshold of 50, manufacturing demand continues to expand in China, albeit at a slower pace. However, the PMI fell below the 50-mark for chemicals, chemical fibers, rubber and plastics, which is a slight cause for concern.
Recently, Congress has changed the method of calculating pension funding needs, according to which companies can use a higher discount rate (based on 25-year average high-grade bond yields) instead of current rates, to calculate pension obligations. According to a Credit Suisse estimate, the impact of pension funding relief for chemical companies will be positive, and DuPont (DD) and Dow Chemical (DOW) will be the largest beneficiaries of this relief.
Major Companies
Within the Chemicals Industry, we have done detailed stock analyses of DuPont and Dow Chemical Co. . Other important players in this industry include Huntsman Corp. (HUN), and Sherwin-Williams Co. (SHW).
| | | | | |
| --- | --- | --- | --- | --- |
| | DD | DOW | HUN | SHW |
| Forward P/E ( 1 year) | 10.43 | 9.88 | 5.96 | 17.66 |
| Long-term growth rate | 8.87% | 6.75% | 13.50% | 14.90% |
| EV/EBITDA (TTM) | 13.45 | 8.97 | 4.86 | 15.03 |
| Dividend yield | 3.40% | 4.06% | 3.09% | 1.18% |
El du Pont de Nemours & Co
We recommend a long position in DuPont due to the company's diversified product portfolio, strong operating results, high dividend yield, and its ability to innovate and continuously improve, even though its stock is relatively expensive.
DuPont is a world-leader in market-driven innovation and science, and has a diverse product mix. Its main segments include agriculture, electronics and communications, industrial biosciences, nutrition & health, performance chemicals, performance coatings, performance materials, and safety & protection.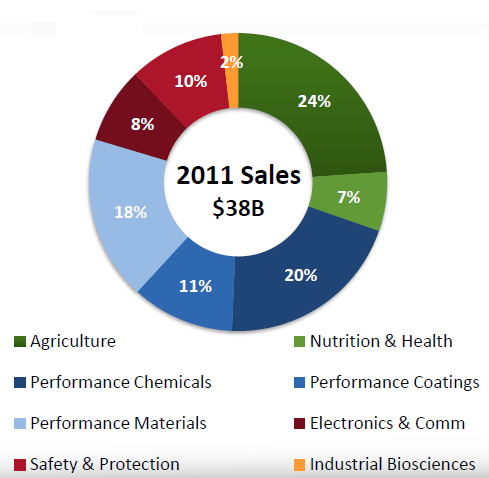 Source: Company's documents
It has recently acquired a unit of Britain's BAE Systems, and has taken a minority setup in a U.S. high-tech startup, Nanocomp Technologies Inc., to expand its existing base and develop new products for use in law enforcement, military, and industrial applications. It is also collaborating with NexSteppe "to develop advanced feedstocks for biofuels, biopower and biobased products." These are some of the recent examples of its ability to innovate and further expand its already diversified portfolio. This is what gives DuPont a sustainable competitive advantage.
Its major end markets are automotive, industrial, consumer and energy, and electrical/electronic. Although electrical/electronic markets are currently relatively weak, U.S. automotive demand has recorded a 22% year-over-year increase, which is also reflected in a better-than-anticipated improvement in the seasonally adjusted annual rate of (SAAR). This is a very positive signal for DuPont.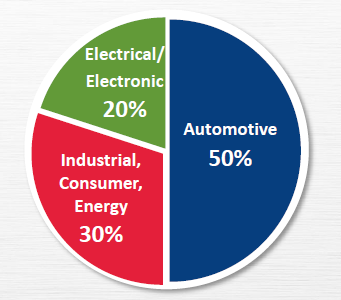 Source: Company's documents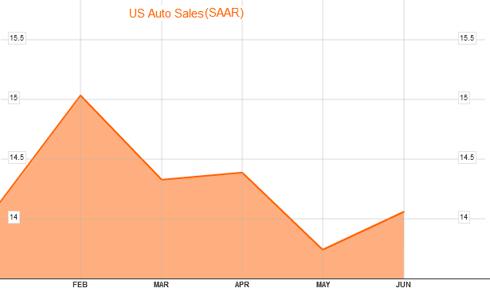 (Click to enlarge) Source: Bloomberg
Recently, DuPont has filed a lawsuit against Heraeus Materials Technology, LLC, for infringement of a DuPont patent related to metallization paste compositions, which are used in solar cell technology. It has itself been sued by Monsanto, which has accused it of copying the latter's new plant breeding innovations. Although the timing of these lawsuits' resolution is uncertain, they are potential catalysts for DuPont's share price movement in future.
Its financial performance is impressive, as is evident from its 1Q2012 per-share earnings of $1.61, as compared to 1Q2011's $1.52. It has announced a 5% increase in quarterly dividends this time, making its dividend yield (3.4%), one of the best among its peers. Although it is trading at an EV/EBITDA ratio of 13x, but its price to earnings ratio is just 10x and its future growth potential makes it a worthwhile investment.
DOW Chemical Co.
For a detailed stock analysis on DOW, please refer to our previous article.
Disclosure: I have no positions in any stocks mentioned, and no plans to initiate any positions within the next 72 hours.