This strategy not only provides you with the opportunity to leverage your position in Kodiak Oil & Gas (NYSE:KOG), but it also provides one with the chance to get into the stock at a much lower price. This technique should only be employed if you are bullish on the stock. If you are not bullish on the long-term prospects of this stock, then, please do not put this strategy to use.
Reasons to be bullish on Kodiak Oil & Gas :
Sales surged from $11 million in 2009 to $120 million in 2011
A strong five-year sales growth rate of 86%
Net income has surged from -$3 million to $4million in the past three years
It has a strong estimated 3-5 year EPS growth rate of 50%
Annual EPS before NRI increased from -$0.05 in 2007 to $0.17 in 2011
Cash flow per share increased from $0.01 in 2009 to $0.32 in 2011
Net income increased from -$3 million in 2009 to $4 million in 2011
Net income for the first quarter came in at $1.74 million. If this rate is maintained net income for 2012 could come in as high as 6.9 million
A strong quarterly revenue growth of 499%
Sales Vs 1 year 1 year ago increased by 287%
A high beta of 2.48 makes it a good candidate for covered writes or to puts on If you are bullish on the stock
Year-over-year projected growth rates of 250% and 67.3% for 2012 and 2013 respectively
An estimated 3-5 year EPS growth rate of 50%
A strong interest coverage ratio of 19.00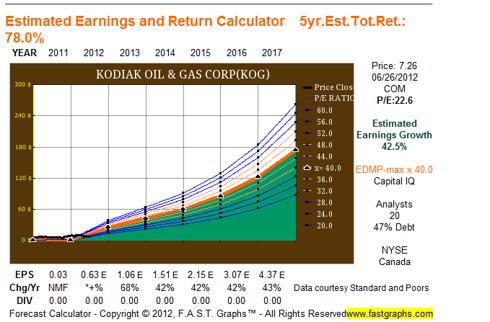 Part 1

It appears to have put in a bottom, and as long as it does not trade below 6.50 on a weekly basis the outlook should remain bullish. The Jan 2013 7.50 puts are trading in the $0.95- $1.10 ranges. Sell these puts for $1.00 or better. As the stock is rather volatile, it should not be a problem to sell this put at this price. For each contract sold $100 will be deposited into your account.
Part 2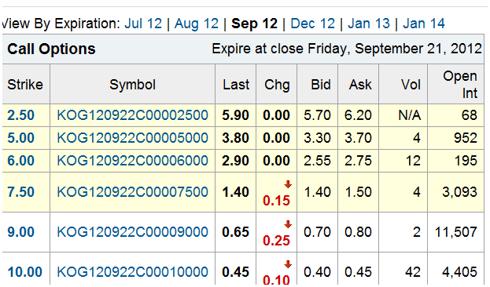 Use the proceeds from part 1, to purchase the Sept 2012, 10 calls. They are currently trading in the 40-45 cent ranges. For each put sold you will be able to purchase two calls and still have balance of $10 if you purchased the calls at 45 cents; attempt to buy these calls for 40 cents or better. As the stock has already traded as high as $8.84, it is reasonable to expect it to test the 10.00 plus ranges if the current trend is maintained.
Benefits of this strategy
You have a chance to leverage your position in this stock for almost no cost. Through the calls purchased, you control 200 shares. You would have to invest roughly $1700 if you bought the shares today.
If the stock trades below the strike price you sold the puts at you also have the chance to get into this stock at a significantly lower price. Your final cost per share if the stock is put to you will range from $7.40 (if you purchased two calls) to $6.95 (if you purchased only 1 call).
Risk factors
The only risk factor is that you have a change of heart, and you feel that the shares could trade well below the strike price you sold the puts at. If this is the case, then you can roll the put. You simply purchase the put you sold and sell new slightly out of the money puts.
Conclusion
Only investors who are bullish on this stock should put this strategy into play, as there is a chance that the shares could be assigned to your account if the stock trades below the strike price. This usually takes place on the expiration day as most option players are in the game to make money and not to force the seller of the option to purchase the shares. Additionally, consider taking profits if the calls show gains in the 75%-100% ranges. You would do this by selling the calls and buying back the puts. This is just a suggestion and not something that one should feel compelled to do, if one has a different strategy. Investors looking for other ideas might find this article to be of interest A Broad Array Of Dividend Plays To Consider For Your portfolio.
EPS and Price Vs industry charts obtained from zacks.com. A major portion of the historical data used in this article was obtained from zacks.com. Options tables sourced from yahoofinance.com
Disclosure: I have no positions in any stocks mentioned, and no plans to initiate any positions within the next 72 hours.
Disclaimer: It is imperative that you do your due diligence and then determine if the above strategy meets with your risk tolerance levels. The Latin maxim caveat emptor applies-let the buyer beware