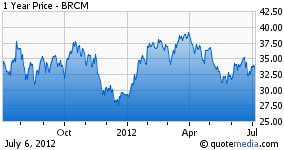 The partial patent deal just reached by Broadcom (BRCM) and Emulex (ELX) illustrates the true value of patents.
They're strategic, not determinative.
Emulex is paying $58 million, nearly 10% of its current market cap, to end litigation over Broadcom patents in Ethernet and Fibre Channel. It's only a partial victory for Broadcom -- Emulex might in time pay more. But it won't, by itself, drive Emulex out of the Fibre Channel market.
Fibre Channel is a big piece of the enterprise networking market right now, with a current growth rate of 17% and a hockey stick ending at a $2.7 billion market size in 2016. It's driven by increased data use and enterprises wanting to take advantage of the economics of public clouds.
Neither Broadcom nor Emulex is the market leader in Fibre Channel switching. That honor goes to Brocade (NASDAQ:BRCD). Cisco (NASDAQ:CSCO), Dell (NASDAQ:DELL), Juniper (NYSE:JNPR) and IBM (NYSE:IBM) also participate in the market. Storage networking growth is in a trough right now, with no growth experienced between the fourth quarter of 2011 and the first of 2012, but it's still $1.3 billion in business.
The settlement may cause some speculators to take another look at Emulex, which has lost nearly 70% of its value over the last five years. They might be wise to hold off. The company is currently capital-constrained in a very capital-intensive market. While it has recovered the last two quarters into profit, this deal represents a substantial portion of the $125 million it books in revenue each quarter. If it books this as an expense for the current quarter, that quarter is going to be very ugly indeed.
Emulex, however, can pay for the settlement out of cash, which rose $38 million from October to April. Personally I wouldn't touch it with a barge pole, the best hope for gains being a takeover, which appears unlikely. Broadcom, meanwhile, has $1.325 billion in cash, and has been profitable each of the last five years.
Patents do make you strong. But they're not the whole game. Patents can take out weak players, but they don't guarantee anyone a market or a monopoly. The best way to exploit patents is through products, not through law courts.
Broadcom shares have been on an uneven march upward since 2009, and the company has been paying a dividend for over two years, so it might be worth looking at on weakness as a core holding.
Disclosure: I have no positions in any stocks mentioned, and no plans to initiate any positions within the next 72 hours.