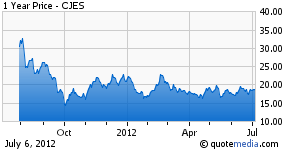 On June 7, 2012, C & J Energy Services (CJES) announced that it has completed the previously announced acquisition of all of the outstanding equity interests of Casedhole Holdings, Inc. and its operating subsidiaries, including Casedhole Solutions, Inc. ("Casedhole"). Founded in 2005 and headquartered in Houston, Texas, Casedhole is a leading multi-regional, independent provider of cased-hole wireline and other complementary services and a market leader across the most attractive regions of oil and gas exploration and production activity. Casedhole performs critical tasks throughout a well's lifecycle, including logging, perforating and pipe recovery. In addition, Casedhole performs complementary pressure testing, and pumpdown services. It has expertise in both horizontal and high-pressure, high-temperature completion applications. Casedhole operates its fleet of 58 wireline units, 11 pumpdown units and pressure control equipment through 12 district offices in 10 of the most active basins and shale plays in the United States. C&J funded the acquisition through $220.0 million drawn from its $400.0 million senior secured revolving credit facility, with the remainder paid from cash on hand. We have estimated that Casedhole will contribute Revenues/EBITDA of $120MM/$35MM during the remainder of 2012 and $260MM/$75MM during 2013.
C&J has searched for the perfect acquisition for some time and finally found it. Casedhole Solutions has a superior reputation for offering exemplary services like C&J and provides C&J access to basins such as the Bakken and Utica. Smaller service companies many times have trouble moving into new basins where they have not previously worked because reputation is primarily spread by word of mouth. Casedhole Solutions existing infrastructure will enable C&J to easily access these previously inaccessible areas and diversify C&J's range of services.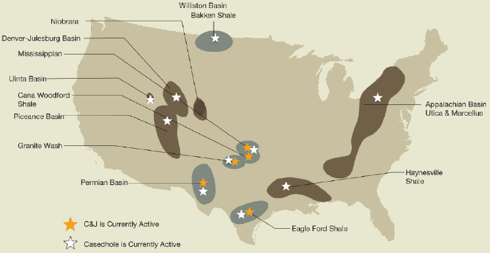 Click to enlarge
(Click to enlarge)
C&J has been approached by Middle Eastern companies about adding equipment overseas. Management said that securing international contracts could be even more likely now that CJES could offer all three primary completion services of fracturing, wireline (perforations), and coiled tubing.
J. David Anderson lead analyst for CJES from JP Morgan recently spent a few days on the road with management stating," After spending several days on the road with Josh Comstock (Chairman and CEO) and Randy McMullen (EVP and CEO) of C&J Energy Services, we came away even more confident in CJES's ability to weather the loosening frac market while gaining market share and maintaining industry-leading margins. With concerns over frac equipment scarcity removed, E&Ps are putting more emphasis on performance than pricing (time in the field is money). Since CJES can provide greater efficiency with its industry-leading 5 stages/day (Apache calls it the "Cadillac" of frac companies), it doesn't compete directly with much of the US frac capacity (estimated at 14.4mm HP)."
Mr. Anderson also states, "Only a couple weeks in, CJES and Casedhole have already seen cross pollination of client relationships. Interestingly, Casedhole's management had effectively forced their PE owners to sell to CJES despite being the lowest bidder in an auction process." This is an extremely bullish signal for investors. We can only assume that Casedhole's management knows the market and feels that C&J would be the best fit for their business and employees.
C&J will continue to produce industry leading margins while increasing EBITDA and building value for their shareholders. This acquisition has been underappreciated by Wall Street as they continue to be pessimistic on the entire energy services industry. We have a trouble finding a reason not to own C&J for the long term and continue to take advantage of the market placing a 2.1x EBITDA multiple on our 2013 estimation of $460 million.
Disclosure: I am long CJES.