We are bullish on Crown Castle (CCI) because of the following reasons:
Crown Castle's rental business generates a stable cash flow stream, mainly due to its long term contracts. Since the company went public, its cash flows from operations have continued on an upward trend and exceeded its capital expenditures for any given year.
Crown Castle successfully exceeded the high-end of its outlook for rental revenues and rental gross margins, as well as EBITDA in the first quarter.
Company Description
Crown Castle International Corp. owns, operates, and leases wireless infrastructure, which includes towers and distributed antenna systems (DAS) networks for the benefit of wireless carriers. It also rents out space on its towers to companies like AT&T and Verizon. The company operates through two segments: CCUSA (U.S. operations) and CCAL (Australian operations).
1Q2012 Results
The company's major source of revenue is the site rental income from its U.S. division; in 1Q2012 it derived over 90% of its revenues from this segment.
Source: 10-Q
Revenues for the first quarter rose 10% from 1Q2011, largely due to a 10% improvement in site rental revenues. New tenants and assets in connection with the WCP acquisition contributed to this improvement. Site rental gross margins improved by 11% due to the rise in site rental revenues and the company's constant fixed costs. Adjusted EBITDA showed an improvement of almost $40 million versus 1Q2011, largely due to CCI's rental business. The chart below shows the improvements in the company's rental revenues, as well as margins, compared to the reported results for the prior period quarter.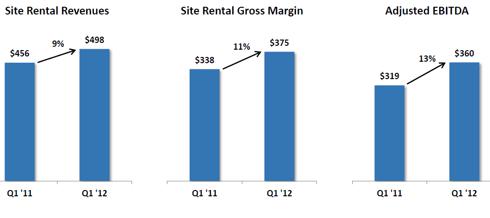 Source: Company presentation
The company refinanced its credit and loans through a $500 million loan. For the year, it has debt obligations of around $80 million and capital expenditures of $300 million, which are well backed by its cash flows from operations of $650 million. Moreover, the first quarter saw growth in the CFO of almost 30% from the prior year quarter. The company's main business is renting space on its towers. Going forward, we continue to expect strength in this business because of rising demand from various wireless carriers.
The company was also able to exceed the high-end of its outlook for rental revenues and rental gross margins, as well as EBITDA. Moreover, the company seems to be making progress in the integration of its acquisition of WCP. Demand for leasing from various wireless carriers is resulting in growth in the company's revenues and margins. This rise in demand is expected to continue as wireless carriers move to upgrade their networks.
Bullish Thesis
The company has shown solid revenue growth on a consistent basis. In the first quarter, revenues improved by 10% from 1Q2011, largely due to an increase in site rental revenues. Revenues for the 2012 fiscal year are expected to grow by almost 11%.
Limited operational risk because of high demand from various carriers (AT&T, Verizon, Sprint)
Financial Strength
CCI has a debt-to-equity of almost 300%. However, its interest and principal payments are well backed by its consistently rising cash flows from operations. The company has trailing operating cash flows of almost $680 million, and cash of over $1 billion, as of the most recent quarter. Moreover, it has very high gross margins (71% in FY11) and has consistently expanded over the past few years, indicating growth in revenues.
Valuation
The stock is trading at a forward price to earnings multiple of 55x, a hefty premium to its competitor American Tower Corporation (AMT). Using a P/E multiple of 50x and a bullish 2013 EPS estimate of $1.50, the stock can trade upto $75.
Recommendation
The stock currently trades around its 52-week high of $60, which could add some risk, however, we like the company's business, and believe that there is huge growth potential. It has shown an impressive growth in revenues, and its earnings per shares are expected to grow over 50% from the previous year. The stock could be a valuable option for long term investors who are seeking gains through capital appreciation.
Disclosure: I have no positions in any stocks mentioned, and no plans to initiate any positions within the next 72 hours.