Introduction
Harley-Davidson Inc. (NYSE:HOG) operates in two segments, namely Harley-Davidson Motor Company (HDMC) and Harley-Davidson Financial Services (HDFS). HDMC designs, manufactures and sells motorbikes, and it is a reputed producer of heavyweight motorcycles. It also trades in motorbike accessories, spare parts and general merchandise like riding apparel. Both these operations form the firm's Motorcycle & Related products segment. HDMC has established HOG as the biggest player in the U.S. Motorcycle Market, and allows it to sell motorbikes in the Asia-Pacific region, EMEA and Latin America. The company's other segment, HDFS, provides wholesale retail financing and insurance-related services to its dealers, as well as retail clients.
Executive Summary
With a declining motorcycle market and enormous overheads, HOG was sinking in 2008-09. However, a complete restructuring of operations, helped the firm to recover in two years with massive operating income increases of 111% and 266% in back-to-back years. We have analyzed the firm's future outlook and its earnings visibility for the coming years.
The following catalysts make us bullish on HOG's stock price:
Management is determined to take the firm forward, which is evident from the major restructuring of operations. The return on equity ratio is a useful measure of management effectiveness. HOG's ROE (TTM) is 24.45%, 50% greater than that of the industry.
The expected NPV from streamlining of operations is expected to yield $2.4 billion worth of Net Present Value. This is 20% of the current market cap.
The York plant will be able to run on full capacity and fulfill orders by the end of 2012, once the ERP is fully implemented.
The firm's revenue, despite being higher than the 2009 depressed levels, is much lower than the peak that it experienced in 2007. As revenue gradually builds up to the same point, the stock is expected to rise.
What Happened In the Crisis?
HOG was down and out in 2009. The recession at that time brought overall demand of motorbikes from 480 million units in 2008 to 304 million in 2009. The firm was not ready for the resultant 22% fall in revenue, and therefore could not adjust its fixed costs accordingly. Hence, selling and administration expenses remained almost the same, and the firm ended up making a loss of $55 million in just a year. In a year's time, HOG's stock price crashed from $42 to $9, seeing a decline of almost 80%.
Demand was said to decline because of the economic crisis prevalent at that time, and the high unemployment rate. Also, a surplus of used bikes was available in the market at that time, which meant they were available at very cheap and affordable rates.
It was in April 2009, when HOG's executive management was changed, and the ambitious Keith Wandell was brought in as the company's president and CEO - after the retirement of ex-CEO James Ziemer. Half a dozen other executives were also moved from one post to another and it was the new team that brought the ultimate change in the company's operations.
Restructuring and Turnaround
Keith's team had a major task to accomplish. It had to reduce administrative costs, as well as an excess capacity, by increasing production flexibility and handling loss-making operations.
HOG quickly rid itself of its loss-making subsidiary, MV Augusta, in August 2010. Augusta was HOG's supplier before 2008. The firm was sold for a nominal $105 million, much less than its acquisition price of $264 million. HOG also decided to halt the production of Buell motorcycles, as a strategy to focus on its main brand.
Meanwhile, 63% of the workforce was fired to reduce the total number of workers to 6,500 workers. Currently, the firm has three plants operating in York, Kansas City, and one near Milwaukee. The workforce at York and Wisconsin (a plant near Milwaukee) contains a flexible workforce component.
Considerable architectural restructuring of factory premises was required to slash costs. One article tells us the story through the following sentence:
"The York plant previously had four separate assembly lines, each set up to handle a particular style of motorcycle. Operations had been spread out over 20 buildings on the site. Today, there is a single, flexible assembly line and many of the buildings on the site have been shuttered."
That is probably why HOG's operational restructuring is taught at universities as a supreme case-study of operational management.
The cost and benefits of the restructuring, as given in the firm's recent presentation, are as follows:

*A total of $315-335 million savings are savings per year on an ongoing basis (perpetuity)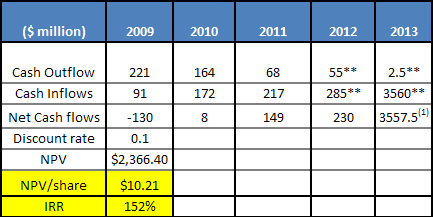 (1) A perpetuity of $320 m, discounted @ 10 % + $310m for that year
*Qineqt's estimate.
** predicted figures from the company's presentation
The charts given above show the costs that will come with reforming the structure, and the resulting benefits. The percentage of cash and SG&A show the portions of each in the total figure for cost and savings respectively. For example, in 2009, 65% of $221 million were cash-related charges, and the remaining 35% was non-cash charges.
The NPV and IRR values show how successful the management was in increasing operational efficiency. Also, actual savings were quite close to the predicted savings for restructuring, thus proving the validity of these estimates.
The following chart shows what restructuring activities the firm will be going through: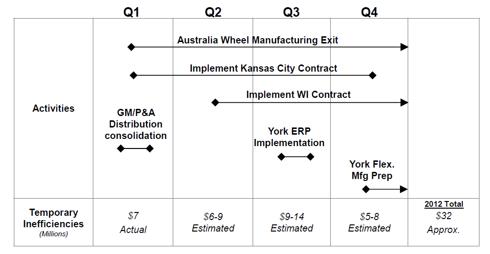 In Dec 2011, the firm ceased its Australian subsidiary in New Castalloy, which produced motorbike wheels and wheel hubs. This transition will take a year or so, and is expected to save $9 million.
SAP is being implemented at the York premises to streamline operations in a systematic manner. However, this has raised some concerns among investors. This is because, due to ERP implementation, production has been curtailed at this unit. Even though the firm is well prepared for the increase forecast in demand over the year, there is a serious danger of orders not being met in case demand rises above expectations.
Improvement and Current Situation
HOG is enjoying earnings from both divisions. HDFS showed a turnaround in 2010, when the 2009 loss of $31.5 million was converted to a profit of $50.9 million. This happened because of a drop in provisions for credit losses, and a higher interest income earned from lending.
HDMC currently enjoys 57.4% of the motorbike market share in the U.S. The firm also has production facilities in Brazil, and India, where it expects a lot of potential earnings in future. It has a big market in Europe as well, where it has the second-largest market share. However, sales have dropped since last year from 13.7% to 12.7%,due to the European crisis.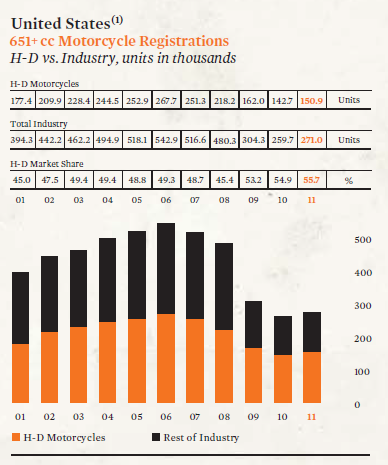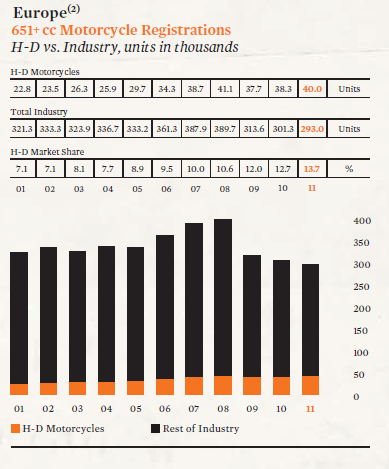 The table given below shows the increase in revenue from regions of the world.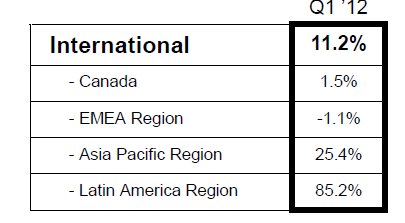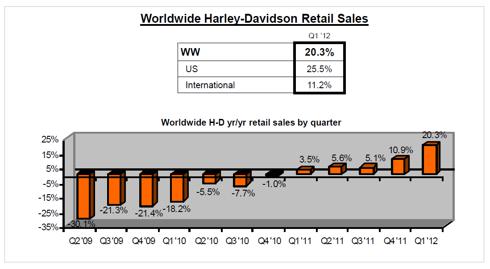 Future Outlook
HOG's management has done wonders for the company, by bringing in more efficient ways of production for the firm. The firm is set to grow large, especially as the U.S. economy recovers.
According to the firm, the current target market is a Caucasian male over the age of 35. The median age of a HOG bike user is said to be 47. This is higher than the 40 years median age of a U.S. bike rider, as bikes are expensive and typically only people of that age manage to afford it. The firm has also decided to target the female audience, as they form 10% of the total bike riders in the U.S.
The firm is actively working to increase its dealership network. It currently has 67 international dealers, and aims to have 100-150 dealers in countries, including India, Russia, China, France and Croatia by the end of 2014.
The firm aims to reduce SG&A expenses as a percentage of revenue. It has managed to somewhat achieve this aim, by restructuring the production premises.
The firm wants to realize savings that it has forecast from restructuring.
Revenue is expected to rise to peak levels that the firm enjoyed in 2006-07.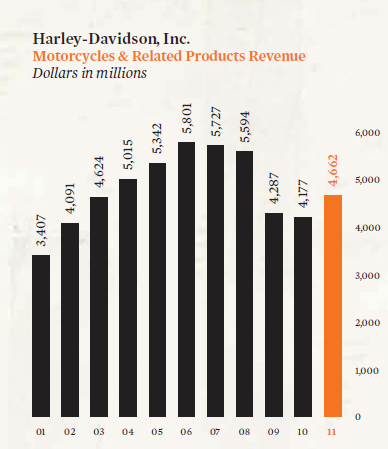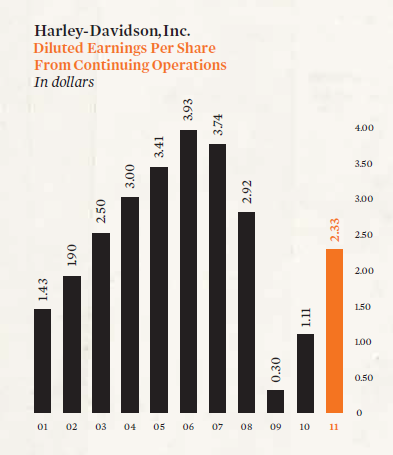 Earnings analysis tells us the following story:

*multiple of 12.85 has been used to calculate the market price
Given that the firm trades on a forward multiple of 12.85x and using 2015 earnings of $4.6, we reach a target price of $60, an upside of 33%.
Disclosure: I have no positions in any stocks mentioned, and no plans to initiate any positions within the next 72 hours.