For much the same reasons I sold slightly out of the money puts on Intel (INTC) today during the sell-off after the jobs report, late in the day I executed the same strategy on EMC Corporation (EMC), which is a cheap way to play the expanding amounts of data being created and needing to be managed.
6 reasons EMC is a great long term bargain at under $24 a share:
EMC's market capitalization is listed at around $50B right now. However, if you strip out its 80% ownership of fast growing VMware (VMW) and approximate net cash of $2B; the stock is selling at a market capitalization of just $20B.
Its primary competitor in the data storage space, Hewlett Packard (HPQ), is having major challenges trying to fix other parts of its business and this is taking away focus from their data storage products.
The stock is selling in the bottom third of its five year value range based on P/E, P/S, P/CF and P/B.
Analysts expect double digit revenue growth for both FY2012 and FY2013 and consensus earnings estimates for both years have not moved in three months. The stock has a five year projected PEG of 1.
Credit Suisse has an "outperform" rating and a $35 price target on EMC. The median analysts' price target on the stock is $32 a share and Cantor Fitzgerald upgraded the stock to a "Buy" in June.
The stock is priced just above short term technical support (See Chart).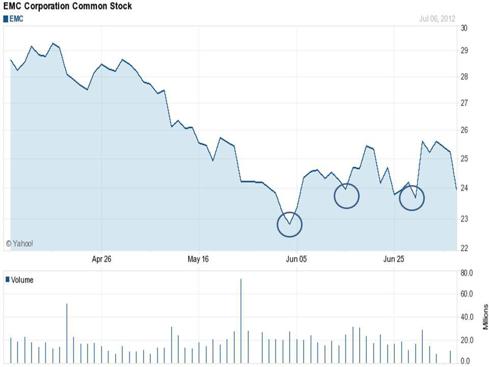 Click to enlarge
(Click to enlarge)