Market Recap: The market got a post-holiday hit after jobs data did not impress the market. Non-Farm Payrolls ((NYSE:NFP)) was weaker than expected at 80K, but it did show a decent improvement month-over-month. Expectations were for a rise of 100K. This news was also fairly disappointing after ADP Employment Change came in very strong yesterday. Average workweek as well as hourly earnings did improve, but they were minimal changes. The unemployment rate was flat at 8.2%. Overall, the news was not taken well by the market. That issue was exacerbated by Spanish yields moving toward 7%, weakening the euro. The market, though, has the Fed on its side with QE continually in the arsenal as well as recent positive moves by the ECB so that we should not see the same weakness we did in June.
Moving into next week, we are ending the week on a pretty sour note. Without many developments this weekend, we should see some follow through in the market to the downside. We do not get any major data next week until Wednesday, but we do start earnings season, so it will be interesting to see how that plays out.
Two Trades
Two trades we are in is a pair trade long Dollar Tree (NASDAQ:DLTR) and short Pall (NYSE:PLL) as well as options play in Wal-Mart (NYSE:WMT). Right now, we see the market as playing out a cyclically weak summer. The types of companies that can perform well in this market are discount stores, staples, and other pockets of growth that counter the market trend. This is the reason we like DLTR, WMT, and other companies like Dollar General (NYSE:DG), Costco (NASDAQ:COST), and Family Dollar (NYSE:FDO). Within in that conversation, we have to watch for companies that can have large currency issues with dollar strength. Most of these companies have extensive sales inside of the States. We are more cautious of staples like Coca-Cola (NYSE:KO) and Procter & Gamble (NYSE:PG) for this reason. They are not seeing a shift of demand as well as have large multi-national presences. Pall had weak earnings last month, and it broke key support. We believe WMT will continue to be strong and we have a 2012 price target of $80 on the company. Upside may be limited for the summer as the stock has made a nice move, so we prefer a bull put spread.
Trade #1: Long DLTR, Short PLL
Trade #2: WMT, Aug18, 67.50/65 Bull Put Spread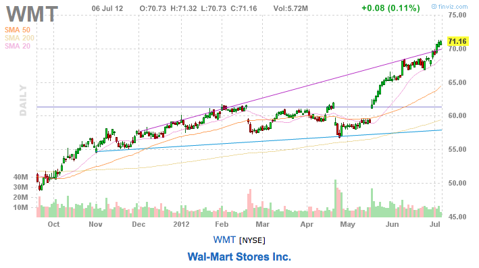 Click to enlarge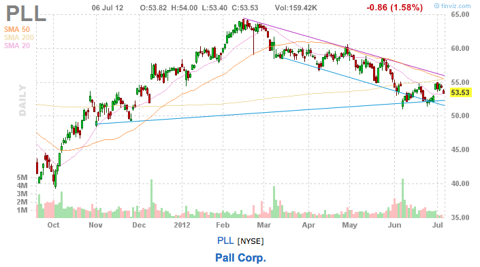 Click to enlarge
Tomorrow's Outlook
Next week marks the beginning of earnings season, and that news will be what really moves this market. Where are we headed will depend on what companies like Alcoa (NYSE:AA), JP Morgan (NYSE:JPM), and Google (NASDAQ:GOOG) say about their companies. We think expectations are fairly low for much to come out of earnings, which is one reason to believe that we may actually see some decent results from earnings season. At the same time, earnings guidance cuts can be detrimental to stock price growth. That news along with potential QE talk and Europe will be in the spotlight. Look for our weekly outlook article this weekend to break down next week further.
Oxen Group Moves
We had a solid day in the markets as we were able to exit a Dick's Sporting Goods (NYSE:DKS) bull put spread for a 19% gain. We also exited 1/2 of our long Apple (NASDAQ:AAPL) and short SPDR S&P (NYSEARCA:SPY) for a small gain. We added the above pair trade in DLTR and PLL. We also added a bull put spread for August expiration in Dollar General as well as an earnings trade bull put spread in Apple.
We have the following positions. In our Short-Term Equity Portfolio we are long Dollar Tree , Ashland (NYSE:ASH), Expedia (NASDAQ:EXPE), Apple, and Verisign (NASDAQ:VRSN). We are short Pall, McDonald's (NYSE:MCD), Life Sciences (NASDAQ:LIFE), SPDR S&P. In our Options Portfolio, we are long Dicks Sporting Goods, Dollar General and AutoZone (NYSE:AZO). We are short Aflac (NYSE:AFL), Garmin (NASDAQ:GRMN), and Under Armour (NYSE:UA). We have a reverse iron condor on Apple . In our Earnings Alpha portfolio, we are long Apple , Capital One (NYSE:COF), Disney (NYSE:DIS), Ashland, Vertex (NASDAQ:VRTX), Intuitive Surgical (NASDAQ:ISRG), Marriott (NYSE:MAR). We are short Pitney Bowes (NYSE:PBI), Schlumberger (NYSE:SLB) and Walgreen (WAG). We have a reverse iron butterfly in Decker's Outdoor (NASDAQ:DECK).
Chart courtesy of finviz.com
Disclosure:
I am long PNRA.