KB Home (KBH) has finally recovered most of its losses following its March 23rd earnings report. On that day, the market took KBH down 8.5% in response to those earnings, but I still concluded that the outlook for KBH continued to improve. I recommended buying the stock between $7.50 to $8.00, assuming that the market negativity would take the stock down much lower. In three more weeks, KBH fell 27.1% to $7.50. At that point, I again recommended buying KBH, this time at $7.50 (see "KB Home Finally Approaches Buy Point Amidst Post-Earnings Selling Pressure"). As of the July 6th close, such a purchase would have delivered 38% upside with a maximum drawdown of 13% (in early June).
The daily chart below shows the long-term downtrend line as it appeared at the beginning of the year from the 2006 peak. KBH has returned to this line and faces just as crucial a test as it faced earlier this year.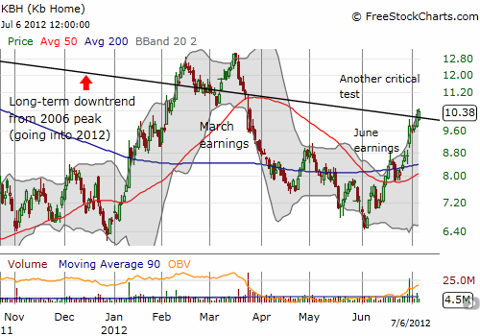 KBH nearly recovers from March's earnings debacle.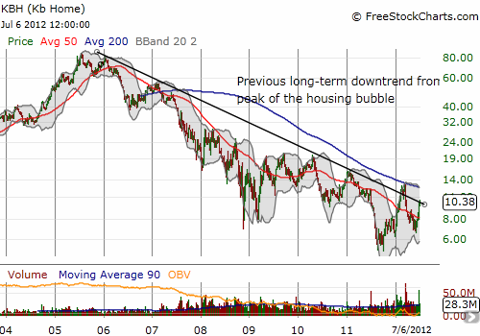 KBH is still struggling to break free of the previous primary downtrend.
The reaction to the June earnings is almost a reverse image of the reaction to March earnings. KBH is up 19% since reporting results. So what changed? First of all, market sentiment is just fickle. The extremely large swings in KBH this year have very little correlation to any changes in KBH's real prospects. During this last earnings conference call, management's tone was decidedly bullish. Chief Executive Officer, President and Director Jeffrey T. Mezger and Chief Financial Officer and Executive Vice President Jeff J. Kaminski appeared resolute in declaring that the company is going "on offense" (emphasis mine - all quotes and earnings call information from Seeking Alpha transcripts):
"With our operational momentum and the markets improving, we are going on offense, and I have personally made this my top priority. We are aggressively investing in land assets and communities, activating communities in stabilizing markets, increasing revenues per community and strengthening management teams with additional resources."
These four themes represent KBH's four strategic initiatives to take advantage of the stronger market environment for new homes. Almost all of KBH's 32 markets are showing significant improvement: the past 90 days were substantially better than the first 90 days of the year and late 2011. Specifically, KBH will spend $350M on land and land development for the remainder of the year. The company will activate almost 500 lots in communities primarily in Florida and Arizona while focusing on larger homes and higher price points. KBH is "opportunistically" increasing prices on its homes. Most of this increase in revenue per home comes from location and larger homes demanded by its customers. KBH expects these upward trends to continue. California was a key driver of increases in average selling price: a 33% year-over-year increase in the second quarter.
Overall results for the second quarter ranged from encouraging to bullish:
Net orders = 2,049, up 3% year-over-year and up 71% sequentially. (Last quarter there was a net decline)
Net order value = $503 million, up 18% year-over-year and 81% sequentially.
Backlog = 2,962 homes = $693M of potential future revenues, up 38% year-over-year and 51% sequentially.
Revenue = $303M, up 11% year-over-year. Revenues increased in 3 of KBH's 4 geographic regions.
The fourth region was "nearly flat" year-over-year.
Average sales price = $233,000, up 9% year-over-year and 6% sequentially. (Last quarter, average selling price increased 6% year-over-year.)
Housing gross margin = 16.9%, up from 7.3% in last year's second quarter and 9.7% in the first quarter of 2012. (Last quarter, housing gross margin declined from 13.4% to 12.3% year-over-year mainly due to the closeout of one of KBH's most successful housing developments that was located in Redwood Shores, south of San Francisco.)
Housing margin excluding impairment and land option contract abandonment charges for all periods = 20.3% compared, up from 14.9% last year's second quarter and 12.3% in the first quarter of 2012.
Forward-looking guidance also looks good although comps will be tough given KBH had a very strong selling season in the second half of 2011:
Average selling price will "slightly improve" in Q3 from Q2, a strong increase from Q4.
Sequential improvements in gross margin in the third and fourth quarters and again in the fourth quarter, an year-over-year increase.
Other expected improvements for the second half, especially in the fourth quarter: "deliveries, gross margin, average selling price and SG&A ratio."
Profitability by the fourth quarter leading to profitability for 2013. "The fourth quarter is an absolute ATM in terms of generating cash."
Cash neutral by end of the year (same expectation as last quarter).
While KBH is bullish about its business, it is wary about its costs. Costs increased about $1,200 a house, but KBH was able to offset that with pricing. I was a bit surprised that business is strong enough that KBH can actually wield some pricing power, passing on increased costs to its customers. Here is how KBH described the source of the cost increases and their likely impact:
"We are starting to experience higher costs for labor and direct construction materials such as lumber, concrete and drywall. Through the end of the second quarter, the impact of these higher costs has been offset by sales price increases, which we have implemented in a majority of our communities during the first 6 months of the year. We believe incremental price increases can continue to offset any further cost increases for the remainder of 2012, which should not result in margin erosion but maybe a headwind in relation to our margin expansion plans."
Moreover, land prices are also on the rise. KBH says that land sellers were the first to detect the improvement in the housing market and they are now able to exert some pricing power:
"While there's no question the housing markets are getting better, the land sellers figured it out first. So land prices are going up every bit as fast, if not faster, than home prices are."
Finally, a major impediment to mortgages on KBH homes is now fully in the past. KBH is encouraged by the official launch of Nationstar as its mortgage partner. The company started accepting applications May 1st. Looking back, KBH now recognizes the significant disruptions the company experienced while transitioning away from MetLife (MET) and Bank of America (BAC) as mortgage partners. I am hoping the company can transfer its lessons learned to the current partnership and thus create a much improved customer experience. This move will further strengthen KBH's underlying business fundamentals.
While I continue to get more and more encouraged by KBH's results, shorts are clearly not impressed. Short interest in KBH remains extremely high, now at 59.8% of float. Here is an update of the shares short: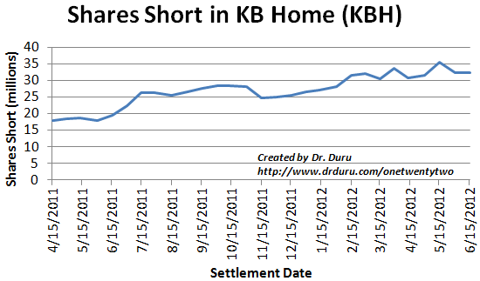 Shares short in KBH have nearly doubled in 15 months.
The heavy short interest is understandable as KBH's performance still lags many of its peers (for example see "KB Home Falls Further Behind the Homebuilders ETF (XHB)" from May 31st). However, I think KBH has great catch-up potential and as it materializes, the stock, over time, should increase a lot more. For some perspective, Toll Brothers (TOL), which specializes in upscale homes, is incredibly sitting at five-year highs and appears to be breaking out from a multi-year consolidation phase.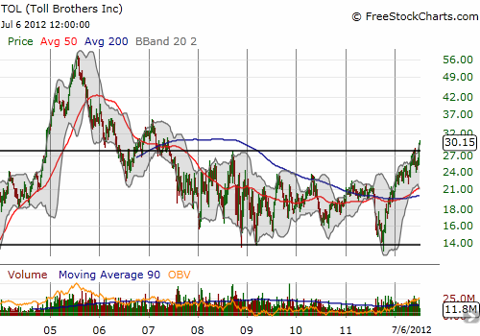 Toll Brothers breaks out of multi-year consolidation.
Source for charts: FreeStockCharts.com.
I believe this is another good sign for KBH, which is also targeting higher-priced homes, but also a leading sign for the rest of the industry. My expectation for a housing bottom in 2013 appears to remain intact.
Be careful out there.
Disclosure: I am long KBH.