As record high temperatures stifle the U.S., natural gas exchange traded funds may finally break out of their rut on increasing electricity needs.
The first five months of the year have been the hottest on record across the contiguous U.S., reports Douglas Main for LiveScience. According to the National Oceanic and Atmospheric Administration, over 40,000 daily heat records have been broken year-to-date. In June, 164 all-time high temperature records were tied or broken.
Jake Crouch, a climate scientist with National Climatic Data Center, noted that this is quite unusual, given that the summer heat typically turns up over July and August.
The rising temperatures may also be a new trend. For instance, over the last few years, daily record high temperatures have been outpacing daily record lows by two to one on average, according to Climate Central.
"This could be a harbinger of things to come," Jeff Weber, a scientist with the University Corporation for Atmospheric Research, said in the article.
Meanwhile, the U.S. Natural Gas Fund (UNG) has jumped almost 20% over the past three months as natural gas spot prices rallied from below $2 per million British thermal units.
Natural gas futures were trading at about $2.90 Thursday.
Currently, natural gas has slowed after the Energy Information Administration revealed that gas inventories increased higher than expected, according to Business Insider.
"The net injection to U.S. natural gas storage was more than the consensus expectation and suggests a slight weakening in the market's underlying supply-demand balance," Citi Futures Perspective analyst Tim Evans said.
According to the EIA, natural gas inventories rose 57 billion cubic feet for the week ended June 22, with storage levels at 75%. Stocks were 653 billion cubic feet higher year-over-year over the same period and 613 billion cubic feet above the 5-year average.
U.S. Natural Gas Fund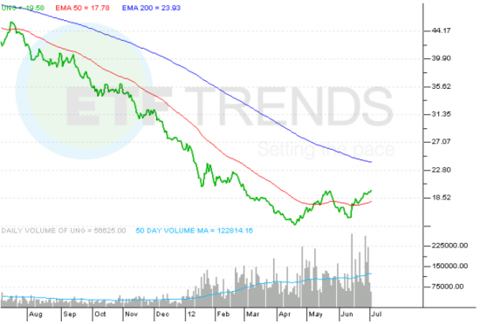 Max Chen contributed to this article.
Disclosure: I have no positions in any stocks mentioned, and no plans to initiate any positions within the next 72 hours.