Insider buying in the biotech sector is something I rarely ever look at, mostly because it is usually pretty rare that biotech insiders are buyers and not sellers. Biotech insiders know better than anyone that the drug discovery and approval process is one fraught with danger and that they should sell when the opportunity arises.
However, with the market and the biotech sector taking a massive beating, I was wondering if insiders were taking the opportunity to buy some of their own stock at much cheaper levels than they were trading at just a few months ago. Here are a few things that jumped out at me.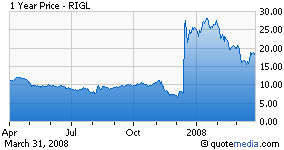 First of all, my favorite name Rigel Pharmaceuticals (NASDAQ:RIGL). What jumped out at me was not so much the insider buying (there hasn't been any since last summer), but the fact that despite the stock making a huge move from $8 last December to $30 (and down into the teens recently), there has not been a single insider sale in what seems like years. That is astonishing to me and tells me that the company is very confident about the pipeline, especially its lead drug R788 which has blockbuster potential in rheumatoid arthritis, not to mention the potential it has in other indications like lupus and ITP.
I find a similar situation with MiddleBrook Pharmaceuticals (MBRK). The stock went from $1 to $4 and there have been no insider sales. I'm not sure if the insiders are blocked from selling because they have been public about looking into strategic alternatives for the company, but I think they can sell as long as nothing definite is on the table.
A few biotechs that were trading at 52-week lows recently have had their first insider buying in quite some time. XenoPort (NASDAQ:XNPT) had two insider buys of around ten thousand shares total on March 14th when the stock was in the $42 area.
Among the stocks that are developing drugs for Heptitis C, Vertex Pharmaceuticals (NASDAQ:VRTX) had a bunch of insider buys in February at the $18 level. Human Genome Sciences (HGSI) had a couple of insider buys in the $5 area two weeks ago as well. Pharmasset (VRUS) had a couple of small insider buys two weeks ago in the $16 area. VRUS should have good data at EASL meeting later this month, so that is one I am watching closely.
Omrix Biopharmaceuticals (OMRI), which had a very bullish analyst meeting last week, had a bunch of insider buying from three different insiders recently, including the CEO. There was more insider buying the day after the meeting.
Finally, there were some biotechs that have been absolutely crushed yet have had steady insider selling and no buying whatsoever. Those include Onyx Pharmaceuticals (NASDAQ:ONXX), Amgen (NASDAQ:AMGN) and Progenics Pharmaceuticals (NASDAQ:PGNX). I would be wary of stocks that are down huge yet the insiders are net sellers.
While insider buying or selling should never be the deciding factor on whether to invest in a stock, it could give some good clues on where the winners will be in biotech land.
Disclosure: Author has long positions in RIGL, MBRK, VRUS, OMRI and PGNX