Being a firm believer in peak oil's impact on oil supply/demand fundamentals, it amazes me that oil stocks such as Conoco Philips (NYSE:COP), Exxon Mobil (NYSE:XOM), and Chevron (NYSE:CVX) have not performed better in the last few months. I'd also throw the energy services stocks into this group. How stocks such as Schlumberger (NYSE:SLB), Transocean (NYSE:RIG), National Oil Well Varco (NYSE:NOV), and Noble (NYSE:NBL) have not performed better considering the current fundamentals and prices of oil and natural gas is beyond me. Let's take a closer look at Conoco Philips.
Conoco Philips currently trades around $75 and has a 52-week range of 66.24-90.84. This puts the PE=10.5 and the dividend yield of 2.5%. With oil over $100/barrel and natural gas over $9, COP has been printing money the last few quarters. Sure, crack spreads have contracted greatly because the price of gasoline has not kept up with the price of oil. However, as the refiners shut down for the maintenance and demand picks up during the summer driving season, gasoline prices will rise and Conoco Philips will be hitting on all cylinders. COP is the largest producer of natural gas in the US.
Despite the negativity, some analyst opined when Conoco bought Burlington Resources that COP's strategy in natural gas is dead-on and will be a huge money maker for them in the coming decades. Although Russia seems to be a very tricky place to do business these days, Jim Mulva appears to know what he is doing with respect to COP's 20% stake in Lukoil. This partnership is proving to be a nice growth vehicle and is delivering tidy profits.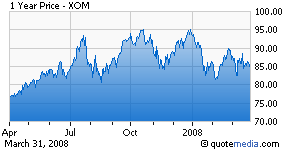 What is with Exxon Mobil's skimpy 1.6% dividend yield? This is the lowest dividend yield of their peers: COP (2.5%), CVX (2.7%), and BP (5.4%). This is even harder to figure when one considers that XOM's cash flow, profits, and balance sheet are arguably the best of all the majors. When I contacted Exxon Mobil about the paltry dividend, a vice president gave the usual excuses about stock buy-backs, XOM's stock appreciation, etc. etc. All that said, the chat rooms are abuzz with long term shareholders who cannot sell their shares due to tax considerations and are quite angry that the company doesn't guide some of that huge cash flow into the dividend as opposed to stock buybacks. With oil over $100/barrel, oil stock shareholders should receive both price appreciation AND a decent dividend. XOM should be yielding close to 3% according to many, almost double the current dividend yield.
Back to peak oil. If you believe Matt Simmon, Boone Pickens, and investment gurus like Stephen Leeb that peak oil is a very real and dominant theme for the coming years, it is hard to invest in anything but energy, energy services, and gold. As the cost of oil continues to climb, inflation will also rise. The policies of the current administration don't help, as fiscal and foreign policies have had a disastrous affect that are exacerbating (and accelerating) the effects of peak oil on the markets.
Bottom line is this: oil will continue to be strong, the U.S. dollar will continue to weaken, inflation will become a dominant investor consideration, and an investor must have a decent position in gold as an insurance policy. You can buy the bullion directly, an ETF like streetTracks Gold ETF (NYSEARCA:GLD), or play the equity side with a position in Fidelity Select Gold [FSAGX]. Regardless, get over your hesitancy to get into the volatile gold market. Remember, the reason most investors don't own things they need to own is because they are uncomfortable with the investment. Don't let this happen to you.
Disclosure: Author holds positions in some of the above-mentioned securities.