Actionable Items:
Highest Positive Spread: Cornerstone Total Return Fund (CRF)
Lowest Negative Spread: Thai Capital Fund (TF-OLD)
Focus Stock(s) of the Week: Cohen & Steers Dividend Majors (DVM)
Last Week's Focus Stock: H&Q Healthcare Investors (HQH)
Investment Landscape: Below is our current graphic trend analysis of the investment landscape-sans any policy or political consideration designed to counter these trends. We coin this as "Eqconometrics".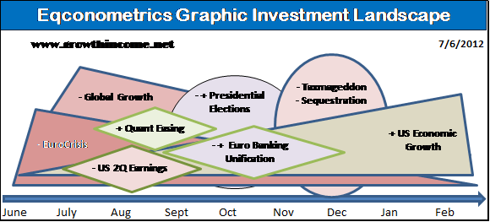 Weekly Change: Since last week, we have changed from positive to negative "U.S. 2Q Earnings".
Current earnings estimates are too high and the managements' earnings outlook will likely be mute given the significant amount of uncertainty. We've also added a positive transient triangle for "Quant Easing"" as greater pressure will be placed on the Fed to act as job numbers remain weak.
Euro Sputters: We have also gone to neutral for "Euro Banking Unification". The European finance ministers will meet on July 9th to "fine tune" the communique of June 29th outlining the new use of the European Stability Mechanism (ESM). Here is where the Devil lives. It is now likely that sovereign guarantees will likely accompany any investments by the ESM in the region's banks. This is all occurring against a backdrop of increasing resistance of the stronger northern Eurozone countries (Denmark, Finland and Germany) to continue to support its weaker members at any cost.
CEF Weekly Review: On average, the 13 closed-end fund (CEF) types registered a share price increase of 0.9% for the week ending 7/6/12. The high-low spread (average percentage price change difference between the highest and lowest fund types) registered this week was +1.7% versus +2.1% the previous week.
The PowerShares CEF Income Composite (PCEF), an ETF that invests in taxable fixed-income CEFs, advanced 0.6% for the week. PCEF is now up 5.2% YTD on price appreciation alone. Currently, PCEF's trailing twelve months' yield is 8.4%.
It was all about Friday-Again. But this time it was on the downside. The S&P 500 dropped 0.9% after coming out of the block earlier in the week propelled by investors' sentiment that "Banking Unification" was the first tangible step toward a closer fiscal union among Eurocurrency countries.
This momentum was completely upended by the "one-two" punch of: 1) investors becoming desensitized by monetary machination offered up by the ECB and PBOC lowering rates as well as England's attempt at quantitative easing, and 2) non-farm payroll that failed to impress. It all added up to a weak global economic outlook as investors are bracing for lower earnings forecasts as companies roll out their 2Q earnings.
For the week the S&P 500 was off 0.5% and is now up 7.7% YTD. The ETF (SPY) experienced a small tracking error and was down 0.4%.
CEF Weekly Fund Type Performance: The yield nature of CEFs continues to attract investors. All fund type average share priced advanced outperforming their relative change in average NAV per share with the exception of LoanPartFnds which recorded a negative PrcNAVSprd of 0.3%.
There was a general dispersion of fixed-income and equity-oriented CEFs in the share appreciation line-up this week. This could be possibly due to the unique nature of the week that features a holiday sandwiched mid-week coupled with equity markets rising early in the week only to fall back hard on Friday,.
ConvtSecFnds led with regards to share price appreciation advancing 1.5%. The advance was fairly broad-based. AGIC Convertible & Income Fund II (NCZ) was the largest price gainer in the group advancing 3.4% while its NAV advanced a modest 0.7%. NCZ pays an annualized monthly distribution yielding 12.1% and trades at a premium of 13.4%.
SingleStMuniFnds and NatlMuniBndFnds advanced 1.3% and 1.2%, respectively. Under the "Affordable Care Act of 2010" (Obama Care), muni income does not raise adjusted gross income (AJI) for the purpose of calculating the 3.8% Medicare surtax on investment income for joint filers over $250,000 (Single filers $200,000); nor is such income subject to the investment income tax directly.
LoanPartFnds was the straggler this week-possibly a result of expectations of increased downward pressure on interest rates as expectations of another round of quantitative easing may be launched by the Fed to bolster sagging employment growth. First Trust Senior Floating Rate (FCT) share price dropped 2.3% this week while its NAV retreated a more modest 0.2%. The stock went ex-dividend on Monday which only represented a 0.6% price adjustment.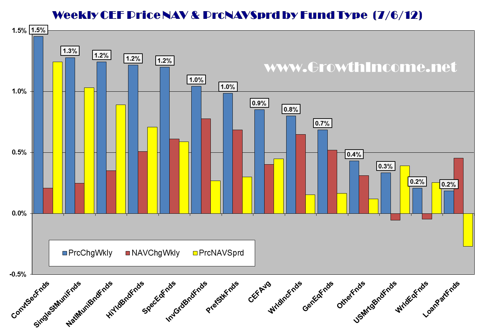 Weekly CEF Winners and Losers: One of the CEFs with the greatest positive PrcNAVSprd* for the week was Cornerstone Total Return Fund . CRF's share price advanced 5.8% while its NAV per share declined 0.2% generating a positive PrcNAVSprd of 6.0%.
CRF, in our opinion, is essentially an investment ruse. Its market cap is a meager $36 million and it pays an annualized monthly return-of-capital distribution yield of 17.4%. Furthermore, it trades at premium of 25%. It reloads its capital base through periodic non-transferable rights offerings. The last one was in December of '11. In the following chart CRF is in "blue" and the SPDR's S&P 500 is in "green".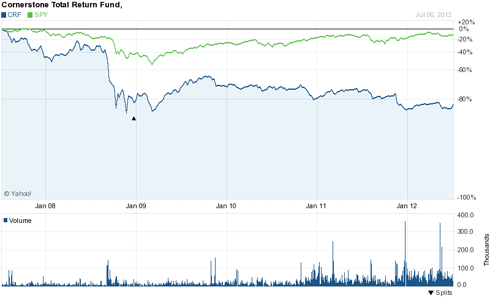 No Cigar: Subsequent to our articulation of any deficiencies in any of the Cornerstone advised CEFs, the stock in question the following day rallies as the holders and traders defend their positions. Consequently, you may see the stock get defended on Monday. The stock typically falls off in subsequent days.
One of the CEF(s) with the greatest negative PrcNAVSprd for the week was Thai Capital Fund . TF's share price declined 5.1% while its NAV increased 2.1% generating a negative PrcNAVSprd of 7.2%.
The share price decline was likely precipitated by the failure earlier in the week of a shareholder vote which failed to exceed the required 66 2/3% shareholder approval to liquidate the fund. Therefore, the Fund will not be liquidated. It will continue its operations as a CEF in accordance with its stated investment objective and policies. Over the past 3 years TF had traded at an average discount of 13% and for the 2nd half of the previous year its discount reached 20%.
CEF Focus Stock(s) for the Week: Our focus stock for the week is Cohen & Steers Dividend Majors . DVM's focus is on a diversified portfolio by property type of the "blue chip" REITs. Its quarterly annualized yield is 6.5% and it trades at a slight discount of 5%. DVM's total assets are a modest $190 million and it employs no leverage. Cohen & Steers has an established and recognized expertise in real estate securities.
DVM's share price declined 1.8% for the week while its NAV increased 0.6%. The combination generated a negative PrcNAVSprd of 2.4%*. This is in contrast to its 32 peers who on average experienced a 1.8% share price advance with a 0.9% increase in the average NAV generating a positive PrcNAVSprd of 0.9%.
Commercial Real Estate Tone Firming: The commercial real estate picture appears to be firming overall. The apartment sector is "on fire" as vacancies tighten and rents escalate. The office sector pace of growth-sans technology hot bets in and around San Francisco-has slowed with sluggish employment growth. Vacancy rates and rents at U.S. neighborhood shopping centers improved for the second quarter in a row. The first quarter marked the first time in nearly seven years that average vacancy rates at strip malls fell. Health care properties have received a boost with ObamaCare.
Non-Real Estate Considerations: We are becoming more focused on the taxation of investment income-both on a nominal marginal tax rate basis but also as it relates to the Medicare 3.8% surcharge for high wage earners that could be exposed to an additional 0.9% based on wages alone.
In the event that the Bush Tax Cuts sunsets at the end of this year (odds are now low), the marginal tax rate on investment income could leap to 3 times its current rate when fully loaded. This would be in contrast to taxes on long-term capital gains that will increase only to 20% from 15% and will also be exposed to an investment income surcharge. (Distributions from CEFs that hold investments that are deemed as conduits, i.e., qualify to pay no corporate taxes, are not eligible for the lower 15% tax rate for qualified dividends.)
"Give Me Shelter": Since a material portion of DVM's distribution is deemed return-of-capital, due to the non-cash expense of depreciation, investors should not have to currently pay taxes on the amount of that distribution so deemed return-of-capital when received. The amount of the return-of-capital distribution goes to reduce the cost basis in the stock. If the stock is held for the appropriate amount of time, the sale of the stock is deemed a long-term capital gain.
Therefore, investors are not only deferring their taxes on distributions on the return-of-capital portion of the stock distribution, but they're converting it to a lower capital gains tax rate at some future point on the sale of the stock. Over the past two quarters, DVM's distribution has amounted to 85% return-of-capital. There can be no guarantee that level of ROC will be maintained.
Caveats: Our expertise is not in taxes and we recommend that if you consider taking this line of investment thinking, you should talk to your trusted financial advisor to determine whether this strategy is one that can be effectively employed on your behalf.
Last Week's Focus Stock(s): Our focus stock from the previous week was H&Q Healthcare Investors' . HQH received a 5.2% boost in its share price last week as a result of the Supreme Court's judicial legislation conferring legitimacy on the "individual mandate penalty" by calling it a "tax".
HQH invests globally in health care and medical technology firms along with some private equity investment in that space. We felt the stock might give back some of that gain this week by virtue of its heady advance the previous week. HQH was off 1.6% for the week, greater than the 0.5% for the S&P 500.
Joe Eqcome (Owns a diversified portfolio of CEFs and ETFs and is long stocks in the CEFBig10™ and CEFMuni10™.)
The first is a balanced equity-income portfolio (CEFBig10™) and the second a tax-exempt income portfolio (CEFMuni10™).
---
[*] All things being equal, price and NAV should move in tandem. A price movement greater than the NAV generates a positive PrcNAVSprd and may be interpreted as negative on a near-term basis and indicate that the stock is overvalued relative to its NAV which in theory is the stock's intrinsic value. The opposite would be true for a negative PrcNAVSprd.