Starting next year you must add a 3.8% Medicare tax to your investment income (including interest, dividends, gains, rents, and royalties -- a.k.a "unearned income" as the IRS calls it), if you have adjusted gross income for IRS purposes of over certain levels.
The basic tax rates on short and long-term gains are scheduled to rise by variable amounts in 2013 depending on income (5% is a good round number for that for many investors), and then the 3.8% Medicare tax is on top of that.
Is paying tax now and reinvesting better than paying taxes later and at perhaps an 8.8% higher rate (and then who knows about 2014)? Given the straights we are in nationally and at the state levels, 2014 rates could be worse.
This could be of particular importance to dividend investors who may hold some stocks that have become quite popular and for which the yields are now much lower than when they were first purchased. In addition to possibly making a good tax decision, the taxes may encourage some substitutions that would upgrade income. It's a tough set of trade-offs to consider, but consider them we must at times like this.
Acting now may not be right for you, but making sure you are fully up-to-speed on the issues, and applying your own slide-rule to the question before taxes change is appropriate.
This is how the AICPA describes the 2013 healthcare tax:
Effective in 2013, the Health Care and Education Reconciliation Act of 2010 will subject some individuals to a 3.8% Medicare contribution tax on unearned income. This new tax will apply to single taxpayers with a modified adjusted gross income (MAGI) in excess of $200,000 and married taxpayers with a MAGI in excess of $250,000 if filing a joint return, or $125,000 if filing a separate return. The provision is contained in new Sec. 1411, Unearned Income Medicare Contribution. Congress added the provision as a means of raising revenue to pay for health care reform. It targets wealthier taxpayers, as can be seen by the thresholds at which the tax applies.

MAGI is defined as:

adjusted gross income increased by the excess of-

(1) the amount excluded from gross income under section 911(a)(1), over

(2) the amount of any deductions (taken into account in computing adjusted gross income) or exclusions disallowed under section 911(d)(6) with respect to the amounts described in paragraph (1).

For most individuals, MAGI will be their adjusted gross income unless they are U.S. citizens or residents living abroad and have foreign earned income. The tax is equal to 3.8% of the lesser of net investment income or the amount by which MAGI exceeds the threshold
Here is a table from Laws.com comparing tax rates now and in 2013 for various tax brackets: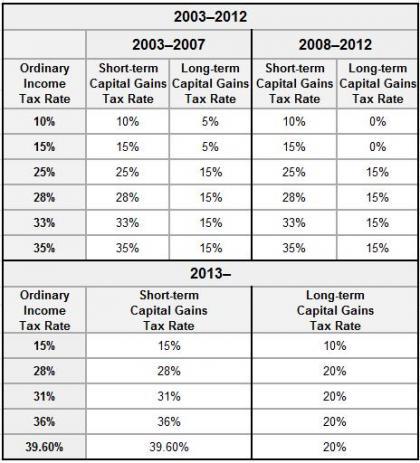 Your state may have or may institute parallel Medicaid supplemental taxes, or just plain more taxes.
Depending on how things go, 2013 might be a lower tax year than 2014 and 2015. Increased taxes are certainly one way governments will try to solve their fiscal problems.
You may be well served to look over your current holdings for gain positions that may be fully valued or overstretched or vulnerable to policy changes probable in 2013.
The mini-max question is whether bringing taxes forward and then reinvesting is a better long-term solution than pushing them out into a less certain tax environment.
Just as interest rates have more room to rise than to fall, tax rates for investors in a "social justice" political environment in an era of fundamentally bankrupt government are more likely to rise than stay the same or fall.
Taking gains on "mature" positions to pay known taxes, creating a new tax basis by reinvesting, and moving forward from there into a period of unknown tax levels may be a reasonable thing to do.
Some of your utilities sector (NYSEARCA:XLU) or consumer staples sector (NYSEARCA:XLP) stocks may be fully valued due to dividend chasing. At the same time, some of your basic materials sector (NYSEARCA:XLB) or energy sector (NYSEARCA:XLE) stocks might be in loss positions. You might want to harvest some losses at the same time to reduce or eliminate a current tax bill.
Here are 1-year and 3-year charts of the sector ETFs for those four sectors versus the S&P 500 (proxy SPY).
click to enlarge images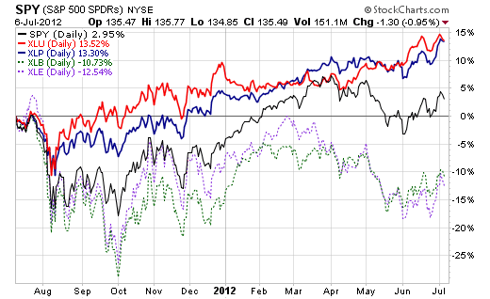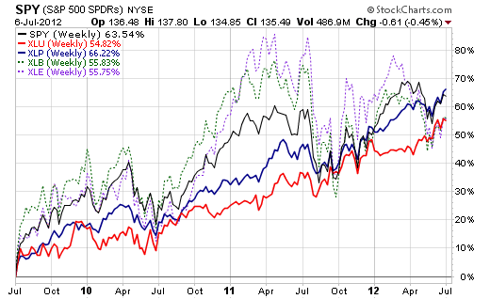 Of course, if you are committed to your particular stocks and are in a virtual buy and never sell mode, then all the gains tax rate talk is mostly irrelevant (except perhaps for estate matters). However, if you may be likely to make some substitutions within the next 12 months, perhaps making those choices in the next 5+ months may be more efficient.
It's worth rolling around in your head before tax rates change, just to see what might make sense.
Here are two articles we published in prior years about tax loss harvesting and the "Wash Sale Rule". If you want to maintain your general risk/opportunity profile, you may want to reinvest the money generated by loss harvesting. In that case, you need to be clear on the Wash Sale Rule.
Disclosure: QVM has positions in SPY as of the creation date of this article (July 7, 2012).
General Disclaimer: This article provides opinions and information, but does not contain recommendations or personal investment advice to any specific person for any particular purpose. Do your own research or obtain suitable personal advice. You are responsible for your own investment decisions. This article is presented subject to our full disclaimer found on the QVM site available here.