Can social networks provide business value? In most cases, I'd argue no. Very often, those "Web 2.0" sites are filled with gossip or, even worse, registered user names but no site visitors. Still, there are some prime examples where social networks really are driving business innovation.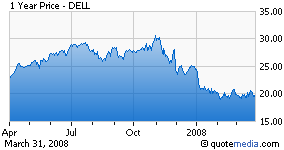 For instance, take a look at Dell (NASDAQ:DELL) IdeaStorm -- an online forum where readers can suggest new business ideas, vote for their favorite submissions and interact with Dell. The site is so popular that other vendors (such as Canonical, an open source advocate) are now copying the concept. And Dell itself may take IdeaStorm into new markets, according to a conversation I had with Dell VP Greg Davis on March 28.
In fact, the IdeaStorm concept could play a critical role in Dell's efforts to build the company's partner network. Dell needs a range of partners -- IT consultants, integrators, value-added resellers and service providers -- to help bolster sales and support in the small and midsize business markets.
Dell has signed up more than 6,000 partners since launching a partner push in December 2007, according to Davis. But how can Dell make sure it's listening to partners, addressing their potential concerns, and implementing their best ideas?
That's where IdeaStorm enters the picture. IdeaStorm is about innovation and spotting new business opportunities before they go mainstream. Readers flooded IdeaStorm with suggestions and proposals when Dell began exploring the desktop Linux market in early 2007. Ultimately, IdeaStorm played a critical role in Dell's decision to pre-load Ubuntu Linux on selected laptops and desktops, starting in mid-2007.
IdeaStorm also was a great sounding board for customers who wanted Dell to re-introduce Windows XP preloads as an alternative to Windows Vista preloads.
Looking ahead, Dell may build an IdeaStorm-type site just for partners, Davis says. That would be a smart move. IdeaStorm is one of the best social-driven sites I've seen. Repeating that effort for partners should prove worthwhile.
Disclosure: Author has a long position in DELL