At the end of the previous EU summit on June 28-29, euphoria briefly gripped the markets as it appeared that the eurozone had finally gotten its act together. Leaders agreed to directly recapitalize Spain's struggling banks through its bailout funds, as well as to allow the bailout funds to directly buy eurozone sovereign debt.
However, as I noted in an article last week on Seeking Alpha, what the EU summit achieved was merely window dressing, with no concrete short-term measures taken to halt the spreading eurozone crisis. Spanish banks will be recapitalized only AFTER a new common eurozone banking regulator is established within the ECB, and the bailout funds are nowhere near large enough to have an impact on sovereign bond yields.
It appears as though markets now understand the EU summit had no immediate accomplishments. First, after reaching a post-summit low of 6.45% on the day the summit ended, Spanish 10 year bond yields briefly broke above 7% last Friday, before settling back to end at around 6.98%.
click to enlarge images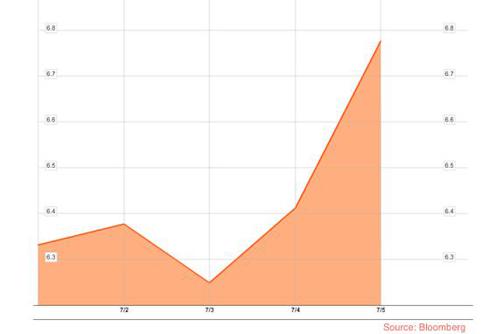 Second, Spanish two year bonds jumped a full 52 basis points in a single day last Thursday.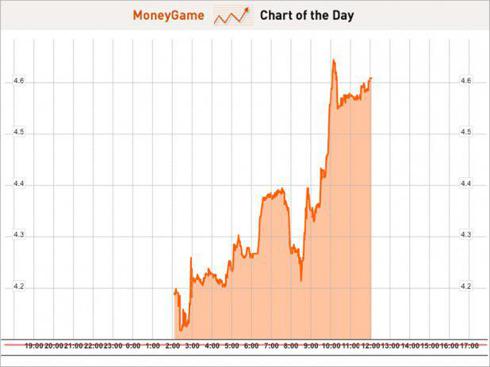 Click to enlarge
As this excellent article from Business Insider explains, much of the recent borrowing by the Spanish government has been at a maturity of three years or less. This is because Spanish banks borrowed heavily from the ECB under its multi-trillion dollar three year LTRO refinancing operations, and then on-loaned the money to the Spanish government. A jump in Spanish two year sovereign yields, therefore, is essentially a vote of no-confidence in the short-term solvency of the Spanish government.
In my mind, we are now back where we were two weeks ago before the EU summit, with Europe and the eurozone flashing code red. Is there anything that authorities in Europe can still do to stem the crisis, at least in the short-term?
I believe the answer is a definitive yes. I will say again what I said in my two previous articles: The ECB must engage in massive and unlimited Quantitative Easing to the tune of trillions of Euros, and it must do so immediately. ECB QE is now the only thing that can actually drive down sovereign yields of troubled eurozone members to low enough levels to allow them to avoid default. Only this type of "shock and awe" QE program by the ECB will bring eurozone political leaders enough time to reach agreement on the full-scale fiscal union that the common currency needs to survive over the long-term.
Just to be clear, I do not mean to argue that QE is somehow an ideal solution; but rather, that without it, we risk a meltdown in Europe that would make Lehman seem like child's play. In sum, massive QE by the ECB is merely the lesser of two evils. Given that a primary role of any central bank is to be the lender of last resort in a crisis, I am befuddled that the ECB will not act as it should.
Unfortunately, given that there is no indication that ECB is prepared to implement QE on the scale needed, I believe that risks from the eurozone will remain highly elevated. Investors would be wise, therefore, to ensure they are adequately hedged in case Europe should suddenly melt down.
How to play the continued volatility in Europe? First, we should note that between the eurozone crisis and slowing US growth, there has been a surge into the perceived safe haven of the dollar. On Friday, the Euro fell 1 percent to a two year low of $1.2264, before rebounding to close near $1.23. The best way to play continued dollar strength is the PowerShares DB USD Bull ETF (NYSEARCA:UUP). UUP owns 58% of its assets in long dollar/short Euro trades.
Second, I still believe that in the current environment any investor with a substantial equity portfolio should hold at least some amount of Treasury bonds as a hedge. Treasuries are the asset class most negatively correlated to equities of which I am aware, and you can be reasonably sure that if Treasury bond yields are moving up, that your equity portfolio likely is as well. Some combination of the iShares Barclays 7-10 Year Treasury Bond ETF (NYSEARCA:IEF) or the iShares Barclays 10-20 Year Treasury Bond ETF (NYSEARCA:TLH) are a good combination.
Disclosure: I hold some Treasuries in my 401(k)