Insiders are at it again over at Ceco Environmental (NASDAQ:CECE). The last time the CEO and the Secretary (they are related) bought up shares, the stock tripled in just seven months.
On September 20th, 2005, CEO Phillip Dezwirek and Secretary Jason Dezwirek bought up a combined 77,799 shares (if you include purchases made by the investment firm Icarus, of which they co-own) for around 4/share. Less than 7 months later, they both cashed out on that purchase and then some by unloading 100,000 shares at the near top of the run at 12/share for a quick triple. More than 600K profit in a few months time. It should be noted that we are talking about less than 10% of their entire holdings, so it's not like they were making large bets on the company.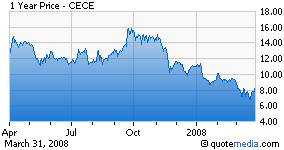 After cashing out in April of 2006, it would be more than 2 years before another insider purchase was made by either Phillip or Jason. One week ago, CEO Phillip Dezwirek decided it was buy time again and picked up 40K shares on March 24/25th at around 6.75. Is it any coincidence that just one week later, the company announced 33 new orders, each valued at more than 200K? I think not.