After Rackable Systems, Inc. (RACK) had the market for high-density, low-power servers to itself, larger competitors have entered the market, driving intense pricing competition. Although we expect price competition to continue, we believe new management has the company focused on differentiating Rackable's solution and are optimistic that the company will return to profitability in early 2009.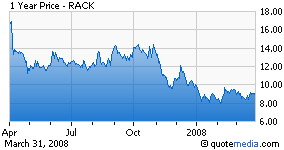 Rackable Systems currently trades at 0.7x our 2008 revenue estimate, a discount to the industry mean. Rackable continues to compete in an aggressive environment with stiff competition from market giants, Dell Inc. (NASDAQ:DELL) and Hewlett-Packard (NYSE:HPQ). We do not expect the company to return to profitability in 2008, and neither do we believe that the company will return to previous margins given the increasingly intense competitive environment and the need for RACK to invest in engineering.
We believe the market for high-density, low-power servers will continue to demonstrate strong growth over the next five years as the market becomes more mainstream with more competitors focusing on it. We, therefore, maintain a Hold rating on RACK shares with a price target of $9.50, which is based on a P/S multiple of 0.8x 2008 revenue.