Alcon, Inc. (ACL) develops, manufactures and markets ophthalmic pharmaceuticals, ophthalmic surgical equipment, contact lens care products and other consumer products that treat diseases and conditions of the eye. All three major businesses lines at Alcon should continue to generate strong top-line growth. Share repurchases and tax incentives will additionally benefit EPS.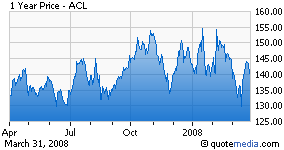 While the company is faced with several issues including patent challenges and expirations as well as pipeline setbacks, we like the fundamentals at Alcon. The lofty valuation the shares trade at likely leaves little room for significant appreciation in the near-term, however. We like the stock as a long-term holding and rate the shares a Hold with a $150 price target.
In December 2007 the company announced a new share repurchase program whereby up to $1.1 billion of common stock (approximately 7.5 million shares) will be repurchased with cash on hand and/or cash from operations over a twelve month period. Seventy five percent of these shares are expected to be repurchased from majority shareholder Nestle (OTCPK:NSRGY). This program, which will begin in the first quarter of 2008, is in addition to the ongoing repurchase program in which 2.8 million shares remain authorized for buyback.
Continued international penetration and market share gains will be the fuel for future growth at Alcon. Sales in emerging markets, including China, Russia and India were a big contributor to growth for the fourth quarter and the full-year. The bottom line will dually benefit from the stock repurchase program as well as the favorable income tax rates as a result of tax incentives.