Cyclical stocks could well be described with a twist on the old John Maynard Keynes maxim: The short term is a misleading guide to cyclical stocks. In the long run, they all make (and lose) you money.
The cyclical sectors rise and fall based as much on prevailing market sentiment as on intrinsic earnings power or business prospects. Often, cyclical stocks trade in feedback loops - a powerhouse (say Caterpillar (NYSE:CAT)) reports strong numbers, the market takes it as sign the economy is on the up-cycle, the sectors trade up. Jobs reports and ISM numbers sag, the double dip recession threat rears its hideous head, and these companies lose both earning power and share value, sending the stocks down. The next earnings report either confirms the downtrend or launches the market into a new uptrend, depending on the results and, more importantly, the overall sentiment. Meanwhile, patient or clever investors have a chance to make money, as long as they time the entry and exit decently.
In assessing cyclical stocks then, the key is not only to assess earnings estimates for the coming year or two, the company's recent results and moves, and its comparison with other stocks, but two other, arguably more important factors. First is to identify the overall macro sentiment and the direction of the cycle's tilt, up or down. Second is to assess the company's underlying competitive and financial positioning to see if it will benefit when things get better.
It's with this eye towards the underlying core that we turn to Manitowoc (NYSE:MTW). Manitowoc is a classical cyclical stock in terms of its trading, but with an interesting and not obvious business make up. The company has suffered through negative earnings on a GAAP-basis since the 2008 crisis and weak adjusted earnings. It also has a large debt load. At the same time, the company has a strong competitive position in its industries, and when the economy and market finally decide that things are getting better, the stock could do very well.
click to enlarge image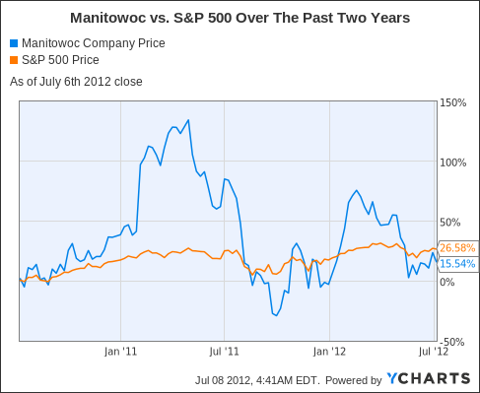 (Note that Manitowoc's price moves mimic the S&P's, but on a several times exaggerated level)
Manitowoc, based in the Lake Michigan shore town of Manitowoc, Wisconsin (about an hour south of Green Bay), marked its 110th anniversary this year. The company's two main segments are somewhat incongruous: the larger (representing 59% of 2011 sales) is building and selling cranes for construction, and the smaller (the other 41% of 2011 sales) is manufacturing foodservice equipment, including refrigeration, cooking, and ice-making machines that the company sells to restaurants and fast-food outlets. The crane business is the heavily cyclical one, tied as it is to infrastructure projects, industrial construction, and high-rise commercial and residential construction. The foodservice is steadier - restaurants need their Frymasters even (or especially) when times are bad.
As mentioned above, the company struggled through the past few years. Net income has been negative or minimal for the past four years, and on a GAAP basis EPS has been negative. The cyclical challenges of course loom large for the company, but so too does its exposure to Europe. The continent accounted for 22% of Manitowoc's sales in 2011, with only the U.S. as a bigger market at 44% of 2011 sales. Management has consistently guided for weakness in Europe compared to other markets, expecting solid North America results and increasing boosts in emerging markets.
After a first quarter that saw the company miss earnings estimates, due in part to a high tax rate, management backed its prior guidance, a fairly ambitious one: Foodservice revenue growth in the high-single digit range with operating earnings increasing 10-15%, while cranes should see 10-15% revenue growth and 30-40% operating earnings improvement. At the midpoint, that would give the company just over $4B in revenue (about a 10% increase) and a 20% increase in operating earnings before corporate, amortization, and other expenses. Manitowoc's business typically does best in the second and third quarters, aligned with the summer building season in the Northern Hemisphere, and so the upcoming quarter will be crucial for the short-term prospects of the stock.
Beyond the cyclical challenges that the crisis invoked, the company's other major issue is its debt load. In 2008, the company acquired Enodis PLC for approximately $2.7B dollars (consider that MTW's market cap is $1.4B). While this filled out Manitowoc's foodservice equipment business, especially on the hot-side, cooking part of the business (the company specialized in refrigeration equipment prior to the deal), it also burdened the company's balance sheet. Manitowoc won the prolonged bidding process on June 30th, 2008, i.e. right before the crisis hit, and due to the auction that the company won the bidding in, the price was higher than previously expected.
This combination of heavy debt and lowered earnings posed an obvious challenge. For each of the past three years, interest expense has represented a greater than 66% chunk of operating earnings, and this before paying down debt. The company's cash pile has decreased steadily over this period, and its long-term debt to equity ratio remains elevated at 3.75. This does not provide a huge financial moat for the company should the cycle continue to oscillate without setting on a clear upwards path for a long time.
The counter to that, however, is that the company did decrease its interest expense and long-term debt load last year, and is targeting continued reduction of those numbers. Long-term debt has dropped $1 billion since the company first acquired Enodis, and the debt-EBITDA ratio "has improved by more than one turn of leverage," according to CFO Carl Laurino, with a debt reduction target of "$150 million to $200 million, which should reduce our debt to EBITDA by approximately one additional turn," for 2012. Manitowoc is making progress in improving its financial position. The question is whether the company can continue to do so if the recovery sticks to its plodding, uneven pace.
In terms of valuation, Manitowoc is cheap on a forwards-earnings basis, but forwards earnings are hard to count on when the macro picture is so fuzzy. For the comparison, I've included Caterpillar as overall industry leader, Terex Corporation (NYSE:TEX) as competitor, Titan International (NYSE:TWI) as similarly specialized construction related play, Illinois Tool Works (NYSE:ITW) as industrial bellwether and foodservice equipment competitor, and Deere & Company (NYSE:DE) as another major cyclical, industrial leader:
(Sources: WSJ, TDAmeritrade)
| | | | | | | |
| --- | --- | --- | --- | --- | --- | --- |
| As of Q1 2012 | MTW | TEX | TWI | ITW | DE | CAT |
| Market Cap | $1.4B | $2.0B | $1.0B | $24.8B | $32.0B | $54.7B |
| Current Ratio | 1.12 | 2.12 | 3.21 | 2.3 | 2.07 | 1.33 |
| Quick Ratio | 0.52 | 1.19 | 2.13 | 1.72 | 1.82 | 0.83 |
| Long Term Debt-Equity Ratio | 3.75 | 1.02 | 0.81 | 0.35 | 2.49 | 1.86 |
| Quarterly Revenue Growth (Y-over-Y) | 17.49% | 44.82% | 64.90% | 3.62% | 5.55% | 23.41% |
| Yearly Revenue Growth | 16.23% | 47.24% | 68.59% | 12.08% | 23.15% | 41.21% |
| EPS Growth (Annual) | 49.52% | NA | 206% | 47.72% | 54.06% | 49.78% |
| Estimated Earnings Growth (next 3 years) | 74.28% | 126% | 32.32% | 12.05% | 10.70% | 20.63% |
| Earnings 2011 | 0.38 | 0.46 | 1.5 | 3.77 | 6.63 | 7.4 |
| Earnings 2012 (Est.) | 0.79 | 1.81 | 2.6 | 4.25 | 8.25 | 9.69 |
| Earnings 2013 (Est.) | 1.46 | 2.74 | 2.94 | 4.72 | 8.67 | 11.26 |
| Free Cash Flow 2011 | -3.7 | -0.54 | -0.59 | 3.24 | 1.53 | 4.63 |
| 2011 P/E | 28.76 | 38.70 | 16.40 | 13.81 | 12.17 | 11.43 |
| 2012 P/E | 13.84 | 9.83 | 9.46 | 12.25 | 9.78 | 8.73 |
| 2013 P/E | 7.49 | 6.50 | 8.37 | 11.03 | 9.31 | 7.51 |
| 2011 P/FCF | neg. | neg. | neg. | 16.07 | 52.75 | 18.27 |
| PEG Ratio | 0.39 | 0.31 | 0.51 | 1.15 | 1.14 | 0.55 |
| Price | 10.93 | 17.8 | 24.6 | 52.06 | 80.7 | 84.61 |
| Dividend | 0.08 | 0 | 0.02 | 1.44 | 1.84 | 2.08 |
| Dividend Yield | 0.73% | NA | 0.08% | 2.77% | 2.28% | 2.46% |
(Note: All earnings besides Caterpillar are non-GAAP; Titan International past earnings growth is for only one year; Caterpillar's past earnings growth is for five years)
Most of the players in this group pit optimistic growth predictions against skeptical share prices, as the market has already factored in the possibility that these stocks will have weaker near-term earnings. Analyst estimates for Manitowoc's 2012 earnings have already decreased about 14% in the past three months, matching the stock's 16% drop over the same time period. Compared to its peers, Manitowoc has a relatively low 2013 P/E ratio and one of the lowest PEG ratios, but also a lower dividend, middling revenue growth numbers, and the weakest debt ratios. It stands out as a riskier pick among this group.
But what of the two most important factors mentioned above - the overall cycle and the company's competitive/financial position? I've touched on the financial position, which is vulnerable but improving. The company's competitive position is stronger, as it is an acknowledged leader in the crane industry and boasts 25 #1 or #2 brands in the foodservice business. The combination of the company's strength competitively and its dedication to cleaning its balance sheet should have Manitowoc well-prepared to benefit from a strong economy.
As for when that strong economy is going to arrive: on the one hand, the company tags 2008 as its last cyclical peak, with 2010 as the trough and an average 5-year trough to peak leaving 2015 as the next boom. In a February conference presentation, the company described each of its end markets as improving, with most of them strong and only residential and commercial construction lagging a bit (interesting, since smaller housing construction seems poised to lead the way in the coming months and years). The company highlights its growth in Brazil, tied in to the construction for the 2014 World Cup and the 2016 Summer Olympics in Rio de Janeiro, as another big positive for the company. Lastly, Manitowoc CEO Glen Tellock mentioned on the Q1 conference call the large opportunity the company had in growing its foodservice sales in emerging markets, currently a small portion of the business but one with a long, cyclical runway of growth. So the company feels confident that it is in the growth part of its cycle.
On the other hand, the second quarter was a rough one for the U.S. and global outlook, and the market sentiment is not high on the cyclical sectors as a whole. There's still quite a long way to go before the recent bottom of October 4th of last year - Manitowoc's share price touched 5.76, for example. The second quarter could prove pivotal in that the market might continue to pivot down with expected dour (or worse) results, or pivot back up if companies show they're doing ok despite the big ticket numbers.
I think 2012 is looking a lot like 2011, and the election uncertainty combined with the uneven recovery could lead to a rocky summer, before things get better towards year-end (with the certainty from the election, regardless of the winner, helping the market). Manitowoc's stock is sensitive to those sorts of factors, and the company's long-term prospects could really take a hit if the market's recession fears are realized.
At the same time, the company is improving its financial position, has a strong competitive position, and, in the mid-term picture, probably has a good sense about where it is in its cycle. As the chart at the top of the article shows, when things are good the stock runs high. Risk-seeking investors could do well to put the stock on their watch list. If we do hit bumps this summer in the market, and if Manitowoc's Q2 earnings is slightly weaker than estimates but not catastrophic - i.e. if the company's overall assessment of the business for the mid-term doesn't change - the stock could head down to 9/share by the end of the summer, where it would become an intriguing, albeit risky proposition.
Depending on how one measures it - on how long one's timeline is - Manitowoc, like most cyclical stocks, is a stock that has made or lost a lot of money for investors. But with the company improving its balance sheet and gearing up for an up-cycle, there seems to be a good opportunity for gains over the mid-term period of 12-18 months. Taking advantage of that could well be just a matter of timing.