Elite Trading & Speculation has a great outlook on Blackboard Inc. (NASDAQ:BBBB) and also recommends a buy on any weakness. Our outlook is based on a long term range.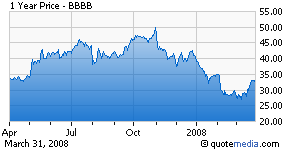 Blackboard Inc. is a leading provider of enterprise learning software applications and related services. Founded in 1997, Blackboard enables educational innovations everywhere by connecting people and technology. Millions of people use Blackboard everyday around the globe. Blackboard is headquartered in Washington, D.C., with offices in North America, Europe, Australia and Asia.
The company has a strong uptrend in positive earnings compared to the previous year. The company has improved its bottom line in the past fiscal year by earning .44 vs .38 in the previous year. We expect earnings this year to improve to .60 vs .44. Net increase growth from the same quarter one year ago has exceeded the S&P 500 as well as the software industry.
The company has an overall low debt to equity ratio of .87, although it is high when compared to others in its sector. On a valuation basis, Blackboard's P/E ratio is at a significant premium compared to the S&P 500 and its sector, which can be a variable of higher growth expectations; and with this the price to projected earnings and price to earnings/growth is also a premium. Price to book is at a discount as well price/sales, and price to cash flow.
Technically the charts show that Blackboard has broken its down trend which started in late October early November, with major support around the $27.00 level.
What is our thesis behind our positive outlook on Blackboard? We believe this company has been punished with the current market performance, as well as its sector performance. This gives a great buying opportunity.
Blackboard is unique in its sector for the demand for education and tools needed to execute efficient learning environments is constant and increasing at a phenomenal rate. Also, the emerging markets and global growth story is a great opportunity for Blackboard; as the standard of life improves, so does the standard of education.
Blackboard also is in a great advantage as far as competition. Most of their competition comes from a small private sector which may present for take over opportunities in the future.
Blackboard has also diversified into the security industry with its current clients in the marketing path. It has released a new surveillance system for schools to monitor and secure their campus with state of the art features allowing sophisticated image zooming, frame by frame playback, and a configurable screen layout.
Disclosure: Author has a long position in BBBB