On March 28, Baidu.com (NASDAQ: BIDU) launched a new online radio station platform, joining hands with "15 radio stations, including China Radio International [CRI], the biggest radio station in China."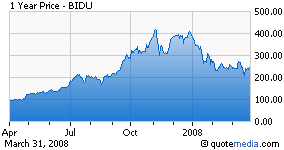 Besides online listening, Baidu will come up with music download ordering and program forecast services with help from radio stations. Baidu.com has "more than 90% of the mp3 search and download market in China."
In early 2008, Baidu.com announced "closed" beta testing for Baidu Hi instant messaging. On March 26, 2008 Baidu started an "open" Beta test for Baidu Hi IM service. The company has "set no specific revenue-earning plans" and spent over a year in R&D. Baidu indicates the product will "induce loyalty of its users" providing text, images, audio, video, and group chatting; IM service is a strategic product linked to Baidu's popular services like search and Baidu Post Bar.
Baidu currently dominates with over 60% market share in China's internet search market; Google (NASDAQ:GOOG) has just under 20%. Microsoft's (NASDAQ:MSFT) IM services currently holds a strong market position in Beijing and Shanghai, but outside of major cities, Microsoft remains limited to under 20% of the web audience. Statistics show that the Chinese IM market size reached CNY 4.75 billion in 2007 and is expected to hit CNY 8.76 billion in 2009.
Disclosure: The author holds long positions in BIDU and SOHU