The last quarter has not been kind to commodity based stocks as investors focus on the crisis in Europe, the slowdown in worldwide growth and falling commodity prices. Some stocks are now squarely in oversold territory. One stock, Cliff Natural Resources (CLF), is now selling at under 5 times earnings and sports a 5% dividend and has had recent insider buying. It is a stock I have traded in and out of several times successfully and I recommend investors average in by taking small positions and/or use various options to hedge risk or enhance yield.
"Cliffs Natural Resources , a mining and natural resources company, engages in the production of iron ore pellets, fines and lump ore, and metallurgical coal." (Business description from Yahoo Finance)
6 reasons CLF has long term value is at just $48 a share:
 
Several insiders have added shares in May and June at prices ranging from $49 to $57 a share.
The stock is selling at the bottom of its five year valuation range based on P/B, P/S and P/CF.
CLF yields over 5% and has raised its dividend payouts by an average annual clip of 45% over the past five years. The stock also has a very reasonable payout ratio of less than 25% based on trailing earnings.
The stock is way under analysts' current price targets. The median price target held by the 16 analysts that cover the stock is $85.50. S&P has a "Buy" rating on Cliffs.
CLF is cheap at less than five times forward and trailing earnings, less than four times operating cash flow, a five year projected PEG of less than 1 (.88) and just 15% over book value.
After falling some 50% since last summer, CLF is now at long term technical support levels (See Chart).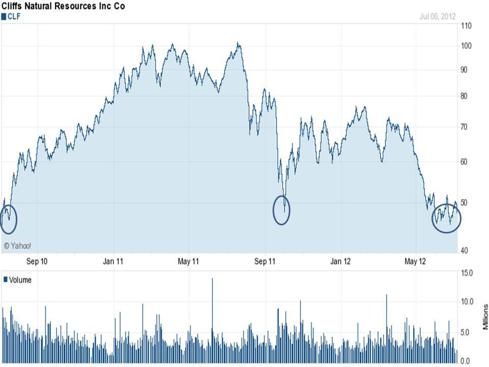 Disclosure: I am long CLF.