The Allianz/PIMCO line up of equity based high yielding Closed-End funds (CEFs) offers some of the most popular funds among investors as reflected by some of the premium valuations of their funds. However, no fund family gets more of a boost from their name over substance than Allianz/PIMCO in my opinion. In other words, based on actual Net Asset Value (NAV) total return performances, the Allianz/PIMCO funds have some of the worst risk/reward equity CEFs around despite their popularity.
Here are the 5 Allianz/PIMCO equity CEFs sorted by their premium/discounts. I will discuss each one and their total return NAV performances since the NAV performance is the true performance of a CEF as well as where their large distributions derive from. I will also point out alternatives since many of these funds are relatively overpriced when you consider other fund families that offer similar funds with better NAV performances at better valuations.

I will go down the list one by one starting with the...
PIMCO Global StocksPlus & Income fund (NYSE:PGP)
You can't start a discussion about Allianz/PIMCO without first talking about the highest valued equity CEF of all, the PIMCO Global StocksPlus & Income fund. PGP is a rare breed of fund that relies heavily on PIMCO's fixed income prowess and reputation. Despite its name, PGP doesn't really own stocks and isn't really that global as far as I can tell from its recent portfolio holdings. PGP is basically a heavily leveraged domestic fixed-income (bond, mortgage, high yield) fund that uses its cash flow to pay its distributions to shareholders but also to purchase large positions of S&P 500 futures, hence where the StocksPlus name comes in. PGP also uses option writing, swaps and other strategies to supplement its hedging and income but when you get right down to it, PGP is basically a fixed-income fund that is heavily long S&P 500 derivatives.
Despite being mostly a fixed-income fund, PGP's NAV can be extremely volatile because of its heavy use of leverage and futures/options. During the worst of the financial crisis in early 2009, PGP's NAV dropped to the $6 level from a $23.83 inception NAV in 2005 and an $11.58 current NAV. Despite this volatility, PGP has NEVER cut or raised its distribution and this has created an aura of superfund status among investors that has pushed its premium valuation to an unbelievable 82.6% pricing over its NAV, by far the largest of any CEF. Unfortunately, this has become a curse as well as a blessing for the fund. A blessing for old investors and a curse for new ones.
Any new investor in PGP sees that they will be receiving a $0.1834/share per month distribution, or about a 10.4% annualized market price yield (please refer to table above) based on PGP's closing market price of $21.15. Sounds reasonable for a heavily leveraged PIMCO fund, right? However, if a new investor considered that the NAV yield of PGP is a much higher 19%, they might think twice about what they are getting at 10.4% vs. what they are paying at 19% since ultimately, you really only own the fund's NAV until you sell the fund to an unwitting buyer at a higher market price.
Why am I so concerned about PGP's exhorbitant premium valuation? Because PGP's NAV has to support the same $2.20 annual distribution per share at an $11.58 NAV as it did when it went public with a $23.83 NAV back in mid 2005. Back when the fund got started, PGP's NAV yield was a much more reasonable 9.2% with much higher interest rates, so you can see that there is a lot more pressure on the fund's NAV to support a yield twice as high now than when it got started.
The bottom line is that PGP's fixed-income portfolio isn't covering its distribution anymore and the fund has to rely on its futures, swaps, option writing and other strategies to make up the difference. Maybe not a problem when the S&P 500 is in a bull market, but PGP's biggest concern going forward is that its NAV has relied both on a strong fixed income market and a strong S&P 500 since the market lows over 3 years ago and I don't think you can rely on both now. Despite a very strong 2012 so far in which PGP's NAV is up 16.4% through July 6, a 1-year total return NAV performance still shows PGP's NAV down -5.4%.
There are really no comparables to PGP's investment strategy but I certainly wouldn't recommend investors buy PGP. The current 10.4% market yield for a $21.15 market price is hardly worth the risk/reward for a fund at an 82.6% premium. Still, I don't see PGP cutting its distribution anytime soon and that is the only event that is going to knock the fund off its high perch. But I also don't see how much more upside there is when the fund starts getting closer to a single digit market yield with little opportunity to raise the distribution. Then there are the alternatives to PGP, some of which can have as much NAV upside in a strong market without the irrational premium pricing and some of which have had historically better NAV total return performances over varying market environments, i.e. not just an up market.
The Eaton Vance Tax-Managed Buy/Write Opportunities fund (NYSE:ETV) and the Eaton Vance Tax-Managed Buy/Write Income fund (NYSE:ETB) are two such funds that have had better total return NAV performances than PGP over a longer 5-year term period as well as a shorter 1-year period and yet both trade at wide -11% to -12% discounts with similar yields. About a year ago, I even wrote an article comparing PGP and ETB, pointing out which fund was much more attractively priced. You can read that article here.
And what has happened since I wrote that article? Over the past year, ETB's NAV (and ETV's NAV for that matter) has far outperformed PGP's NAV, up 9.1% for ETB vs. down -5.4% for PGP, even if the market prices haven't kept pace. You can see this in the following 1-year NAV graph of PGP (blue), ETB (green) and even ETV (red). For comparison the S&P 500 is up 3.2% on a total return basis. Note: You would need to add back total distributions to get the total return NAV performances which is why the percentages don't match.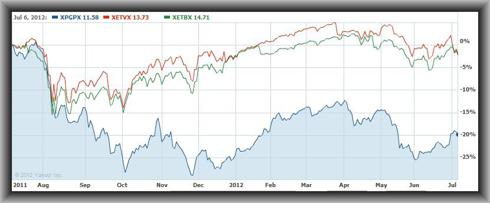 Now ETV and ETB are both option-income funds that sell S&P 500 options vs. PGP which buys S&P 500 futures. As a result, PGP is much more of a bull market fund whereas ETV and ETB perform much better in flat to trendless market environments. However, ETB and ETV have performed so well in all market environments, solidly outperforming even the S&P 500 since their inceptions, that they are still must owns for any income CEF investor in my opinion.
But for a strong up market environment, you're going to want to own leveraged funds so comparable alternatives for PGP include funds that have leveraged equity and bond portfolios. Three that I recommend also come from Eaton Vance (NYSE:EV) and include the Tax-Advantaged Dividend Income fund (NYSE:EVT), the Tax-Advantaged Global Dividend Income fund (NYSE:ETG) and the Tax-Advantaged Global Dividend Opportunities fund (NYSE:ETO). All of these funds are at discounts, have plenty of NAV upside in a strong market, pay monthly distributions and have the possibility of distribution increases with relatively low 7% to 9% NAV yields. PGP, already at a 19% NAV yield, has very little opportunity for a distribution increase, something most investors don't even think about. Onto the next fund...
Allianz International and Premium Strategy fund (NYSE:NAI)
Unlike PGP, the rest of the Allianz/PIMCO funds are non-leveraged and instead use an option-income strategy to generate income that the funds pass on to investors in the form of high distributions and yields. However, NAI is the only Allianz/PIMCO fund that uses no fixed-income securities (i.e. no bonds, convertibles, high yields, etc.) and instead includes a purely international stock portfolio, i.e. no US stocks.
NAI's market price has recently moved to a premium pricing from a discount and I'm not sure why. It certainly can't be because of its total return NAV performance which has been underperforming its benchmark MSCI EAFE index over 1-year, 3-years and 5-years according to my analysis. Note: MSCI stands for Morgan Stanley Capital International while EAFE stands for Europe, Asiaustralia, Far-East and includes the top 22 developed international markets (i.e. non-emerging growth). Here is NAI's 1-year, 3-year and 5-year NAV total return performance compared to the iShares MSCI EAFE Exchange Traded fund (NYSEARCA:EFA), one of the largest and most popular ETFs trading 20 million shares on average per day.

This is extremely rare for an option-income fund to underperform its index this badly during down market periods since option-income funds are inherently defensive. Year-to-date, NAI's total return NAV performance is also an underwhelming 0.2% and yet its market price has skyrocketed 14.6%. This has resulted in NAI's valuation to go from about a -10% discount at the end of 2011 to a 12% premium earlier this year. Here is NAI's 1-year Premium/Discount graph.

I'm not sure what the big appeal is. If investors think a 15.2% market price yield (see first table above) is too good to be true, they are right. NAI's even higher 16.2% NAV yield is actually contributing to its NAV underperformance and I would not recommend NAI until Allianz cuts the distribution and offers a more realistic NAV yield in say, the 10% to 11% range. This would at least allow the fund's NAV, which has already dropped from a $23.83 inception valuation to a current $9.89 valuation, an opportunity to grow instead of seeing destructive Return of Capital (ROC) continue to erode the NAV.
As an alternative to NAI, I would recommend investors turn to the BlackRock International Growth and Income Trust (NYSE:BGY), another international stock only option-income fund that also uses the MSCI EAFE as its benchmark. Both of these funds include large cap international holdings with the United Kingdom and Japan as their two largest country representations, consistent with the MSCI EAFE index. Unlike NAI however, BGY has actually outperformed the iShares MSCI EAFE index ETF though not by much.
BGY was also overpaying its distribution for a long time and was one of the BlackRock funds I identified last year as vulnerable to a distribution cut because of its overly large NAV yield which reached 16% last fall, similar to NAI's current NAV yield of 16.2%. Then on March 1st of this year, BlackRock (NYSE:BLK) slashed BGY's distribution by 35%, from $0.34/share to $0.22/share per quarter, a necessary and long overdue cut. The resulting fallout however knocked BGY's market price back to a wide double digit discount even as investors should have been applauding this decision. Here is BGY's 1-year Premium/Discount graph.

So why would I recommend a fund that has cut its distribution vs. one that has not? Quite simply because both need to cut and only one has actually made the hard decision and put the cut behind it. By not cutting yet, I believe NAI's NAV will continue to suffer like it has done historically and investors will have to hold their breath every declaration period in case Allianz does cut.
The other reason is that BGY's NAV has outperformed NAI's and yet BGY is the one undervalued at a -9.7% discount vs. NAI's 6.5% premium. Here are BGY's and NAI's total return NAV performances over 1-year, 3-years and 5-years from July 6, 2012.

Not exactly great performances but you also have to consider how poorly the overseas markets have been. Then consider that because BGY trades at a -9.7% market price discount, well below its 3-year and 5-year average (see premium/discount graph above), investors can pick up a windfall 12.5% market price yield over its 11.3% NAV yield.
For high income investors looking for a turnaround in the international markets, BGY offers the best pure play opportunity in years. With the dividend cut behind it and an opportunity to grow the NAV with any rebound in the international markets, BGY offers a much better risk/reward than NAI, which despite its alluring 15.2% market price yield, should continue to underperform until Allianz cuts its distribution.
In the interest of space, I will continue my review of the 3 other Allianz/PIMCO equity CEFs, the NFJ Dividend, Interest & Premium Strategy fund (NYSE:NFJ), the Allianz Equity and Convertible Income fund (NYSE:NIE) and the Allianz Global Equity and Convertible Income fund (NYSE:NGZ) in a separate article.
Disclosure: I am long ETV, ETB, EVT, ETO, BGY.
Additional disclosure: Short NAI.