Five months ago, I recommended Dynex (DX) as another play on a housing recovery (and bottom for 2013). The rationale was relatively straightforward:
Likelihood of increased Federal Reserve purchases of mortgage-backed securities (has not occurred yet).
Relatively positive reaction to an increase in liquidity through a stock offering.
Steady long-term performance since the 2011 lows.
Very high yield (now 11.3%).
Heavy insider buying in 2011.
Since then, DX has managed to tack on 12% and now sits at 15-month highs (and 6.9% away from all-time highs). Nearly all these gains have come since early June as the stock has broken out.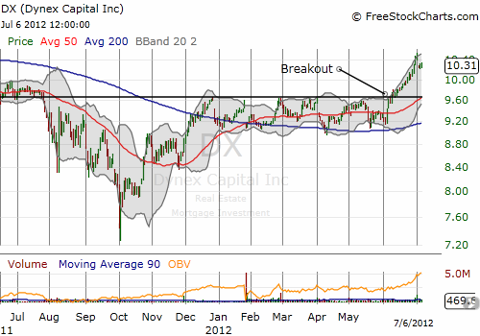 Dynex Capital breaks out to new 15 month highs
Source: FreeStockCharts.com
I think DX now sits at the nexus of some positively converging trends:
The pursuit of yield as "safe" government debt worldwide drops to unattractive yields given the likely future risks.
A growing preference for American investments with little to no exposure to the global economy.
And of course, a slowly growing realization that the housing market is beginning a sustainable recovery - albeit very slowly and very market specific. (For example, see "KB Home 'On Offense' As Its Housing Markets And Pricing Power Strengthen").
Dynex Capital is a stock that can still be bought on dips, and I am holding for the long-term.
For another alternative for investing in the housing recovery see "Vertical Capital Income Fund Offers Attractive Alternative for Investing In Mortgages."
Be careful out there!
Disclosure: I am long DX.