Infosys Technologies Limited (NASDAQ:INFY) provides business consulting, technology, engineering, and outsourcing services worldwide. Infosys is scheduled to report its first quarter earnings results on July 12, 2012, before market open.
Technical Overview
Click to enlarge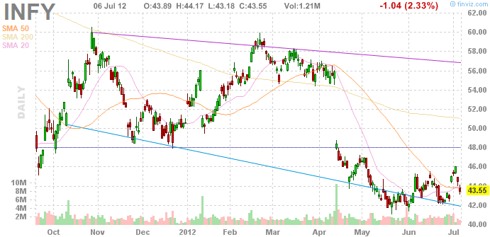 Click to enlarge
Infosys has a market cap of $24.88 billion and it is currently trading around $43.55 with a 52-week range of $41.40 to $67.94. The stock has fallen 15.24% year to date. The following table provides the key financial ratios for Infosys:
| | |
| --- | --- |
| Key Ratio | Value |
| Current Ratio | 6.34 |
| PEG | 0.95 |
| P/E | 14.52 |
| Forward P/E | 13.16 |
| Profit Margin | 24.54% |
| Return On Assets (ROA) | 23.59% |
| Return On Equity (ROE) | 27.03% |
Recent News
Analyst Guidance and Earnings History
The first quarter revenues are expected to be $1.78 billion compared to $1.67 billion for the same quarter last year. Earnings per share for the first quarter are expected to be 73 cents a share, up from 67 cents a share in the year-ago period.
The average price target from analyst for Infosys is $49.94 with average rating is OVERWEIGHT
Out of the last 4 quarters, Infosys has met or exceeded the EPS estimates all the 4 times. The following chart shows the Analyst estimates history and the actual EPS results: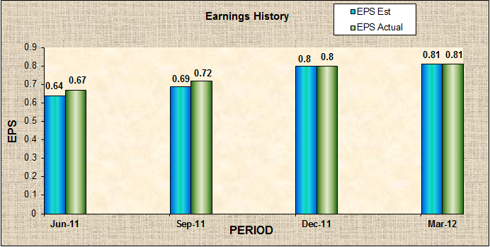 Click to enlarge
The following chart shows the annual summary of Sales and Net income for Infosys: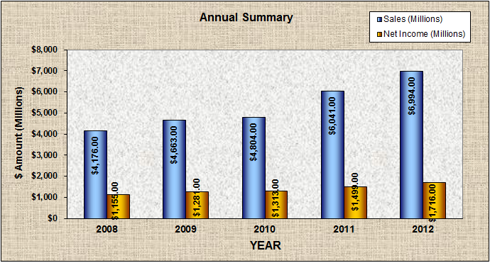 Click to enlarge
Competition
Cognizant Technology Solutions Corporation (NASDAQ:CTSH), Wipro Ltd. (NYSE:WIT), Accenture PLC (NYSE:ACN) and Computer Sciences Corporation (NYSE:CSC) are considered as major competitors for Infosys and the table below provides the key metrics for these companies: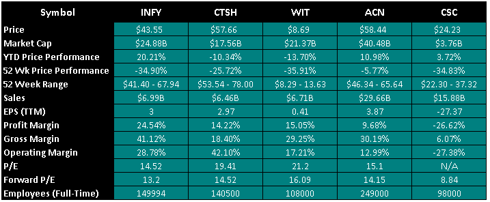 Click to enlarge
Sources: Some of the data is taken from Google Finance, Yahoo Finance, Nasdaq, Finviz and investor sites.
Disclosure: I have no positions in any stocks mentioned, but may initiate a long position in ACN, INFY, CTSH, CSC, WIT over the next 72 hours.
Additional Disclosure: I change my positions very frequently and may initiate either long or short positions in the above mentioned stocks at any time.
Disclaimer: I am not a registered investment advisor and do not provide specific investment advice. The information contained herein is for informational purposes only. Nothing in this article should be taken as a solicitation to purchase or sell securities. Before buying or selling any stock you should do your own research and reach your own conclusion. It is up to investors to make the correct decision after necessary research.