• Newell Rubbermaid (NYSE:NWL) Mar. 31, 2008 close: $22.87
• 52-week range: $21.24 [3/17/08] - $32.19 [$6/1/07]
• Yield = 3.67%
NWL makes and markets name brand consumer products sold through mass market retailers, warehouse clubs and department and specialty stores. They have four basic segments:
• Cleaning and Organization [33% of sales]
• Office Products [32% of sales]
• Home Accessories [15% of revs]
• Tools and Hardware [20% of revs]
Earnings per share hit $1.72 in 2007 their highest level since 1998 the year Newell and Rubbermaid merged.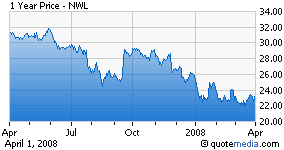 The company expects good earnings growth for 2008 after divestiture of non-core businesses and cost-cutting moves implemented in 2007.
Value Line and Zack's project $1.95 and $1.97 for 2008 respectively.
That makes Newell's P/E a low 11.7x this year's estimates. This compares with a five-year average P/E for NWL of 16.26x.
With a $0.21 quarterly dividend Newell Rubbermaid has a current yield of 3.67%. That's better than money market interest rates and as good as almost any bank CD's available today.
NWL shares are of decent quality. Value Line gives them a 'B++' for financial strength and an 80th percentile ranking for 'earnings predictability' [100th is best].
At the current quote NWL shares trade below their absolute lows from 2006 and 2007. With rising earnings risk appears low from today's already depressed share price.
Heavyweight 'value' holders with big stakes as of year-end 2007:
[Dec. 31, 2007 close: 25.88]
Wellington Management…………..11.51%
Goldman Sachs……………………...8.63%
T. Rowe Price……………………….8.09%
Vanguard Group…………………….4.17%
State Street…………………………..3.49%
A return to even a 16 multiple on the mid-point consensus view of $1.96 for this year leads me to a target price of $31.36 or plus 37% from yesterdays close. Add in the generous 3.67% yield and a 40% + 12-month total return seems within reach.
Newell Rubbermaid's product line may seem boring but their investment appeal is anything but dull.
Disclosure: Author owns shares of NWL.