So much for the bullish follow-through we were hoping for at the beginning of last week. While stocks got off to a great start last week before Wednesday's break, traders came back after the July 4th in a sour mood, pushing the market back into the red for the week on Friday.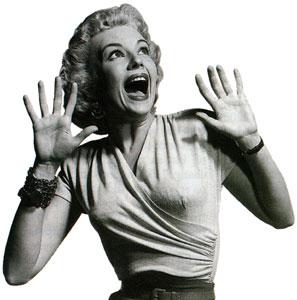 The question is, was the dip a significant sign of what's lurking ahead, or was the dip just the combined results of (1) profit-taking after the prior Friday's surge and (2) a post-holiday/summer apathy…or were news events in Europe and the US the culprit?
We'll explore the question below, though we'll set the tone now: We think the weakness on Thursday and Friday was listlessness and profit-taking, rather than a clue that the bears are gearing up for a major fight.
First things first though… last week's economic numbers.
Economic Calendar
There's no doubt about the big economic headlines last week - the employment situation took center stage. Unfortunately, it was a poor performance.
Though the ADP Employment Change number of 179K new payrolls fooled us into thinking job growth was still on the mend, it isn't. The official government job growth number for June was 80K (84K on a private basis). The unemployment rate didn't budge. In fact, it's surprising the unemployment rate didn't slide upward again, as some of those new jobs were surely filled by recent college grads. Just to absorb new graduates and the growing population, the nation needs to see at least 300K new payrolls created each month. And, 400K new jobs each month would still be far from 'red hot'.
Simply put, we may still (technically) be adding jobs, but that growth is slow, and slowing. It would take very little to reverse the current jobs growth trend.
Payrolls Added, Total Payrolls, and Unemployment Rate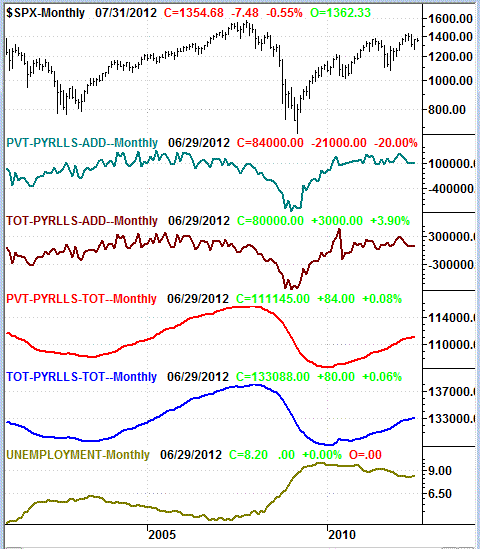 Although we got a few more economic data nuggets, none of the rest of it was game-changing. It's all cited on the calendar below:
Economic Calendar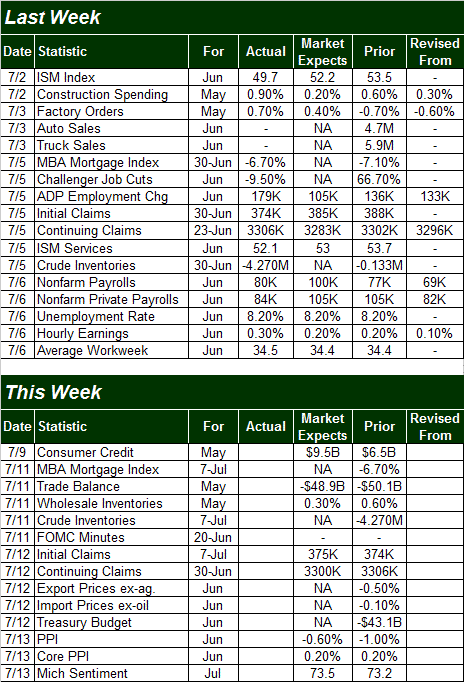 As for this week, there's not a lot of earth-shattering data on the radar. In fact, things don't even begin to get interesting - economically speaking - until Friday when we get the producer price index (inflation) number. Counting food and energy, the PPI is expected to have fallen by 0.6% in June, though excluding food and energy, PPI should be higher by 0.2%. Both are nominal changes that businesses and consumers will not likely even notice.
Stock Markets
Although we'd all love it if the market only advanced and never took a step back, that's not a realistic hope. On the flipside, not every backwards step the market takes has to be the beginning of Armageddon. Sometimes, stocks lose a little ground just because they need a break after becoming a little overextended and/or hitting a technical wall. As of now, we're going to put last week's tumble in that "not a huge deal" category. In fact, we'll even warn you now there's a little more room for what may end up being meaningless downside movement before the market hits a solid floor, and that won't be a huge deal either - the bigger uptrend is still in place for the major indices (NYSEARCA:DIA) (NASDAQ:QQQ) (NYSEARCA:IWM).
The daily chart of the S&P 500 (SPX) (NYSEARCA:SPY) below explains why we're not yet worried we're headed over a cliff.
First and foremost, the SPX is holding above the 20-day average line (blue) and the 50-day average line (purple). T hose two indicator lines are THE short-term and intermediate-term indicator lines, and the short-term line just crossed above the intermediate-term line. Considering that (1) both lines are usually key floors, (2) one of the lines is sloped upward, and (3) both lines are still above the 200-day moving average line (green) and are looking like they're going to start diverging from that long-term indicator line, it's kind of hard to argue the market's not in a bullish mode.
S&P 500 & VIX - Daily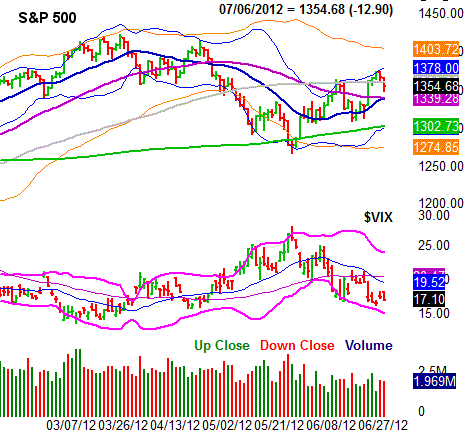 So what prompted the pullback (aside from a general lack of interest/low volume)? Take a closer look at the daily chart. The S&P 500 hasn't been unable to move above the upper 20-day Bollinger band (thin, blue) since the rebound began in June. Oh, it's been able to test it, but it's not been able to hurdle it. Rather, the reversal at the upper Bollinger band last week was a lot like the encounter with the upper band line in mid June.
In other words, the pullback should neither be a surprise, nor something to suggest the market's in any real trouble right now. As long as the floor at 1339 holds up, the bulls will be in fine shape.
Just for a little more perspective on the broad rally, here's a look at the weekly chart. There's not a lot more to add with it, however. The only item of interest is the low level the CBOE Volatility Index (VIX) (NYSEARCA:VXX) is getting comfortable around. Generally speaking, a VIX in the low teens can mean stocks are peaking. Yet, in this case there's no 'peak' or overbought pressure to burn off like there was in early 2011 and March of this year. If anything, the S&P 500 may still closer to a bottom than a top. We'll have to wait and see how things play out this time around.
S&P 500 & VIX - Weekly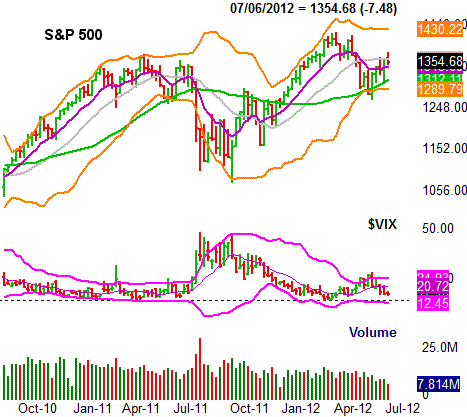 Corporate earnings season kicks off in earnest next week. We'll be monitoring that progress and updating you each week (also stay tuned this week for a large cap Earnings Calendar & Analysis). See you then.
Disclosure: I have no positions in any stocks mentioned, and no plans to initiate any positions within the next 72 hours.