Almost a month ago, John C. Ashburn, Executive Vice President & General Counsel of Molycorp (MCP) purchased $101,300 worth of MCP stock. This purchased converted him from an insider seller during 2011 around $50/share into a buyer at $20.26. While that price has so far held as a low since, MCP has failed multiple times to break $23.13 (this support-turned-resistance is shown by the dark black horizontal line in the chart below).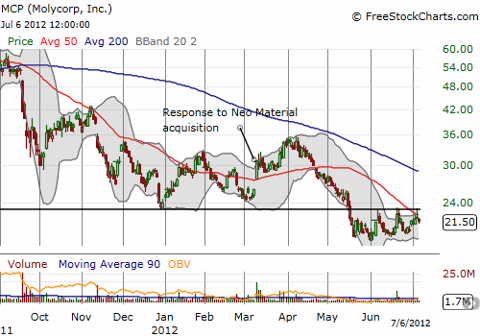 Click to enlarge
MCP continues to fail at major resistance
Source: FreeStockCharts.com
Ashburn has an extensive history with Molycorp and its predecessor corporate entities, so I have some confidence in his investment signal. On the other hand, industry veteran CEO Mark Smith purchased shares last year, but I never got enthusiastic about his timing or the nature of his purchases (see "Molycorp CEO Doubles Down On Shares Even As The Market Doubts Increase" for more details). At least short interest has finally stopped increasing. However, at 38.8% of float, shorts are clearly not impressed by anything happening at MCP.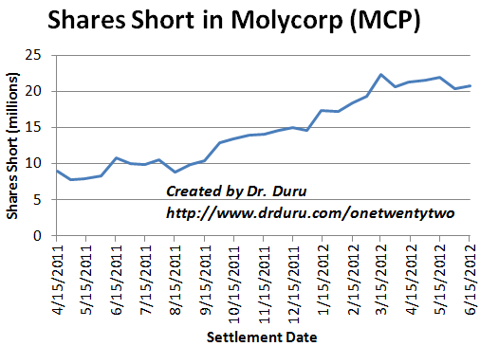 Click to enlarge
Shares short in MCP have finally stopped growing
Source: NASDAQ.com Short Interest
A big moment of truth is soon approaching for MCP with the scheduled Q4 completion of Phases 1 and 2 of Project Phoenix, the company's "expansion and modernization project." I assume the status of this project will be one of the main topics at the next earnings call. With China's economic growth officially slowing down, an equally hot topic will revolve around the health of demand for MCP's rare earth products (especially given the acquisitions the company has executed over the past year or so), the firmness of existing contracts, and any revisions in expected cash flow once production ramps up.
Be careful out there!
Disclosure: I am long MCP.
Additional disclosure: long MCP shares, calls, and puts; short MCP calls; long MCP-PA (preferred)