I have been looking at regional centers and malls for sale on the open market to aid in the valuation of retail REITs. I have listed 3 as examples. Occupancy varies from 80% to 95% and net operating income [NOI] from 7% to 11%.
These prices are real - no discounts, no negotiations - just prices listed by the brokers.
1) Salisbury Mall, NC
GLA....... 319,659
Price..... $ 24.5 M
NOI....... $ 1.93 M
2) Wyoming Village, MI
GLA....... 176,671
Price..... $ 9.25 M
NOI....... $ 0.88 M
3) Columbus Portfolio, OH
GLA....... 1,749,160
Price..... $ 96.53 M
NOI....... $ 10.67 M
TOTALS
GLA....... 2,245,490
Price..... $ 130.25 M
NOI....... $ 13.48 M
If we are more cautious and assume an NOI on average of 8%, a portfolio could be purchased for $1 Billion with an NOI of $80 million.
As an example of a retail REIT, I have chosen Taubman Centers (NYSE:TCO). Its revenue is roughly the same, but its price is around $2.7 Billion.
On this basis, Taubman does look overvalued. If you factor in variances in tenant default rates, length of leases and such, it still looks to be twice the price of open market retail centers.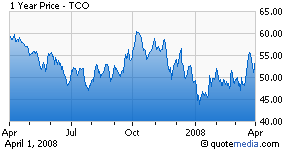 On the negative side for Taubman Centers and other REITs is that this (newly constructed ) portfolio would have no debt for the same revenue.
Other points to bear in mind are that if the retail environment gets really bad, it could use its unencumbered assets to take it through the bad times.
Many REITs also have poison pill defenses to avoid takeovers, such as dual tier voting/ownership rights.
REITs are required to give 90% of their revenues to investors, hindering their ability to bolster their balance sheets.
Bearing all of these negative issues in mind, I believe that REITs should have an automatic discount of 10%, against comparable equity companies. This discount would be on top of an adjustment towards current "Real Estate Broker Prices".
To sum up my view, I would value Taubman Centers at approximately $1.35 billion, which is around half its current level.
For general information purposes, all of the listed properties are on Loopnet.com.
I am hoping for feedback from other contributors. Your views and analysis are always welcome.