Ross Stores (ROST) is a leading off price retailer that offers a wide range of apparel items for women, men and children, alongside shoes and accessories, and various items for home decor. Since we last gave our buy recommendation for Ross Stores, shares are up 7%. Below is a summary of the events that have taken place since our last report:
On Friday, Ross Stores released its figures of same store sales for the month of June. It beat Wall Street estimates by a considerable margin. ROST reported an increase of 7% as compared to the street estimates of a rise of 4.8%. In June 2011, there was an increase of 5%. TJX Companies, Inc. (TJX), a close competitor, was up by 7% as well. Both of them were expected to do better than mid-tier stores, since consumers are being more discrete in their spending because of persistently high unemployment in the U.S., and the general economic scenario in China and Europe.
The graph below shows ROST's YTD same store sales increases, compared to last year's results and TJX's 2012 results.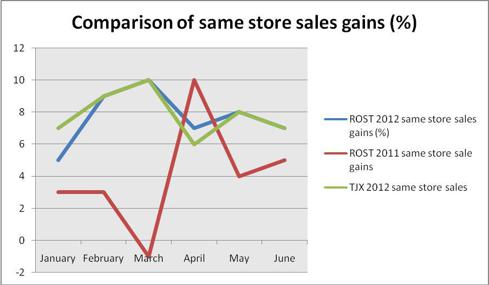 Click to enlarge
As a result of June's positive results, ROST has raised its second quarter 2012 expectations from $0.72-$0.75 to $0.77-$0.78. Michael Balmuth, who is the Vice Chairman and Chief Executive Officer of ROST, has expressed that the company's projection for July comparable store sales is a 2%-3% increase.
Current Performance and Valuation:
First quarter performance was solid with the company's EPS increasing 26% compared to last year. The 5-year growth rate for ROST is 13.4% compared to TJX's 12.2%. ROST thinks that it has the potential to double the current number of stores (1,051) in the long term. 21 stores were added in the first quarter of 2012.
It is trading at a forward P/E of 17x. This is slightly higher than the industry average of approximately 13x, and TJX's P/E of 16x. This higher P/E can be justified by higher profit margins (ROST's 7.79% as compared to TJX's 6.94%), lower debt (ROST's total debt-to-equity of 9% as compared to TJX's 23%) and higher growth estimates. When compared with the average P/E ratio for ROST over the past 5 years (18x), the forward P/E of 17x is slightly conservative.
The graph below (taken from Bloomberg) shows the future profit margin trend for ROST.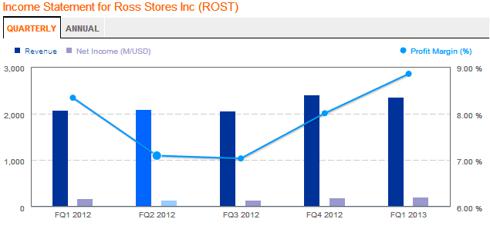 Click to enlarge
We maintain our recommendation of buying ROST, based on the demand from customers for discount apparel, which has continued irrespective of the economic situation.
Disclosure: I have no positions in any stocks mentioned, and no plans to initiate any positions within the next 72 hours.