Shares of Russia's leading search provider, Yandex N.V. (NASDAQ:YNDX), are down more than 50% since the company's IPO in 2011. However, there are now three reasons to consider buying YNDX.
Click to enlarge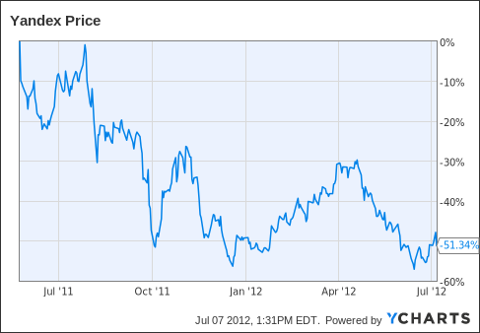 Click to enlargeYNDX data by YCharts
Options Activity
Option Monster reported on the high level of bullish options activity recently; more than 4,000 November 21 calls were bought while, at the same time, an equal number of November 26 calls were sold. Volume at both strikes was well above previous open interest. This trade, known as a call spread, will benefit if YNDX moves higher. The trade will maximize its profit if YNDX is above 26 at the time of expiration. The large trade likely represents institutional money. Institutional money is usually smarter, thus worth following. In summary, the recent options activity points to upside ahead for YNDX over the medium term.
Catch-Up
As shown by the chart below, YNDX has lagged behind most comparable securities.
Click to enlarge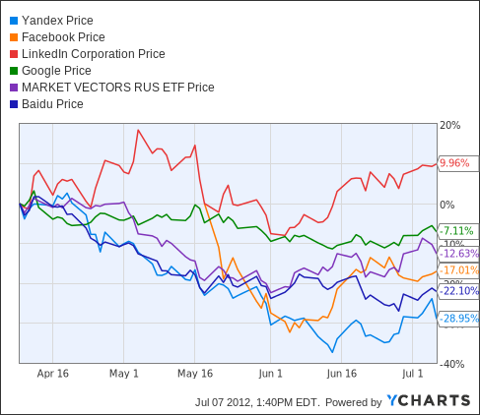 Click to enlargeYNDX data by YCharts
In terms of the business itself, YNDX is probably closest to Google (NASDAQ:GOOG) and Baidu (NASDAQ:BIDU). Both GOOG and BIDU have outperformed YNDX. Another security worth looking at compared to YNDX is the Russia Index ETF, Market Vectors Russia ETF (NYSEARCA:RSX), which has done much better than YNDX. Also, social media stocks, led by Facebook (NASDAQ:FB) have performed better than YNDX. The weak relative performance means that YNDX could be in a position to play catch-up to these securities.
Valuation & Earnings
YNDX is a solidly profitable company. For the first quarter, YNDX reported a 53% increase in net income to $43 million or $0.15 per share. While YNDX has lost some market share to Google, the results were still very positive. I also believe the declines in the stock have priced in the market share decline of 6% to 59% from 65% of the Russian search market. Currently, YNDX is trading at 33 times trailing earnings, 16 times forward earnings, and at a PEG ratio of just 0.67. These numbers indicate than YNDX is not an expensive stock relative to its growth.
Conclusion
While YNDX has been declining since its IPO, there are now reasons to consider buying the stock. The bullish options activity, weak performance relative to peers, valuation, and earnings momentum are all reasons to consider YNDX.
Disclosure: I have no positions in any stocks mentioned, and no plans to initiate any positions within the next 72 hours.