Antares Pharma (NASDAQ:ATRS) is on the move and on the NASDAQ! In every sense, 2012 will be remembered as the 'year of growth and expansion'. In this article, I focus on three internal signs that Antares is a healthy, growing company. Investors will also be treated to a first-for-view picture of the company's new headquarters.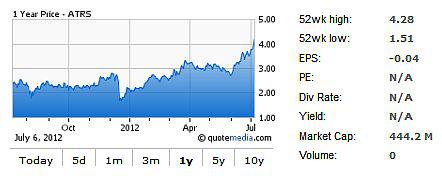 1. Key Personnel Additions
Personnel-wise, the company has recently added three top-level executives in 1H 2012. Each position is intended to meet a growth need of this expanding company:
Jack Howard, Vice President of Corporate Affairs coming from Pfizer (NYSE:PFE)

Jooste LeRoux, Vice President of Pharmaceutical Sales and Marketing coming from Cephalon purchased by Teva Pharmaceuticals (NYSE:TEVA)--interesting to note since much is made of Pfizer's presence

Jonathan Jaffe, Vice President of Clinical Development coming from Pfizer
Notably, both Teva and Pfizer have former employees joining Antares. Could this possibly challenge the rumor that Pfizer is the only firm interested in buying out Antares? Doesn't Teva also have a notable presence? Or is this all a coincidence? Either way, Antares is building a very strong and impressive management team.
2. Advanced Product Development
Not long ago, the company introduced its high-tech injectable candidate Vibex QST (testosterone deficiency) and recently updated shareholders on the successful progress of Vibex MTX [methotrexate] for rheumatoid arthritis. Vibex Epinephrine continues to move forward with Teva now that the court case with Pfizer is decided, and Vibex 2 with Teva remains a curious mystery. Count that, that's four Vibex products! Add to that two more undisclosed Teva pen products, bringing the total to six products in various stages of development and marketing.
The company now has three products in market:
TevTropin/Zomajet with Teva [U.S.], Ferring [EU], JCR [Japan]
Somewhat oddly yet understood, LibiGel remains in the background and is anyone's speculation, but the multi-billion dollar value of NestraGel with the Population Council and what some believe will include a second male contraceptive gel could change Antares in the eyes of the market overnight. Then finally, there is the mystery drug with Pfizer.
One of Antares's key specialties is developing auto-injection devices capable of handling hazardous biologics. This makes the Antares-Teva partnership even more interesting since Teva is working on a variety of biologic drugs (More extensive information is available by following this chat room poster). Teva already markets Tev-Tropin using an Antares auto-injector as viewed in this picture. Here are a few examples where the Antares-Teva partnership may come to light:
Lipegfilgrastim and Balugrastim recently having completed phase 3 studies for cancer.

DiaPep277 for Type 1 diabetes also having successfully completed phase 3 studies.

Copaxone, which remains on Teva's front-burner for multiple sclerosis.
Antares has an incredibly robust pipeline of 11 products and that is why just about everyone who follows the company thinks its PPS will hit double digits in the next 1-2 years. I am beginning to think it could be much sooner rather than later now that it looks like Vibex MTX will enter the market, upon approval by the FDA, in 2014. Likewise, by that time Vibex Epinephrine should be gaining significant traction. Keep in mind LeRoux has been brought on board to assemble a Vibex MTX sales force--this is why I am not surprised that the market is moving up the company's share price.
3. New Corporate Headquarters
Pictures are worth a thousand words!
Now we've learned that the company has moved into its new corporate headquarters in Ewing, New Jersey. This new location is just around the corner from its previous location on Phillips Blvd., but the difference is like night and day. Forty minutes from Philadelphia Pennsylvania airport, an hour and ten minutes from Newark New Jersey airport, the company is a mere five minutes from the local Trenton New Jersey airport, just off Interstate 95.
The building Antares occupies is completed, but its indoor space is still being filled with other occupants. It is a beautiful, modern building. I think every shareholder would say that its new location is 'stately', 'regal', and 'professional'. It suggests a company that is 'going places'.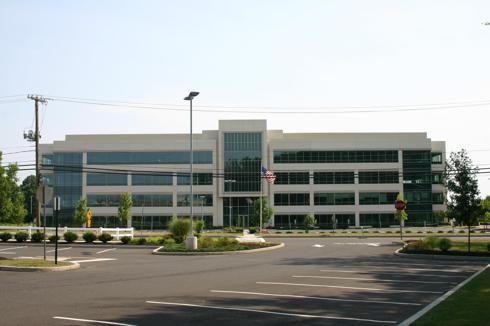 According to a news release Antares has leased 8,065 (sq ft?) of office space. As a shareholder, I am very pleased with their choice. What's your impression?
Growth Stock With Double to Triple Upside in 2012
I have always viewed Antares as a top biotech pick, but the recent successful usability study of Vibex MTX was the catalyst I was waiting for, because it appears the company may be ahead of schedule. Likewise, I don't want to be out of the stock when Pfizer reveals its mystery drug with Antares. I expect the company's Q2 report to be upbeat and positive with increasing revenues.
SA also requires its authors to reflect the potential downside. In Antares's case, the greatest pitfall is the global market itself because this is a firm with eleven known products. Show me another biotech firm under $5/share with eleven products? However, given that Antares depends on its research, the second greatest risk is whether its products will move through clinical development without delay or failure. These negatives aside, my own investment in Antares is robust and substantial. I invest to make money, and while risk is always a part of investing, I maintain that with eleven products and more coming, Antares is a low-risk/high-reward opportunity.
On Friday, Antares jumped to a $4.26/share close. I originally had a $6/share target for year-end, but I am beginning to think my estimate was overly cautious. I would not rule out $10/share by year-end depending on pipeline progress, sales growth of Anturol/Gelnique 3%, and the magnitude of the mystery drug being developed by Pfizer. I also highly recommend the chat board revenue estimates of 'Bsav88atty'. Once the share price breaks $5/share, I expect there will be increased institutional buying- which means $6/share could be in the cards for this summer. I maintain a VERY STRONG BUY.
Disclosure: I am long ATRS.
Additional disclosure: Investors buy and/or sell at their own risk. For me "long" is until I sell. I do not "short" stocks. I declare that I may day-trade any stock at any time mentioned in this article.