I'm changing my mind. After being short HP (NYSE:HPQ) for the last 3 years, it's time to buy the beast. Why? The parts are worth way more than the whole. In fact, a great deal more.
Background:
HP went on a shopping spree buying $43 billion of tech over the last 6 years (and that's not counting earlier acquisition $25 billion Compaq), putting under one roof, computers, printers, calculators, cloud, software, servers, and services. HP had a case of ADD - the company couldn't focus as CEO after CEO went to the technology supermarket aisles and overspent on imprudent acquisitions. The massive buying didn't work out: Share price, operating margins, and earnings all plunged. Imagine, HP spent $43 billion in acquisitions in 6 years - its market cap is under $39 billion! Now that CEO Meg Whitman has sworn off large acquisitions, let's see what HP's got.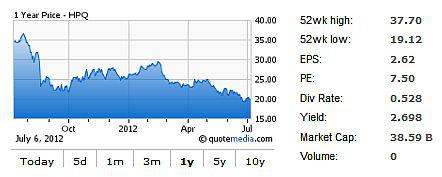 The Hidden Gems:
The parts are worth more than the whole. HP has valuable divisions hidden in the mishmash.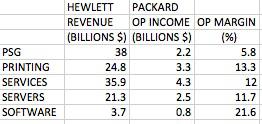 (revenue and operating income over trailing four quarters)
HP has a personal systems group (notebooks, computers) which it is combining with its printing division. That makes sense: The two divisions go together like peanut butter and jelly. PSG has become a low margin business as PCs have become commoditized.
Hidden are three gems: Services, servers and software. They are in sexier areas of tech with relatively high margins (although their margins are lower than some of their rivals.)
Comparing HP's divisions to the competition:
1. Personal Sytems Group and Image and Printing.
HP's PSG and Lenovo (OTCPK:LNVGY) have similar yearly sales. HP's division makes far more in profits than Lenovo (3.5 billion vs 0.5 billion). Figuring PSG/printing to be similar in value to Lenovo on a revenue scale, the divisions are worth $17 billion. That's a large discount considering HP's better earnings generation.

2. Services.
Granted HP's services division pales in comparison to that of IBM (NYSE:IBM). Big blue has a far greater margin of profit. IBM is a much better services company. We'll discount HP services to a tenth of IBM's market cap. Result: An HP services worth $22 billion.

3. Enterprise Servers, Storage and Networking.
HP's server division compared to EMC (EMC). Again, EMC has much better margins. We'll discount HP server division to a fifth of EMC's market cap. Result: HP servers are worth $10 billion.

4. Software.
For comparison, I've selected Tibco Software (NASDAQ:TIBX) and BMC Software (NASDAQ:BMC). HP software is on par with Tibco and BMC's operating margin. We'll give HP a similar valuation minus a 20% haircut. Result: $10 billion of worth. (Quite the discount considering HP just bought Autonomy for $11 billion.)

In total, HP's parts are potentially worth a market cap of $59 billion, or $30 a share. And that's heavily discounted. Without the big markdown, HP could be a $40 stock.
HP may just be the most undervalued company in the Dow Jones Industrials. Now it's up to Whitman & Company to bring out that value. My suggestion: Package 'em up and spin 'em off.
Disclosure: I have no positions in any stocks mentioned, but may initiate a long position in HPQ over the next 72 hours.
Disclaimer: The opinions in this document are for informational and educational purposes only and should not be construed as a recommendation to buy or sell the stocks mentioned. Past performance of the companies discussed may not continue and the companies may not achieve the earnings growth as predicted. The information in this document is believed to be accurate, but under no circumstances should a person act upon the information contained within. We do not recommend that anyone act upon any investment information without first consulting an investment advisor as to the suitability of such investments for his specific situation.