International Paper (NYSE:IP) is a leader in paper and packaging products worldwide.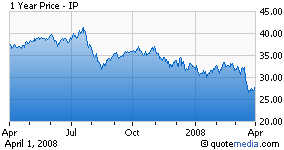 Products include pulp, containerboard, corrugated boxes, coated and uncoated freesheet and more. As of year-end 2007 they owned 300,000 acres of forestland in the U.S. and 250,000 acres in Brazil.
In a time when most commodity suppliers have seen their shares trend much higher here is a stock where you get 'real assets' at a discount price. IP shares closed yesterday at a price lower than the lows touched at anytime from 2001 to 2004 and during 2006 and 2007.
Value Line and Zack's estimate $2.50 and $2.55 for 2008 EPS respectively making IP's price/earnings a very low 10.8x forward projections. Book value was $17.57 at year-end 2007.
IP seems to be down due to a $6 billion acquisition of Weyerhauser's (NYSE:WY) containerboard, packaging and recycling business as the U.S. heads into recession. While this may weigh down near-term results if the conditions get very bad, it should be a major contributor over the longer haul.
IP's nice [and well covered] 3.67% current yield makes the waiting easier.
Value Line is using an 18.5x multiple for their 3 – 5 year projections on IP.
The lowest annual average P/E since 1992 was last year's 16.2x figure.
Even 15 times the mid-point $2.52 estimate for this year leads to a 12-month target price of $37.80 or plus 38.9% above yesterday's close.
Add in the 3.67% yield and 40% + seems attainable as a one –year total return.
Is that crazy? Nah. International Paper shares have peaked at prices of $38.00 and higher at some point in each calendar year since 1997.
Disclosure: Author owns shares of IP.