Herman Miller (NASDAQ:MLHR) designs, manufactures and sells office chairs, furniture systems and healthcare related furniture in the U.S and overseas. They have 10 domestic facilities plus one each in the U.K. and Mexico. They license their products [through manufacturing rights] in Japan.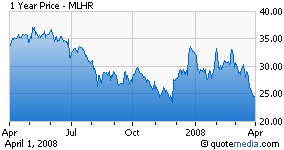 Their flagship product is the Aeron office chair. This $750 chair is a status symbol among executives around the world.
Unlike most of its competitors, MLHR is expected to finish FY 2008 [ends May 31] with all-time record sales and earnings. Estimated FY revenues should come in just shy of $2 billion and EPS around $2.46 or up over 23% year-over-year.
Because of the general market malaise Herman miller shares have not reflected their excellent results. MLHR finished yesterday at $24.61 right near 4-year lows. This despite 11 straight quarters of year-over-year sustained earnings growth. FY 2009 is projected to come in at $2.57 by Zack's and $2.70 by Value Line [April 4, 2008 edition].
MHLR shares thus trade at just 10x this year's and 9.6x the lower projection for their forward FY. Value Line assumes a 16.5 P/E for their 3 – 5 year outlook.
As of December 31, 2007, they held $91.9 MM in treasury cash with only 56 MM shares outstanding. Value Line gives them an 'A' for financial strength. Since 2004, the dividend has been increased each year climbing from $0.14 to $0.352 annually. The current yield of 1.43% in the highest on MLHR shares since 1996. The payout ratio is a very healthy 14.3%, leaving room for future increases.
The company feels the shares are undervalued and has been actively shrinking the float. Since 1992 they have reduced the share count from 100.59 MM to an estimated 56 MM today. Cash flow per share is at record levels even after the share repurchases.
Some Value Investing heavyweights owned big positions at year-end 2007:
Ariel Capital Management [John Rodgers]… 11.12%
Columbia Wanger Asset Management………10.54%
Barclays Global Investors…………………….7.70%
Wellington Capital Management.…………….3.97%
Vanguard Group……………………………....3.50%
Officers and directors held……………………12.0%
A return to even a 15 multiple on Herman Miller shares times the forward projections of $2.57 - $2.70 lead to a target price range of $38.55 -$40.50.
That low end goal is 56.6% above yesterday's close.
Is that reasonable? Sure. MLHR shares actually traded at $38.30 and $40.80 at their peaks in 2006 & 2007 when sales and earnings were substantially lower than today.
Disclosure: Author owns shares and is short puts on MLHR.