IMF head Christine Lagarde on Friday July 6, 2012 announced that the IMF would be lowering its outlook for world economic growth in 10 days. Anyone paying attention knows that the EU, China, Brazil, India, and the US have all been slowing lately. The IMF confirming that tends to make one think equities markets may push downward soon. When this happens you want to own strong, safe stocks with very low Betas. If they pay a hefty dividend, this too will help prevent a plunge in the value of the stock. Dominion Resources (D) is one such stock. It pays a good dividend of 3.92%, and the stock has been in a steady uptrend since 2009. More than that Dominion Resources has risen relatively steadily from $13.04 in January of 1990 to its current $53.78 per share. That's approximately a 4.12-fold increase in value (412%). That's not astronomical by any means. However, it does beat the SPY's mere 3.11 fold improvement since Jan. of 1993. Plus Dominion Resources has paid a higher dividend. There is no reason to think this outperforming behavior will change over the long term investor.
The company provides a comparison chart for Dominion Resources performance as of Dec. 31, 2011 to other utilities and to the S&P500 and Dow Jones averages.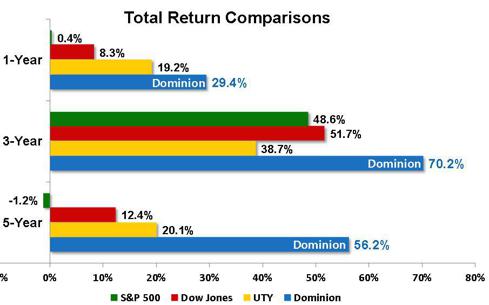 Click to enlarge
The above chart is probably a bit misleading. It has averaged a lot of utility companies as one. There are other long term top performers among the utility companies such as Southern Company (SO), Duke Energy (DUK), Consolidated Edison (ED), et al. Still Dominion Resources does correctly select itself as a top performer.
Dominion Resources is organized into three main segments: Dominion Virginia Power, Dominion Energy, and Dominion Generation. Dominion Virginia Power is concerned with electric transmission, distribution, and retail. Dominion Energy is concerned with gas transmission, distribution, storage, and unregulated gas services. Dominion Generation is concerned with electric generation (19,000 MW of capacity and another 8,500 MW of Merchant generation capacity). The above include 27,500 MW of electric generation, 6,300 miles of electric generation lines, 56,800 miles of distribution lines, 11,000 miles of natural gas transmission and gathering and storage pipelines, and 947 Bcf of natural gas storage. Dominion Resources also has the Cove Point LNG Facility, which so far is only an import facility.
Dominion Resources has both regulated and non-regulated business. However, 65% to 75% of its operating earnings are from the more certain regulated business. It targets 5% to 6% annual operating earnings growth. This agrees well with the current average analysts' next 5 years EPS growth estimate per annum of +5.40%. Further Dominion Resources average analysts' FY2012 and FY2013 estimates are virtually unchanged in the last three months. It has a good regulated infrastructure investment plan for future growth. This amounts to about $2B per year in Capex. It is well positioned in both the Marcellus and the Utica shale regions. For its merchant power generation, it has significant hedges in place through 2015 in order to ensure its income. Dominion Virginia Power has a residential rate about 12% below the national average cost. It is providing good value for customers' money.
The long term outlook is great too. Virginia was recently ranked the #1 top state for business by CNBC. Dominion Virginia Power expects its business revenues to increase at a higher than average rate for this reason. A non-negligible part of this growth will be data center demand growth. This kind of growth is a big plus. It is 24 X 7 demand at a constant rate. This is easier and more economical to service. The data center growth is projected to grow by as much as 1,200 MW over the next five years.
Dominion Resources has installed more than 100,000 smart meters, and it plans to install approximately 8600 more in the spring of 2012. It is getting more efficient. It is replacing old transformers (2900 of them) in a program that will complete in 2013. It has a similar circuit reconditioning program that targets higher outage lines. It has many other like programs, which indicate that it is not letting its troubles mount up to a bigger later problem. This has led to a steady decrease in the number of average outage minutes from 135 in 2005 to 111 in 2011. Considering the number of storms in Virginia, this is impressive.
Dominion Energy (NYSE:GAS) has significant projects for new transport of Marcellus and Utica gas to existing interconnects. It is also exploring the possibilities of building liquefaction abilities (export) into its Cove Point LNG facility, which is currently only an import facility. It already has 14.6 Bcf of storage capacity there. Liquefaction ability would allow it to take advantage of the huge, low cost natural gas supplies in the Marcellus and Utica shale. It has already received approval for export to free trade agreement countries.
Dominion Resources hasn't made huge progress toward cleaner energy generation yet. However, it has been awarded 100 bps incentive ROE's in Virginia. It is currently trying realize these greater profit potential cases. All told, Dominion Resources seems a well managed company.
The two year chart of Dominion Resources provides some technical direction for the trade.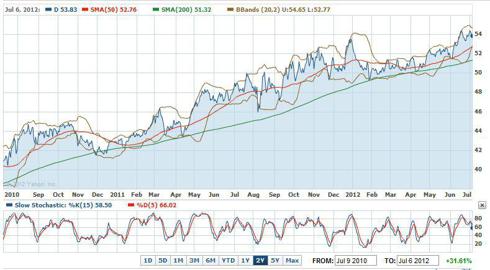 Click to enlarge
The slow stochastic sub chart shows that Dominion Resources is neither overbought nor oversold. The main chart shows that it has been in a strong uptrend for the last 2+ years. Even with the recent weakness in the market, it has shown little susceptibility to price declines. With a Beta of 0.31 and a market cap of $30.76B, it should be a very steady stock to own. Its 3.92% dividend should help it resist price declines. A lot of people will want to own this steady growth utility in tough times. Its longer term prospects seem a lot better than US Treasuries or the SPY. With what many people think will be a disappointing earnings season starting this week (Monday July 9, 2012), averaging in seems like a good strategy. If you add in the recent slowing in the EU, China, India, Brazil, and the US, an overall downturn in the US equities markets seems likely.
NOTE: Some of the fundamental data above is from Yahoo Finance.
Good Luck Trading.
Disclosure: I have no positions in any stocks mentioned, but may initiate a long position in D over the next 72 hours.